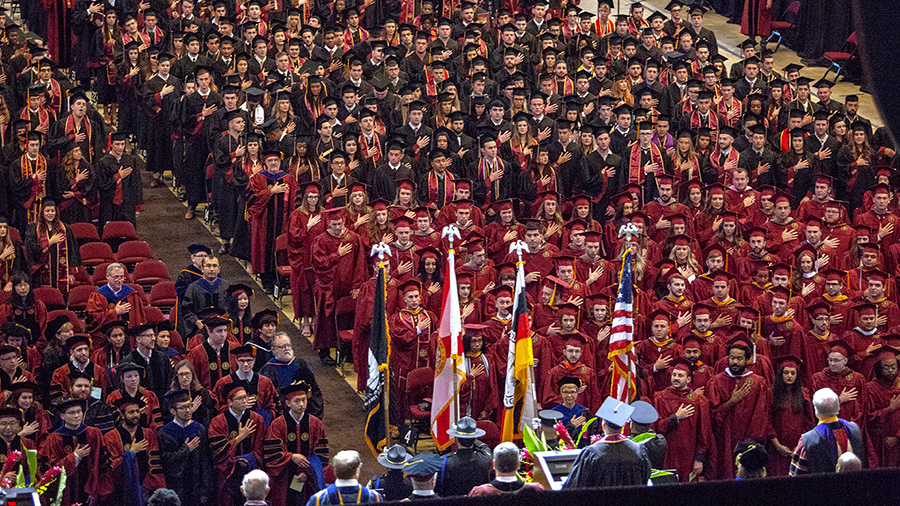 Florida State University President Richard McCullough is set to preside over commencement for the first time as the university celebrates nearly 2,900 fall graduates during two ceremonies Friday, Dec. 10. 
Two of Florida State's most distinguished faculty members, one a scholar of Shakespeare and the other a nuclear astrophysicist, will address the graduates as the featured speakers. 

Professor of Physics Jorge Piekarewicz and Professor of English Gary Taylor were honored earlier this year with the highest honor faculty can bestow upon one of their own, the Robert O. Lawton Distinguished Professor Award. 
Taylor will address graduates at the 2 p.m. ceremony, while Piekarewicz will speak at 7 p.m. The ceremonies will take place at the Donald L. Tucker Civic Center, 505 W. Pensacola St. 
This fall, 2,849 students will receive their degrees from FSU. Of that number, 1,904 will receive bachelor's degrees, 777 will receive master's/specialist degrees and 108 will receive doctorates while the College of Law will confer 60 degrees. The Office of the Registrar estimates about 1,900 students will participate in the two ceremonies. 
Taylor, chair of the English department, is best known for his work on Shakespeare and his contemporaries. He co-edited the Oxford University Press collection, "Thomas Middleton: The Collected Works" in 2007 and the "New Oxford Shakespeare: Complete Works" in 2016. That edition provided convincing evidence that Christopher Marlowe played a significant role as co-writer of the early "Henry VI" plays. He's also published groundbreaking research on Columbus and Eminem, Cervantes and Lin Manual Miranda, as well as work by Foucault never translated into English.
Piekarewicz came to FSU in 1990 as an assistant scientist, becoming a full professor in 2005. He has authored more than 155 publications and been cited more than 6,500 times. He has served as a member of the Department of Energy/National Science
Foundation Nuclear Science Advisory and is a fellow of the American Physical Society. 
At FSU, he has been honored with the University Teaching Award in 2001, 2007, 2014 and 2019 and the Graduate Faculty Mentor Award in 2017.  
For more information, visit commencement.fsu.edu.