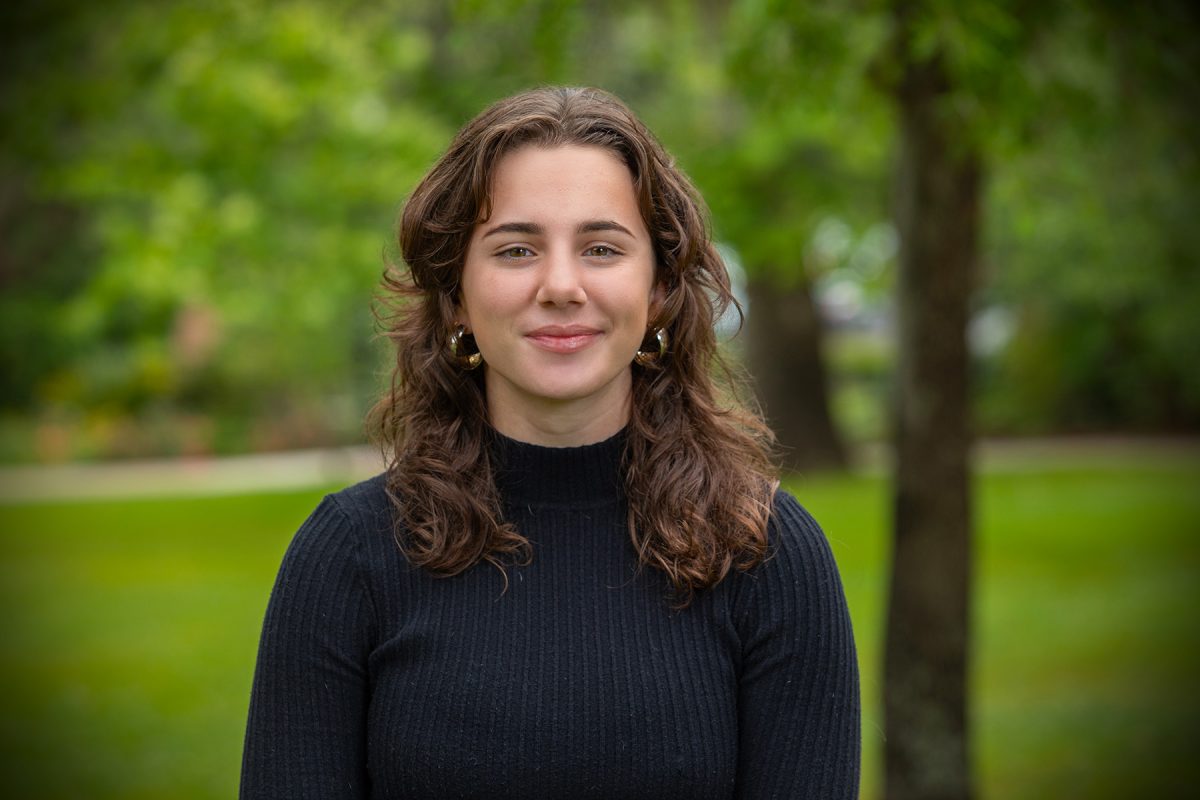 "My connections at Florida State have allowed me to further my work for the environment, and I am incredibly grateful for these opportunities."
Fast Facts
Favorite Campus Spot: Seminole Organic Garden by the FSU Flying High Circus
Local Things to Do: Go to Lake Ella and Mashes Sands Beach
Favorite Local Coffee: Argonaut
Travel: Hoping to travel internationally for the first time soon
Favorite Foods: Homemade poğaça bread with warm butter or a very large poké bowl
During her time at Florida State University, Sydney Cole has balanced being a Women's Swimming and Diving student-athlete, Presidential Scholar and environmental researcher while honing her leadership skills through a continued commitment to community service and sustainability.
Cole engages with the FSU and Tallahassee communities through the Presidential Scholars Program, a premier undergraduate merit scholarship that invests in undergraduate students with potential to become transformational leaders.
"Getting to be a part of a community of incredibly talented and goal-oriented students has made me a better leader in terms of creating quality work and getting involved on and off campus," Cole said.
When she's not tending to the Seminole Organic Garden or working with the FSU Food for Thought Pantry, Cole conducts environmental research with the Population and Sustainability program for the Center for Biological Diversity.
While at the center, Cole observed a gap between the public and environmentalists in how they understand the link between public health and environmental problems. This made her realize there needs to be more focus on discussing these issues and inspired her to start her Honors in the Major project on how environmental topics are talked about and shared.
"I believe my contributions of service to the FSU community can extend to the Tallahassee community," Cole said. "My work with the FSU Food for Thought Pantry, Seminole Organic Garden and the Center for Biological Diversity place emphasis on the importance of equity and accessibility of resources for all."
---
What personal experiences inspired you to pursue environmental issues and sustainability?
My personal experiences in population and sustainability began back in Nebraska when I started a journalism project on how comprehensive health and sex education was in my community. I looked at schools across Omaha and the metropolitan area, ultimately concluding that my own district was far behind. This write-up eventually got published and led to my work with the Center for Biological Diversity as we look at the intersection between climate justice and reproductive justice. At the end of the day, my work strives to highlight the inequity of resources and offer solutions on how we can work to bridge this gap.
What does being a Presidential Scholar mean to you?
Being a Presidential Scholar means so much to me, not in terms of title, but more in terms of community. I am thankful to have these opportunities. Every time I benefit from this program, I am reminded that not everyone has been as fortunate as I have been to receive this help, which is why I'm appreciative that we're working to make the program more accessible.
As a student-athlete, what resources at FSU helped you balance your athletic responsibilities and education?
I'm thankful that I've not only had the advising help of the Presidential Scholars program, but also that I've had the help of the athletic department. The number of times I've missed school for swim meets and been helped by the wonderful staff who send out travel letters and help us coordinate make-up dates is invaluable. My old academic advisor used to go as far to communicate with the Presidential Scholars program head to see what we could do to make my schedule more feasible. I am incredibly thankful for all their help.
Why do you believe it's important to volunteer for the FSU food pantry and community garden? 
If we're being honest, I think a lot of the work that I do there is self-serving. I find it calming to be able to go outside each week and work in the garden beds before I sprint off to work meetings. I don't think I'm doing anything revolutionary, but I do think we must continually support the garden and food pantry because there are students dependent upon those resources. Overall, I'm fortunate I have the time to be able to go there each week.
As a double major in sociology and English, how have your majors complemented each other to benefit your career goals?
I started as an English major purely out of enjoyment, mostly because I have always enjoyed the process of writing and editing. I added sociology when I discovered how much I was interested in doing qualitative research, particularly on environmental issues. I suppose it allowed me to talk to people without explicitly engaging in journalistic interviews. Instead of focusing on a singular story, I utilize a wide range of data sets to begin identifying a common narrative not just of people, but of communities. I believe this will transfer over into my career goals, but truthfully, I have yet to create a definitive career plan. I want to explore whatever makes me happiest.