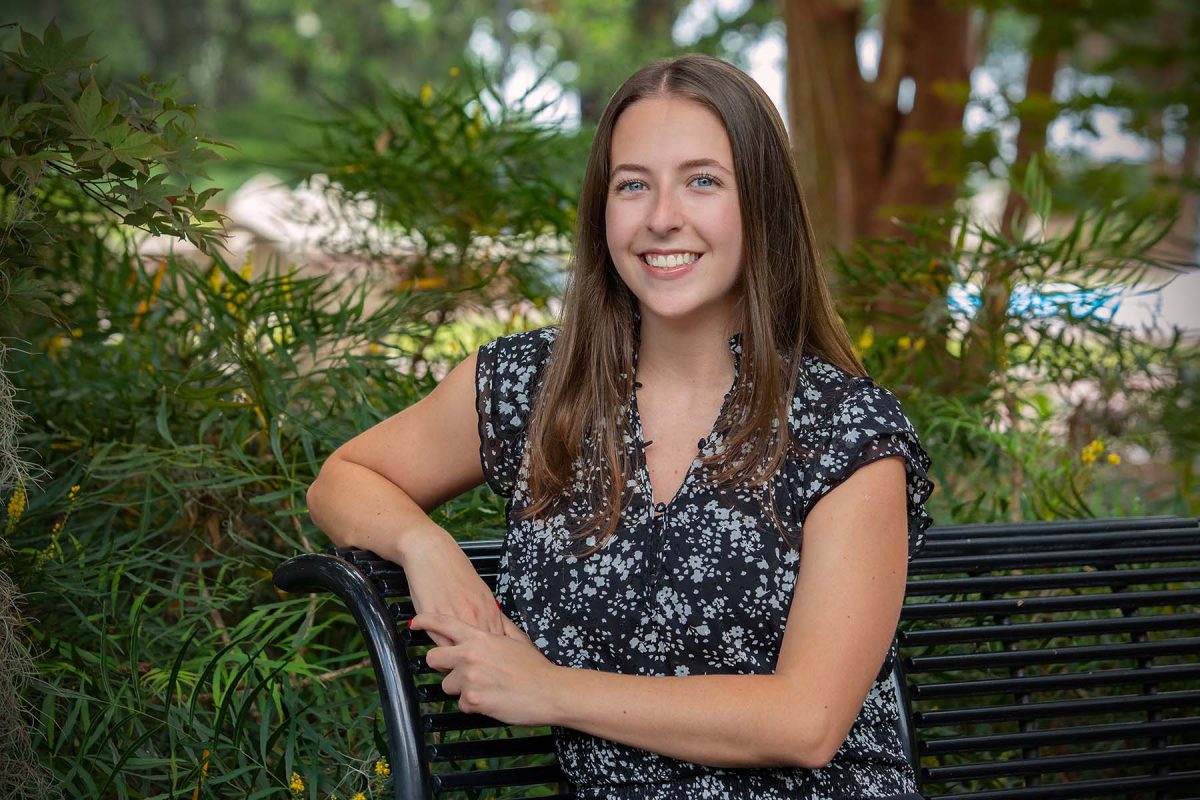 "My time at FSU has been filled with creating meaningful relationships and growing into the successful adult I have always hoped to be."
Fast Facts
Dancer: Performed at two FSU Men's Basketball halftime shows in three years with Level Dance Company
Connections: Met two of her current roommates in her Freshman Interest Group
FSU Leadership: Leads Pre-Health Freshman Interest Group leaders
Off campus: Works at Tallahassee Memorial HealthCare
Career goals: Wants to be a physician assistant
Chloe Bontoux chose to attend Florida State University because of its vibrant, bustling school spirit. As a senior, she embodies that spirit as a student leader dedicated to making a positive impact in her community.
Since her freshman year at FSU, Bontoux has been involved in various organizations that align with her interests and values. Her dedication to her academic pursuits has been recognized through her consistent placement on the Dean's List.
Bontoux has made an impact at FSU through her participation in the Engage 100 program and more specifically with Freshman Interest Groups (FIGs). In this program, she had the opportunity to teach a Pre-Health Freshman Interest Group to pass on her knowledge and experience to incoming students.
As both a participant and a leader, Bontoux has come to appreciate the transformative effect FIGs have on first-year students. As a second-year leader, she is excited to be a team lead for the newest cohort of FIG leaders.
"As a Freshman Interest Group leader, we are tasked with informing and educating our newest generation of Florida State University freshmen, and this experience has been nothing short of rewarding," Bontoux said.
At the Florida Center for Reading Research at FSU, she has worked at the Individual Differences in Cognitive Development (IDCD) Hart Lab, which is focused on understanding what makes people different regarding educational outcomes. Her work there helped guide her decision to pursue a career as a physician assistant.
Bontoux's dedication to making a positive impact extends beyond campus. At Tallahassee Memorial HealthCare, she works as a patient care assistant in the cardiovascular lab and in the nuclear medicine department, providing comfort and care to patients during their cardiac stress tests.
Through this role, Bontoux has gained perspective on the Tallahassee community, and she is grateful for the opportunity to make a difference in the lives of patients during their times of need.
"I hope in holding this position I have also brought some positivity and lightheartedness to my patients and coworkers around me," she said.
When she's not juggling academics and jobs, Bontoux, a dancer for more than 15 years, has continued to pursue her passion with the Level Dance Company at FSU. As a member of the team for the past three years, she was elected as the event coordinator to ensure the team functions smoothly.
Bontoux plans to stay involved with the group during her remaining time at FSU, using dance to express herself and find fulfillment.
---
How has being a Freshman Interest Group leader developed your leadership skills?
Coordinating a 50-minute-long lesson plan and ensuring that students stay attentive is not an easy task, but I have been fortunate enough to evolve these skills and have them to utilize throughout my life. Being the mentor that freshmen look up to is something that I never thought could be possible during my time at FSU and I am so grateful to have been part of this program for the past year. 
How do you hope to incorporate leadership in your plans after graduation?
As I pursue my post-graduate plans of becoming a physician assistant, I hope to immerse myself in the community around me and learn more about the way that people live from backgrounds different from mine while also bonding over like interests. Throughout my time at FSU, I have sought this fact and I have used it to my advantage by surrounding myself with others that I would not have met if I did not join these campus organizations. My college experience would be entirely different if it were not for the love and acceptance I have continuously received from the people I have met through both Level Dance Company and the Engage 100 program.  
How did you overcome any challenges you faced during your academic career?
Throughout my time as a biological science major on the pre-physician assistant track, I expected to face challenges during my academic career. Early in my time at FSU, I found myself struggling to keep up with the pace and material of separate courses at the same time. I sought the guidance of professors and teaching assistants to aid in this process. By attending office hours and reaching out to professors, this proved to maintain connections and it helped to stabilize the interpersonal professor-student relationship.  
In what ways has your research with the IDCD Hart Lab shaped your future goals?
Having the opportunity to be part of a research lab such as the IDCD Hart Lab has helped guide my future aspirations. Research and becoming a doctor were potential interests. I found myself interested in the field of psychology toward the beginning of my time at Florida State University. With my participation in both the IDCD Hart Lab and working at Tallahassee Memorial HealthCare, I have been exposed to the responsibilities of both a doctor and physician assistant and I was able to compare my observations. My participation in this lab helped me realize that I found myself yearning for more patient interactions and working in a more clinical setting. This has pushed me onto the path of becoming a physician assistant one day. 
What does your time at FSU mean to you?
Surrounding myself with the people I care for and doing the tasks to place me on the right track has ensured that I have made the most of my time here at FSU. Learning something new every day is something I have always hoped for, and I can now say that I have accomplished just that.