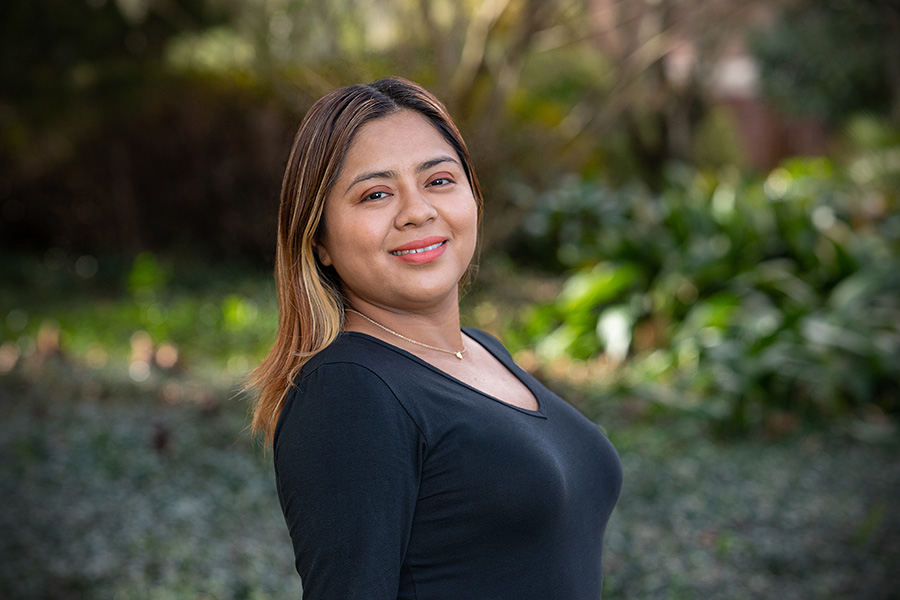 "Florida State has nurtured my academic experience in a robust and productive way. This has been the most valuable experience of my life."
Fast Facts
Favorite Study Spot: Stone Building and Dirac Science Library 
Multilingual: First language is Amuzgo, also speaks Spanish and English 
Favorite Food on Campus: Loves eating at Seminole Cafe 
Favorite FSU Activities: Walking around FSU's beautiful campus and using the dry sauna at the Bobby E. Leach Student Recreation Center 
Rather than shying away from her weaknesses, Anairis de la Cruz Benito made them her strengths when she decided to pursue a doctoral degree in mathematics education at Florida State University.
Growing up in Cochoapa, an Indigenous region in Mexico, de la Cruz Benito struggled to understand mathematics throughout her undergraduate studies. Realizing that many of her classmates shared similar difficulties with math only furthered her interest in the subject.
"I chose math education because it's an area that cares about how people with difficulties learning mathematics can learn in a more practical way," de la Cruz Benito said. "It seeks to validate students' solution processes and promotes changing the fixed idea that in mathematics, there is only one way to solve a math problem."
As an Indigenous student, de la Cruz Benito said she missed opportunities like access to quality education and resources. This inspired an urge to study internationally. After learning about Fulbright scholarship opportunities during a research stay in Spain in 2014, she saw a path to the United States to pursue her dream of assisting future students in navigating the complicated world of math.
De La Cruz Benito completed her undergraduate and masters' degrees in Mexico. When she decided to pursue a doctoral degree, she searched for an institution that would smoothly transition her academic background into the curriculum, which she found at Florida State.
"Florida State University nurtures my academic experience in a robust and productive way, and I am very grateful for this brilliant opportunity," she said.
De La Cruz Benito faced many challenges during her time at FSU. In addition to her rigorous curriculum, she had to read, write and speak in English in class for the first time.
Though the language barrier posed a new challenge, de la Cruz Benito was determined to create a sense of community in the United States. She joined the Hispanic Graduate Student Association (HiGSA) where she found students who related to her experience and offered support so she could focus on her work as a scholar and instructor.
"My service with the HiGSA community keeps me encouraged, especially seeing my friends try to change the reality of the underrepresented Latino population in higher education," de la Cruz Benito said.
Researching at the Learning Systems Institute, de la Cruz Benito analyzes kindergarten and elementary students' solution strategies when working on mathematics problems. She also participated in the 12th Congress of the European Society for Research in Mathematics Education.
She plans on using the rest of her time in the doctoral program to further her research into secondary math education and increase representation for Indigenous students in Western higher education.
---
How did the Fulbright Scholarship assist you in pursuing your studies at FSU?
When I was in Spain in 2014, I found that I needed to learn English if I wanted to study a Ph.D. abroad. Later, I applied for the Fulbright-Garcia Robles scholarship, a scholarship for Mexican students to complete graduate school in the USA. In 2019 I arrived at a language school in Illinois, where I studied to improve my English skills in preparation for graduate school. During my time learning English, Fulbright assigned me an adviser who would help me with the applications to graduate schools. I heard about FSU from my peers in the language school, and after looking into the mathematics program, I was convinced it would be a great choice for me.  
What inspired you to pursue a doctorate in mathematics education?
The main reasons I pursued the doctorate were to expand my research skills and become a better teacher to my students. I always had a hard time understanding mathematics and realized many people have the same issue. In addition to developing my teaching skills, I want to be knowledgeable in the strategies other instructors use with their students. The Ph.D. in mathematics education allows me to achieve my goals because of the strong emphasis on the pedagogical side of teaching math and on how to carry out research. 
What are some factors that influenced you to choose Florida State as the university where you would pursue your doctorate?
The FSU Department of Mathematics Education has a solid emphasis on research, and the faculty's expertise contributes to the department's success. The program prepares students to develop research skills through projects for their doctoral degree path. The department also provides doctoral students with the opportunity to practice and develop their teaching skills by arranging an assistantship where doctoral students instruct a class. In addition, the curriculum instruction matches my academic formation background in Mexico. I knew Florida State was the place that would nurture my teaching and research skills. 
What has the transition been like entering Florida State as an Indigenous student/faculty member?
It has not been easy! The level of rigor that Florida State University's graduate school requires is higher than the level of school I was accustomed to. I completed my undergraduate and master's degree in Mexico and in Spanish, so this is my first time reading, writing, speaking and taking classes in English. I feel like I spend more time doing things than expected, but so far it has been the most valuable experience of my life because I am learning so much.  
How has FSU and your involvement with HiGSA assisted you in the transition from life in México to the USA?
The FSU community has been supportive of my experience and adjustment to the country. My professors are aware of the difference between México and the United States' education system and offer helpful information and resources. The HiGSA community provides the support I need to keep a balance in my life. HiGSA feels like family here. Having people who support me means a lot to me as an international student who is by herself in Tallahassee. HiGSA helps people who are new to the town with necessities, such as offering a ride to buy groceries. Some people, like me, do not have a car, so having their support allows me to focus on my academic experience at Florida State.