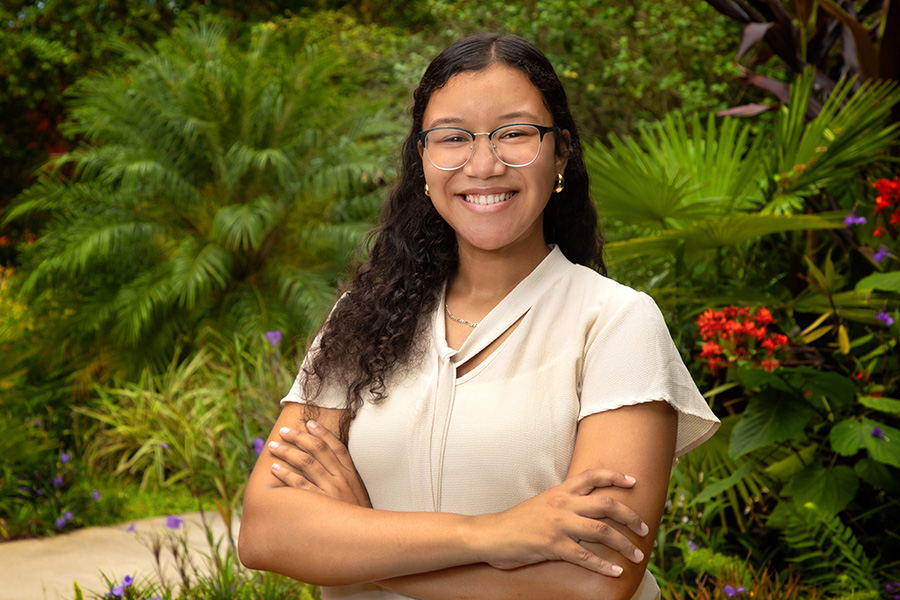 "Creating spaces where all types of students feel welcome is a mark I hope to leave on FSU's campus."
Fast Facts
Favorite study spot: Honors, Scholars and Fellows House
Campus recommendation: Attend an FSU Circus performance!
Favorite FSU building: Bellamy
Getting involved: Found Darasa, an FSU tutoring organization for refugee students in Leon County, through NoleCentral
Career preparation: Getting a resume check and a mock interview at the Career Center helped me achieve my career goals
With a passion for inclusion and helping her peers, Susan Morales chose to attend Florida State University to pursue undergraduate research and student leadership opportunities.  
During her freshman year, Morales worked with Azat Gündoğan, a faculty member in the Honors Program who steered her student career toward sociology. Since then, she received an IDEA grant through the Center for Undergraduate Research and Academic Engagement, through which she traveled to South Korea to study identity formation. 
Morales sees a bright future for Florida State University's commitment to welcoming students of all backgrounds. Her participation in the Presidential Scholars Diversity and Inclusion Board encapsulates this goal. 
"During my time on the Presidential Scholars Diversity and Inclusion Board, I realized that I wanted to help provide equal access to all students who want to contribute great work to this campus," she said.  
"Particularly with Presidential Scholars, I wish to foster an inclusive space where everyone in the program feels welcome and can experience the program to its entirety." 
Morales uses her academic experiences as fuel for preparing students for career success through the Teach for America Ignite Fellowship and as an FSU Undergraduate Research Opportunity Program (UROP) leader. 
Amid a full courseload and various extracurriculars, Morales credits her UROP students' feedback and peer support for helping her find balance. 
---
How has your education at FSU shaped your career path?
The Honors Experience Program's courses altered the trajectory of my career. My Utopias and Dystopias course with Dr. Gundogan ignited my interest in taking sociology courses. Shortly before the end of my first semester, I decided to change my major to sociology due to the influence of that class. After learning about social institutions and sociological theories in my sociology coursework, I noticed that women were rarely a topic of discussion in many of my classes. This propelled me to double-major in women's studies to learn more about women's history and role in society. Through my work in these majors, I realized that I wanted to help disadvantaged people gain an equal footing with others — regardless of identity. 
How did your Undergraduate Research Opportunity Program project help you develop new skills?
Because I was unsure of what I wanted to pursue in college, I ended up on a chemistry project for UROP, "The Synthesis of Zirconium Aluminum Silicide." Despite my limited chemistry and lab experience, I gained skills because I was so far out of my comfort zone. I learned how to navigate a different dialogue with my research mentors and was encouraged to understand the concepts from my team. Working with graduate students and mentors developed newfound professionalism for my future endeavors. This allowed me to become adaptable and collaborative and to refine the skill of knowing when and how to ask for help. My UROP experience led me to FSU's multitude of undergraduate resources and ultimately, the IDEA grant.  
How has your role as an Undergraduate Research Opportunity Program Leader challenged you?
As with any leadership position, it's difficult to learn how to navigate a new responsibility. However, being a UROP leader comes with its own unique set of challenges. For example, balancing the responsibility of the student's grades and crafting engaging lessons to teach adds to my workload as a full-time student. I needed to grow accustomed to being a reliable UROP leader and a source of authority in the classroom. With the help of my co-leader, I overcame these challenges by asking for student feedback to implement strategies that would help me contribute meaningful work.  
What project/research did you pursue with your IDEA grant?
For my IDEA grant project, I traveled to Seoul, South Korea, and conducted an informal ethnographic study on identity formation. The subjects of this study were me and my research partner, two Black women, to evaluate how our identities formed in a homogeneous society like South Korea. We operated this study under the assumption that different cultures have different interpretations of identities. The research was compiled into a zine to depict our experience as Black women abroad and how it challenged our notions of identity. 
What opportunities have allowed you to pursue your passion for helping other students?
My experience with school instilled a passion for helping students who struggle or simply need assistance navigating school. Through my Teach for America Ignite Fellowship, I want to show students that they are more than capable of achieving their dreams. My position as a mock interview mentor at the Career Center allows me to help students properly prepare for their job or internship interviews. I hope that I can empower fellow students to gain confidence in their interview skills. This opportunity not only ignited my passion to facilitate career readiness for my peers but also influenced how I'll approach career preparation.