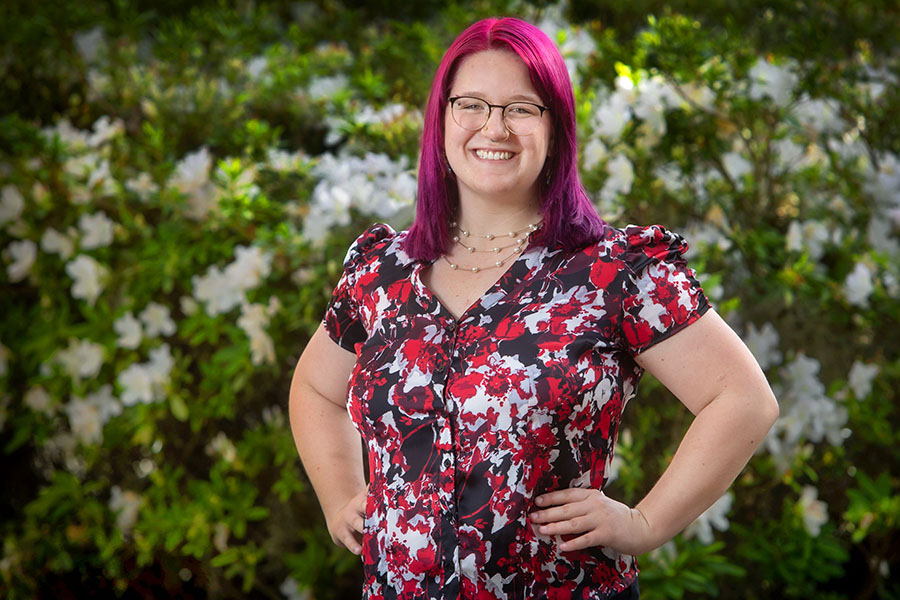 "Through my work with various publications, I have been able to strengthen my storytelling skills by sharing the perspectives of FSU faculty and students, as well as the stories of survivors of sexual assault, women and LGBTQ+ youth."
Fast Facts
Nature Walk: Favorite place on Earth is the ocean but loves nature trails in Tallahassee. 
Social Obsession: Believes in LinkedIn and its superpowers of connection.  
Greek Legends: Has two big dogs named Athena and Hercules. 
Favorite FSU memory: Living in a quad freshman year in Landis Hall with her now best friends!  
Academic accomplishment: Graduating summa cum laude. 
Three years ago, Hannah Fulk was accepted to Florida State University, and she felt inspired to bring about meaningful change for marginalized communities both on campus and throughout Florida. In her quest to achieve social progress and equity, Fulk has become a prominent leader and researcher on campus, helping FSU further its mission to become more diverse and inclusive.  
During her college career, Fulk has worked alongside Brendan Lantz, assistant professor in the College of Criminology and Criminal Justice, to develop a comprehensive research project identifying transgender individuals who have been murdered in the last 10 years but may not be accurately identified as transgender.  
As a member of the LGBTQ+ community herself, Fulk hopes her research will be used to inform and educate others to destigmatize what it means to be a transgender individual and a member of the queer community. Through her public relations and interdisciplinary social sciences majors, Fulk has used communication as a tool for change, whether in politics, the FSU community, or her interactions with peers.  
She will participate this summer in the Moellership Program, which gives FSU undergraduate and graduate students the opportunity to focus eight to 12 weeks of their summer on service at a non-profit agency. 
Upon graduation, Fulk hopes to carry on her mission of giving a voice to the voiceless and leaving a tangible impact on FSU.  
Why did you choose Florida State University?  
During my freshman year of high school, I visited Florida State University with my student government association and fell in love with this university. As a first-generation incoming college student, I felt like I belonged at FSU the moment I stepped onto campus. I strongly believed that attending FSU would push me to become the best version of myself, so when I was accepted, I cried tears of joy for the opportunity to attend my dream school and for how hard I worked to gain acceptance.  
What experiences at FSU helped you find your passion for activism?  
My involvement with FSU Planned Parenthood Generation Action, a student organization, advocating for reproductive rights on campus and throughout the state of Florida, has introduced me to authentic and compassionate activism. Whether I'm speaking in front of the Florida Legislature, tabling on Landis or rallying alongside other like-minded individuals for reproductive rights, I feel a tremendous sense of belonging. Every time I pushed for respect for my body and my identity as a queer woman both on campus and at the Florida Capitol, I was reminded of my deepest passion for helping marginalized populations and moving our society toward a more progressive future.  
What do you hope to accomplish in your time with your 2022 Moellership cohort?  
I will be spending my summer in Barcelona, Spain, working as a communications intern for a social impact agency. I'm excited to work hard to develop my writing, networking and Spanish-speaking skills, as well as to give back to local Spanish-speaking communities in need of advocacy and support. Additionally, I'd like to learn more about Spanish queer culture and meet LGBTQ+ people in Barcelona who are fighting for their rights just as I am in the United States, especially in light of the recent surge in anti-LGBTQ+ violence in the city. I ultimately hope to develop a network of Barcelonian allies and a feeling of camaraderie through my communications and public service internship.  
How have the opportunities you have had at FSU helped prepare you for your future career?  
FSU has provided me with the space and support to shift perspectives, engage in transformative dialogue and stand in solidarity with fellow advocates on campus so that we may collectively create a better tomorrow through each of our advocacy journeys. FSU's community of leaders and change-makers continually inspired and motivated me to continue doing this work, regardless of the challenges we faced together at this university.  
How has your experience working with publications helped you become a better communicator?  
I strongly believe that in order to be a good communicator, one must also be a strong writer. Through my work with various publications, I have been able to strengthen my storytelling skills by sharing the perspectives of FSU faculty and students, as well as the stories of survivors of sexual assault, women and LGBTQ+ youth. I find joy in the writing process and the precision and attention to detail required for effective editing and proofreading. My love for creative writing and my development of diverse writing styles to fit a variety of topics have helped me appeal to a wide range of audiences in a genuine and approachable way.  
How have you used your time at FSU to impact the campus community?  
As an FSU Honors Experience Program member, I have grown alongside my fellow honors students and contributed to FSU's progressive worldview by spreading transformational justice on campus and advocating for a more inclusive learning environment. I am committed to continuing FSU's mission of increasing diversity on campus and hope to leave a legacy focused on challenging higher education's disproportionate privilege and working with other students who desire a more inclusive learning environment.