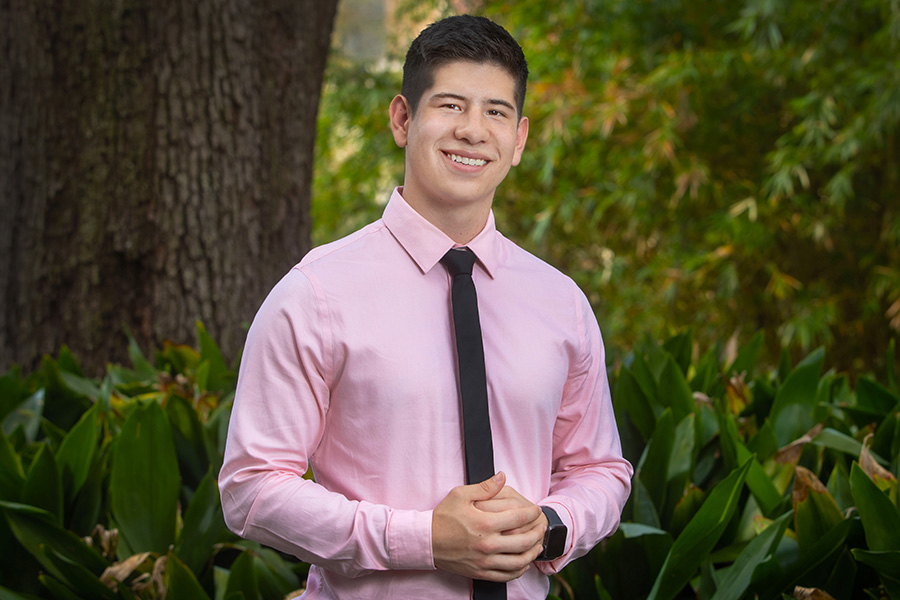 ""FSU is unique in that it has provided many different opportunities for underrepresented minority students to get involved in STEM research.""
Fast Facts
Favorite FSU Study Spot: Dirac Science Library
Favorite Sport Activity: Attending FSU basketball games
Fun Achievement: Played basketball on the national level in Colombia
Fun Fact: Certified advanced scuba diver and hopes to get a pilot's license soon
FSU Research: Currently conducting research on the effects of nicotine on the brain
At age 15, Florida State University junior Daniel Zuñiga moved with his family from Bucaramanga, Colombia, to Palm Beach Gardens, Florida, in search of a better education. During his senior year in high school, he applied to FSU originally as an interdisciplinary medical sciences major after he learned about the university's efforts to support underrepresented students entering higher education.
Zuñiga later changed his major to cell and molecular neuroscience, leading him to discover an unlikely passion for space medicine. With the help of faculty from the FSU College of Health and Human Sciences, he has investigated the effects of space radiation and microgravity on humans in hopes of making spaceflight safer.
With the support of FSU, Zuñiga and his research team created a recognized student organization (RSO) related to space medicine that will be active in fall 2022. By combining his interests in science and medicine, he hopes to inspire other underrepresented students interested in STEM to passionately pursue their goals and to get involved in the many research opportunities available at FSU. Zuñiga is conducting his honors-in-the-major project at the College of Medicine's Bhide Lab on the effects of nicotine on the brain and developmental disorders.
As a first-generation student, how did you feel supported by the resources and opportunities available at FSU?
I had only been living in the United States for two years when I was admitted to Florida State University, but after learning about its efforts to support underrepresented students entering higher education, I knew it was the right school for me. Since I am interested in attending medical school after graduation, I joined the FSU College of Medicine program USSTRIDE, where I gained valuable clinical experience. This program has amazing instructors and mentors who have inspired me to pursue my academic and professional goals every day. I like to believe there is no other university better prepared to support first-generation college students than FSU. I am also a medical assistant and have volunteered at FSU Primary Health, which is the College of Medicine's new primary-care health center that serves the Tallahassee community. 
How has FSU nurtured your passion for space medicine research?
As a research assistant at the Delp Lab run by Michael Delp, dean of the College of Health and Human Sciences, I work on ongoing projects related to space medicine under the supervision of research faculty member Sunny Narayanan. With the help of Narayanan and the resources available at FSU, I have been able to explore the effects of space radiation and microgravity on the cardiovascular system in hopes of making spaceflight safer in the future. I have passionately shared my work at academic conferences and have helped train other undergraduate students new to the laboratory. With the support of FSU, our space medicine research has become a vehicle to increase minority involvement in STEM careers. 
While I have a strong interest in space medicine and neuroscience, I hope to one day practice medicine while also researching cures for developmental disorders such as ADHD, autism and Fragile X syndrome, a genetic disorder that causes a variety of developmental issues, such as learning and cognitive impairments. 
How have you helped the academic journeys of other FSU students interested in STEM?
There is a historical lack of minority representation in STEM, and the FSU College of Medicine's mission is to solve this problem. As a volunteer student coordinator with USSTRIDE, I have empowered and provided minority pre-health students with resources to achieve academic and personal excellence. Through USSTRIDE, I have co-created a summer program aimed at assisting high school students through the college admission process. I also tutor and mentor fellow students on the pre-health track and work as a learning assistant at the Department of Biological Science. Here, I am involved in a research project that aims to increase minority students' academic performance. 
FSU has given me the opportunity to grow as a student leader and has motivated me to create an open learning environment on campus. In the future, I want to give back to the FSU and Tallahassee communities for the opportunities I have been given and hope my involvement inspires other students to achieve their goals, no matter the hurdles. Thus, I hope my involvement at the College of Medicine serves as an inspiration for other students that it is possible to be a minority, scientist and physician. 
How has working as an emergency medical responder at the FSU Medical Response Unit impacted your future career goals?
Working with the FSU Medical Response Unit, a voluntary emergency responder program, has taught me how to react to emergencies and provide emergency care to people in need. Since the unit is available to any campus organization requesting assistance for campus events and to any students in need of help, I have gained hands-on experience working with a wide array of patients in a variety of situations. This experience has been extremely fulfilling and has confirmed my desire to pursue medicine and science in the future. 
What advice do you have for other minority students at FSU who want to get involved in STEM research?
There are many opportunities out there waiting for you. The value of interdisciplinary and diverse groups of scientists is being recognized now more than ever. FSU is unique in that it has provided many different opportunities for underrepresented minority students to get involved in STEM research. While it may seem challenging to get involved at first, do not give up! Becoming a part of an FSU organization or research opportunity is an extremely rewarding and life-changing experience worth pursuing.