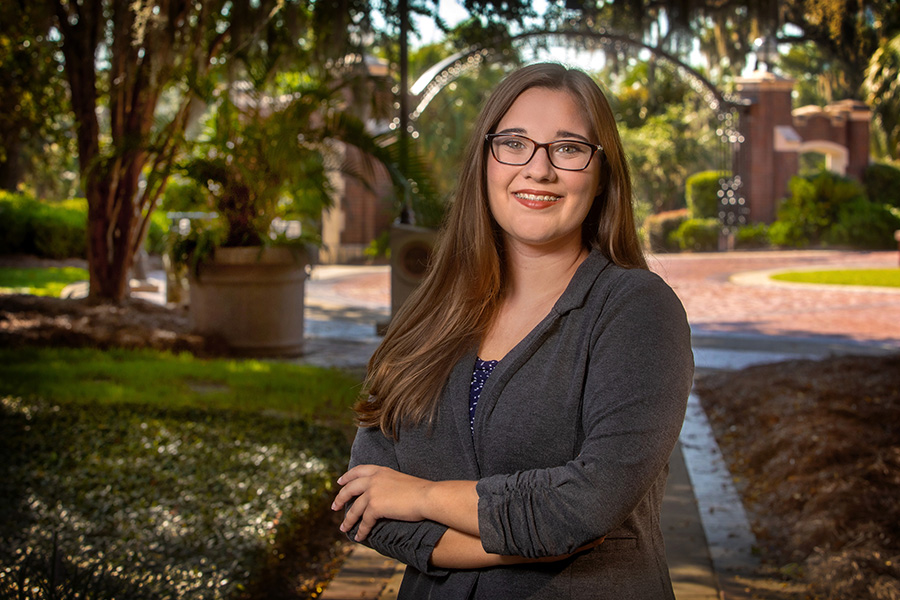 "When I came to FSU in high school to interview for the Presidential Scholars Program, it confirmed this was a place where I could spend four years learning and growing — not just as a student, but as an individual."
For as long as Emma Davis can remember, she wanted to go to Florida State University.   
"When I came to FSU in high school to interview for the Presidential Scholars Program, it confirmed this was a place where I could spend four years learning and growing — not just as a student, but as an individual," Davis said.  
Florida State remained Davis' first choice for college throughout her high school years, which she completed through home-schooling. An acceptance to the honors college and an invitation to interview for Presidential Scholars followed her admission.   
"When I was admitted to FSU, it wasn't even a question of if I was going to go," she said. "I still remember checking my application portal on my break at work and seeing the garnet and gold confetti on the website."  
Davis was impressed with the time and energy FSU invested in its undergraduate students, the opportunities for internships, studying abroad, research and the infectious school spirit that permeates every corner of campus. She took advantage of the on-campus opportunities and joined several organizations, including the Museum Society of FSU, La Table Français and Lady Spirithunters.  
Currently, Davis is writing an honors thesis for her history degree and will complete it this fall.  
"Working on an honors in the major thesis was one of the first goals I had when I got to FSU," she said. "I knew I wanted to take advantage of the opportunity to dig deeper into my major and contribute original research as a historian."  
Through FSU's Undergraduate Research Opportunity Program, she worked as a research assistant at the Institute on World War II for Alison Reilly, a doctoral candidate in the Department of Art History. 
"My interest in women's military service, specifically as nurses and physicians, has driven my academic and professional development over the last three years," Davis said.  
At the Institute, she helped G. Kurt Piehler, an associate professor in the Department of History, curate the spring 2019 exhibit "Love, Dolly: Letters Home in World War II." The exhibit catalog featured an introductory essay written by Davis and her experience as a research assistant opened the door for future opportunities with the Institute.   
"I was surprised, but excited when Dr. Piehler offered me the opportunity to manage the Institute's next exhibit, which was to focus on women in World War II," she said. 
Working as exhibit coordinator, Davis was responsible for the research and design of the exhibit, enlisting interns to serve on the curating team and fostering communication with the director of the gallery. Through a grant from the Florida Humanities Council, Davis was able to attain funding for the exhibit in addition to related public programs.  
"I worried that I was unprepared to step into the role of coordinator, convinced that there were other people who were better qualified and that I was too inexperienced to do what I had been asked to do," she said.  
Ultimately, she wasn't wrong, but she learned to reframe her observations.  
"There were – and always will be – people who are more qualified, prepared or knowledgeable no matter what the situation," she said. "That isn't a bad thing. My role as exhibit coordinator pulled me out of my comfort zone and into a public position, challenging my perception of what it means to lead."  
In her junior year, Davis interned virtually with the Department of Veterans Affairs in the National Cemetery Administration. With this internship, she created a digital exhibition about the Army Nurse Corps in World War I.  
"Whether in my classes, my internships or research, one thing I have remained dedicated to is preserving and sharing stories that all too often go unheard," Davis said. 
Through her work organizing exhibitions with the Institute on World War II and the National Cemetery Administration, Davis has been able to speak with the descendants of female veterans whom she was researching.  
"Conversations with these families are a reminder of why I work to honor and preserve these histories," she said.  
This spring, Davis was awarded the 2021 Scott and Ina McNichols Undergraduate Research Award through the IDEA Grants program to fund her research over the summer. Her thesis focused on the role of Anita Newcomb McGee, a woman physician, in creating the US Army Nurse Corps in 1901.   
"With a life bookended by the Civil War and the Second World War, Anita Newcomb McGee lived and worked during a period of profound change for women in medicine and in the military," Davis said. "My thesis presents McGee's life and career as a case study for the evolving role of women in both fields in the late 19th and early 20th centuries and will draw on her personal papers, housed at the Library of Congress." 
After graduation, Davis hopes to continue working in public history.  
"My experiences at FSU have given me professional experience and training to take on new exciting opportunities," she said. "I look forward to what is to come next."