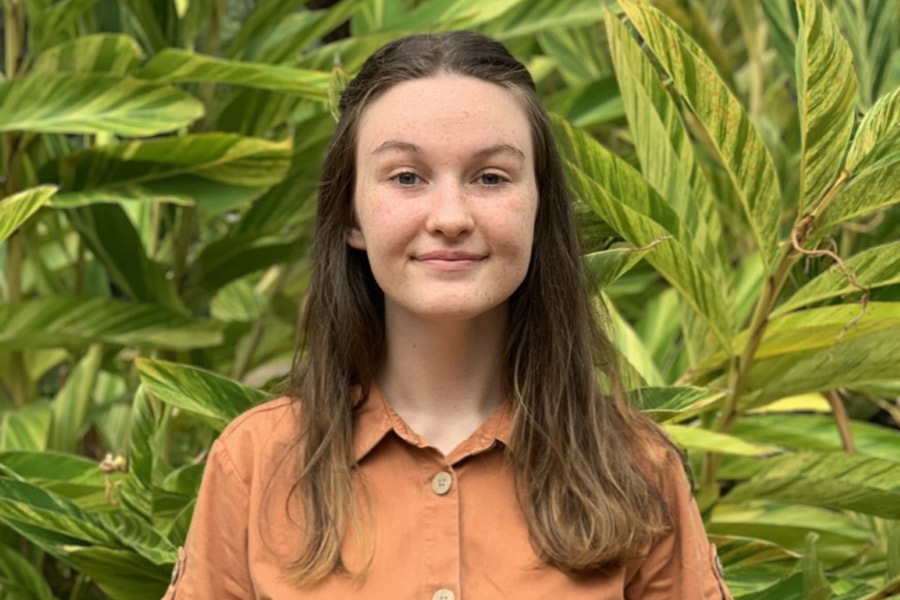 "FSU has impacted where I am now by putting me in the perfect position to break into chemistry research, and it has impacted where I plan to go by opening up that path for me."
As early as middle school, Patricia Mehaffy knew she wanted to study chemistry and the Chinese language.
With its excellent chemistry program and well-developed foreign language department, Florida State seemed the perfect place for Mehaffy to pursue her double-major.
"FSU has been an excellent playground to see what happens when I realize my own potential," Mehaffy said.
Mehaffy worked a handful of interesting jobs to afford college including operating a theme park game booth, helping her dad with professional housing renovations and working as a ground crew member for a hot air balloon charter agency. These paid experiences allowed Mehaffy to cover the cost of tuition that loans wouldn't take care of and start her college journey at community college in 2017.
Mehaffy then transferred to the FSU Panama City campus the following semester before moving to the Tallahassee campus in Fall 2018, where she's been working on her bachelor's degree in Chemistry and Chinese ever since.
"FSU and the people I've met here have paved the road for me to enter scientific research and study advanced chemistry that would not be possible elsewhere," Mehaffy said.
When she first arrived on-campus, Mehaffy was able to take the placement test for Chinese and jump-start her double major.
"Due to the fact that my parents owned a Chinese restaurant for 20 years, I spent a lot of time around eastern culture but felt hopeless to understand the foreign language," Mehaffy said. "But once I was faced with foreign language requirements in high school, I discovered that learning new languages wasn't so impossible and that I quite liked learning them."
Her love for languages also inspired her to study French for fun, and for the past three years, Mehaffy has been able to share her knowledge on the subjects of Chinese, French and chemistry as a tutor at the Academic Center for Excellence (ACE).
"Through tutoring, I've helped hundreds of FSU students understand general chemistry, as well as French and Chinese, in a thorough and useful way," Mehaffy said. "I've shared with each of them the best advice I can offer for them to succeed in classes where they are lacking in knowledge, motivation, or both."
In the library at 3 a.m. during finals week her sophomore year, Mehaffy was frantically filling out applications for an international research experience the following summer. Six months later, she found herself in Sant-Louis, Senegal, a West African country, as a participant in the Global Scholar's program.
"Two miles to the right was the Atlantic Ocean and two miles to my left was the bare, yellow, baobab spotted desert," Mehaffy said. "I was doing cultural research and I couldn't believe it."
While she was in Senegal, Mehaffy worked specifically in teaching French and English languages to elementary children. She also worked in childcare, healthcare and wrote her research capstone on the social issue of child rights in the community. To add a creative element to the capstone, Mehaffy authored a short comic book about her time spent in the African nation.
"In the STEM field you have to keep in mind that you're working for the betterment of the whole world and not every culture has the same needs," Mehaffy said. "This experience broadened my perspective about the types of needs around the world and how that varies from culture to culture."
After she returned home, Mehaffy decided to pursue scientific research as a volunteer in the Alabugin organic chemistry lab at FSU, led by Professor Igor Alabugin.
Specifically, Mehaffy studies the design and synthesis of functionalized carbon-rich materials. "Essentially, we make tiny molecular magnets," Mehaffy said.
Mehaffy coauthored two peer-reviewed papers that were both published in Summer 2021. Mehaffy has also been pursuing her own independent research after receiving an IDEA grant this past spring.
Through the Jack Saltiel Undergraduate Research Award, Mehaffy is now a hired researcher in the Alabugin lab and will study the synthesis of a unique pattern of graphene created by the radical cyclization of alkyne substituents around a conjugated ring.
"This synthesis requires a tricky trisubstituted starting material which I spent a few months over the summer trying to make," Mehaffy said. "There's a number of avenues the rest of the Alabugin research group and I have been taking into consideration for progress and, if one of them proves successful, will yield something new to the big tapestry of graphene subunit patterns and would have its own unique reactivity waiting to be explored."
Mehaffy also co-authored two papers that were recently published in the scientific journal Chemical Society Reviews: "Stereoelectronic power of oxygen in control of chemical reactivity: the anomeric effect is not alone" and "Anomeric Effect, Hyperconjugation and Electrostatics: Lessons from Complexity in a Classic Stereoelectronic Phenomenon."
After her graduation in Summer 2022, Mehaffy plans to pursue a graduate degree in chemistry. She said that in addition to research and international endeavors, FSU has opened up many opportunities for her to attend graduate school.
"Without FSU I may have taken a much simpler path with fewer and not as far-reaching branches of possibility," she said "FSU has impacted where I am now by putting me in the perfect position to break into chemistry research and it has impacted where I plan to go by opening up that path for me."