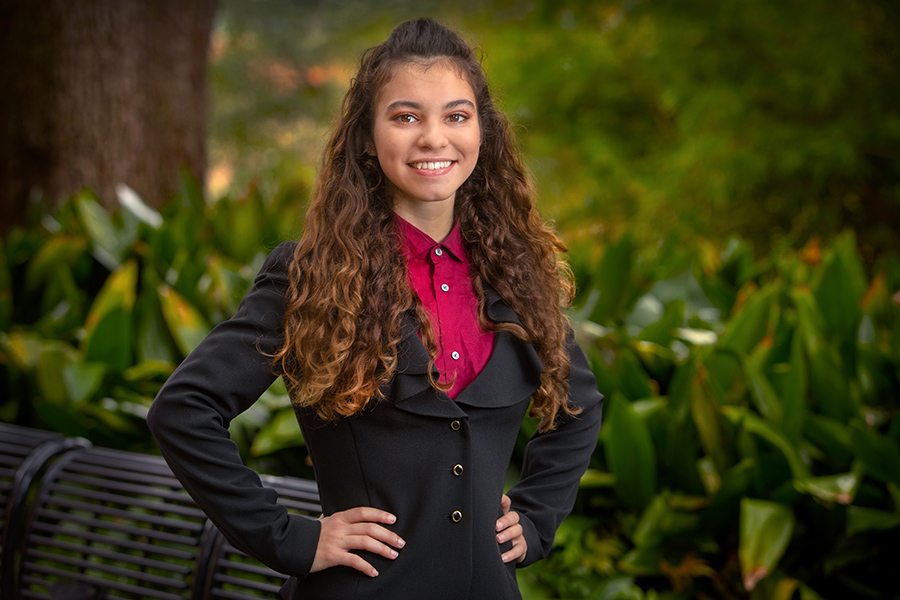 ""It excites me to constantly be at the forefront of human innovation. Ever since I was a little girl I have wanted to be a scientist. Now, I can use the knowledge and experiences I've gained from FSU to help make science fiction a reality." "
While touring colleges in high school, Ava Dodd immediately felt a connection to Florida State University's campus and knew this was where she belonged.
"The energy and enthusiasm of the students at FSU, coupled with the grandeur and elegance of the campus, made me feel instantly at home," she said.
As a first-generation college student, choosing a college was difficult for Dodd.
"I felt there was a lot of pressure to pick the 'right' school," she said. "I have worked hard my entire life to ensure I would have the best option to go wherever I pleased."
In high school, Dodd spent her time tutoring other students in computer programming languages and speaking at events to help promote the STEM programs at her school.
"Learning has always excited me," she said. "I enjoy inspiring others to pursue learning as well."
At FSU, Dodd became interested in robotics and then desired to understand the "brain" behind the robots rather than their physical components, which led to her pursuing research in artificial intelligence (AI) and drones.
Dodd's research journey began at an FSU STEM Career Fair through an introduction to Jonathan Adams, a professor in the College of Communication and Information. Adams' research with unmanned aerial systems closely aligned with Dodd's interests, making it a natural fit.
"I think it is pretty cool that I wasn't looking for research, it found me instead," Dodd said.
While working with Adams, Dodd and her research team received a $6,000 Steve Madden Undergraduate Research Award, funding that is part of the FSU IDEA Grant program and is specifically geared toward students interested in STEM fields.
Dodd and her team used these funds to study the proficiency of object detection algorithms in detecting sea turtles, which are the target of massive conservation efforts in Florida.
"The beach is also a great place to practice flying the AI using a DJI Phantom 3 drone to spot the turtles from an aerial perspective," Dodd said. "This allowed us to get a good count of their nests without impacting the wildlife."
Through the project, Dodd and her team attached infrared cameras to drones to detect sea turtles submerged in water from an aerial perspective.
"The cameras were programmed with a special algorithm that can box each individual turtle on a computer screen, clearly labeling and counting the number of turtles it has boxed," she said.
She and her team submitted their research on synthetic data and artificial intelligence to national research conferences and plan to continue their studies during the spring.
"It excites me to constantly be at the forefront of human innovation," Dodd said. "Ever since I was a little girl I have wanted to be a scientist. Now, I can use the knowledge and experiences I've gained from FSU to help make science fiction a reality."
Dodd and her team also presented at the San Diego SITE 2020 Conference on how AI might be utilized in classrooms as a teaching tool to invigorate coursework and to encourage passion in STEM fields. This led to the research of synthetic data, computer-generated information realistic enough to fool, yet enhance, AI.
The creation of synthetic data makes machine learning easier by quickly providing all the data it needs to accurately complete the job it was created to carry out.
"Working in a field that is always progressing just beyond what is currently possible really keeps me excited about what I'm doing," she said. "Every day there is a new problem to solve that maybe no one has quite tackled yet."
A Dean's List student every semester, Dodd was invited to be a part of the Phi Sigma Theta Honor Society based on her academic success. She also is a member of the Fellowship of Computational Scientists.
"These organizations have allowed me to grow closer to my peers and collaborate with others outside of the classroom," she said.
Dodd said that her professors and peers keep her motivated in her academic endeavors.
"The faculty at FSU also have prompted me to be excited about research because they're doing incredible research of their own," she said. "They inspire students to embrace what interests them."
As she looks to the future, Dodd's goal is to become an AI engineer. She is currently working to create a startup business that will serve as an AI consultant to businesses struggling to operate and manage their systems.
"I've always dreamed of being a scientist and helping others, and I believe AI can do that," she said. "I hope to enhance these technologies so that civilization can continue to progress."
Dodd's academic success along with her skill in multiple programming languages and demand for AI will help her in attracting future employers upon graduation.
"You never know exactly where your endeavors might lead," she said. "If you're open to possibilities, the right research opportunities, jobs, friends and mentors will find you when you least expect."