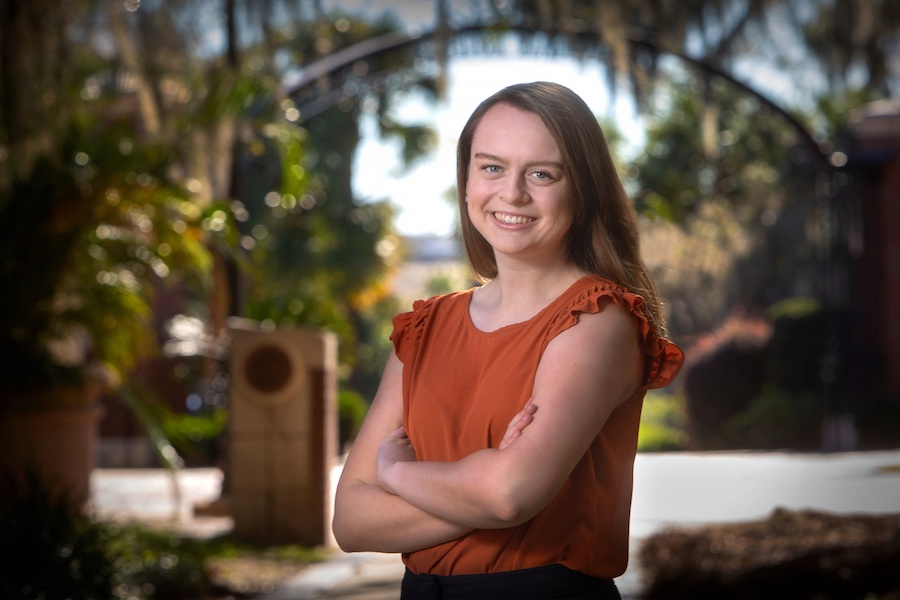 ""There are no barriers to what I want to do at FSU." "
As a high school student in Sarasota, Grace Robbins was homeschooled. It wasn't easy finding extracurricular activities and ways to meet friends. 
So, when Robbins enrolled at Florida State University she resolved to experience as many student groups, clubs and associations that interested her. 
"That was one of the things I knew I was going to do, was seek out anything I thought was interesting," she said. "FSU has so many corners on campus that you can make your own. That was really huge for me." 
Long before she'd decided to come to Tallahassee, Robbins assumed that at a large university like FSU, it could be easy to get lost in the shuffle. 
An early visit to campus changed her mind. 
"I saw how community-driven FSU presented itself to be during the FSU Presidential Scholarship interview weekend," she said. "This was only proven when I began attending classes in the fall."
As a Presidential Scholar, Robbins said she was fortunate to begin her time at FSU as a member of a small community.
"I felt like the presidential scholars and honors communities gave me a place to thrive without feeling overwhelmed or lost in the crowd," she said. "I never felt like I couldn't explore what I wanted to, especially through programs like Undergraduate Research Opportunity Program, InternFSU, Noles Engaged in Politics, and the Classics department."
Robbins added: "FSU gave me this opportunity as a homeschooled student, at a time where I felt it would be hard to access such support in the process of applying to colleges, but I quickly came to realize there would be no such barrier at FSU when I was accepted."
When she arrived on campus she thought of majoring in classics, in part because of her interest in Latin. But it was her commitment to new experiences that led her change those plans. 
"I went to Associate Professor Andrea De Giorgi's office hours because I was a Classics major and had no idea what I was going to do with that," she said before noting that De Giorgi has since become a mentor. "I asked him what advice he had for me, and he told me about all these different careers that alumni have landed and told me I was going to be fine. He also introduced me to one of FSU's several excavation projects, Cosa Excavations, and told me to apply." 
A few months later, and with the support of enrichment funding through her Presidential Scholarship, Robbins found herself working on an archeological dig in Tuscany, Italy, sifting through Roman artifacts at the site of the Roman colony Cosa. 
That work has led to an IDEA Grant and an internship with the FSU Office of Digital Research (DRS) through the InternFSU program to experiment with 3D technologies and enhance interaction with archeological data and scholarship in different media.
"I have explored fascinating ways of promoting research working with the FSU Repository, DigiNole, as well as using the office's 3D technologies, to explore and study ways to promote archaeological research done by FSU," she said.
Robbins said it was acquaintances she made through Presidential Scholars that helped make this opportunity happen. 
"Two other Presidential Scholars have worked with DRS and recommended I apply for the position," she said. "Through my internship, I presented a 3D printed model I worked on at the 2nd annual Classics Week 'Printing the Past' exhibit under the leadership of Dr. Nancy de Grummond of the Classics department."

Robbins' drive to experience as many of FSU's extracurriculars as she can has also led her to pursue numerous community service and volunteer opportunities. That included work with the Arts After School program, working with teachers and students in Tallahassee. 
"That work is helping kids succeed in the program's after-school class and do well on their homework," she said. "This has given me crucial insight as to how the Tallahassee community is aiming to meet the needs of students in different socioeconomic backgrounds at the elementary school age."
Her volunteer work has included time spent with the Center for Undergraduate Research and Academic Engagement's (CRE) President's Showcase and she has plans to do more work with the group this year. This fall, she's serving as a UROP Leader in a Humanities/Language section.
"I want to carry to a new wave of students the impact UROP had on me as someone who discovered the enrichment of undergraduate research," she said. "It's opened dozens of doors for me in ways I didn't imagine."
Robbins, who will graduate in Spring 2022, said her time at FSU has helped focus her future. She plans to attend graduate school to combine her interests in classical archaeology and the digital humanities by pursuing a masters in cultural heritage & museums studies.
"I do not know exactly how this study will manifest itself in a career, but I am interested in working in museums either as a curator or a coordinator of diversity and inclusion," she said. "As a humanities major, it might seem daunting at first to discover what path we should carve for post-graduation. At FSU, I have found this process is not so daunting after all."