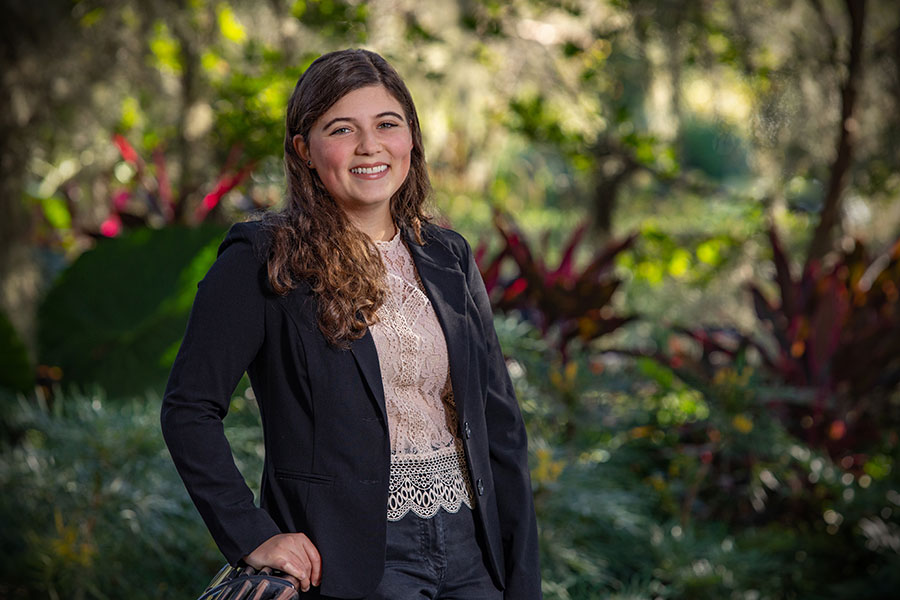 ""Florida State has blown me out of the water. I have had such a good experience here, and there are incredible opportunities to take advantage of.""
Growing up in Gainesville, Florida State University senior Beatrice Dain said she never considered going to FSU.
But when the time came to apply for college, Dain was intrigued by the unique opportunities available to freshmen at FSU, like the Living Learning Communities, the Undergraduate Research Opportunity Program (UROP) and the Service Leadership Seminar.
"Entering as an exploratory student, I felt that FSU provided helpful resources to help me think about how to align my majors with the career paths I was interested in," Dain said. "I still feel that FSU really tries to engage and support students on campus and ensure that their undergraduate experience goes far beyond attending classes."
While at FSU, Dain has done much more than just attend classes. She set herself up for success by participating in Service Leadership Seminar (SLS) the week before fall move-in. Hosted by the Center for Leadership & Social Change, SLS is an opportunity for incoming freshmen to partake in presentations and workshops that connect on-campus experiences with community engagement.
During her first year at FSU, Dain also joined the Freshman Leadership Institute, a 10-week program within the Student Government Association that provides members with the opportunity to embrace their personal values, explore and develop their personal leadership style, and foster a deeper sense of self-identity.
She also resided in the Bryan Hall Living Learning Community, which inspired her to become a mentor her sophomore year.
"In that role, I met weekly to help teach a colloquium focused on helping exploratory freshmen living in Bryan Hall to adjust to college and think through their major," Dain said. "I hope that my work with these students helped them transition to FSU, whether they were figuring out their major or finding an organization on campus where they felt welcomed and supported."
Originally an exploratory major herself, Dain decided to double major in international affairs and anthropology, while completing a minor in social entrepreneurship.
Through InternFSU, Dain had the opportunity to work at the Institute for WWII and the Human Experience as a WWII Archive Assistant, organizing and describing immigration and human rights documents and photographs related to World War II that were originally written in German and English.
"This work helped increase the accessibility of historical documents located at FSU," Dain said. "Not only is this helpful for FSU researchers, but for many outside academics and researchers who also use the archive for their publications, which reflects well on FSU."
Dain has spent the last two semesters tutoring refugee elementary and middle school students living in Tallahassee.
"I hope this has helped with their ability to feel more comfortable in their classroom and feel even more supported in Tallahassee," Dain said.
Dain was selected as one of 18 scholars for the Social Science Scholarship, which awards $5,000 for an independent project or internship. In 2020, she was one of five FSU nominees for the Truman Scholarship.
As a freshman, Dain participated in UROP on a research project that aimed to create a massive open online course through an app to provide Nicaraguan artisans with the tools to sell their products to international clients through Etsy.
"My role in this project was to translate questions and help design the format of the app," Dain said. "During spring break of my freshman year, I traveled to Nicaragua to conduct preliminary interviews with artisans to account for their needs and skill levels in the course."
Dain presented the project at the Florida Undergraduate Research Conference (FURC) and at FSU's 18th Annual Undergraduate Research Symposium.
Fluent in English, Spanish and German and proficient in Portuguese, Dain was able to put her language skills to use and studied abroad twice while at FSU. In 2017, she participated in the University Studies Abroad Consortium in Lüneburg, Germany, to study German and take political science classes on the European Union. In 2019, she traveled to Antigua, Guatemala, to take part in the University of Arizona's IDEA's (International Program for Education and Social Action) AVANCSO program and study Spanish, human rights, and anthropology.
While in Guatemala, Dain worked as an archival assistant at the Center for Mesoamerican Research (CIRMA), where she read, summarized and categorized historical documents written in in Spanish, German and English. She also worked as an education intern at the Auxiliary Office of the Guatemalan Human Rights creating Spanish language educational tools for human rights informational workshops.
Dain spent the summer of 2019 in Tucson, Arizona, working at the Colibri Center for Human Rights, an organization dedicated to ending death and disappearance along the U.S.-Mexico border.
As an intern, Dain was responsible for conducting missing person report interviews with families of migrants who disappeared while crossing the Arizona-Mexico border. While there, Dain conducted 739 phone calls and 77 missing person report interviews in Spanish. She also collected DNA samples from family members to help identify remains and arranged a DNA collection trip for the director to meet with families in Guatemala.
"I think my work at the Colibrí Center has impacted people positively," Dain said. "For most, the missing person reports were the first time that they felt heard and respected in the process of searching for their loved one in Arizona. By no means was this a happy time for them, but the reports I took were a way of inching closer towards finding more information about their loved one. For a few reports, the individual was found in a detention center, and for others, they provided closure to families across the Americas."
Last spring, travel restrictions due to the COVID-19 pandemic interfered with starting her honors thesis in International Affairs, which looks at the Hebrew Immigrant Aid Society (HIAS) and their refugee resettlement efforts conducted in Latin America during the 1930s and 1940s. Dain had received the David B. Ford Undergraduate Research and Creative Activity Award to fund a month in New York City conducting archival research at the Center for Jewish History, but the pandemic forced her to use online archives.
Dain's research at FSU has inspired her to pursue a career in law focusing on human rights.
"I will definitely be taking a few years off where I would like to work for an NGO or organization working for increased immigrant rights to gain additional experience," Dain said. "Afterward, I am interested in attending law school with a focus on human rights and immigration law. I'm sad to leave FSU, but excited for the future."