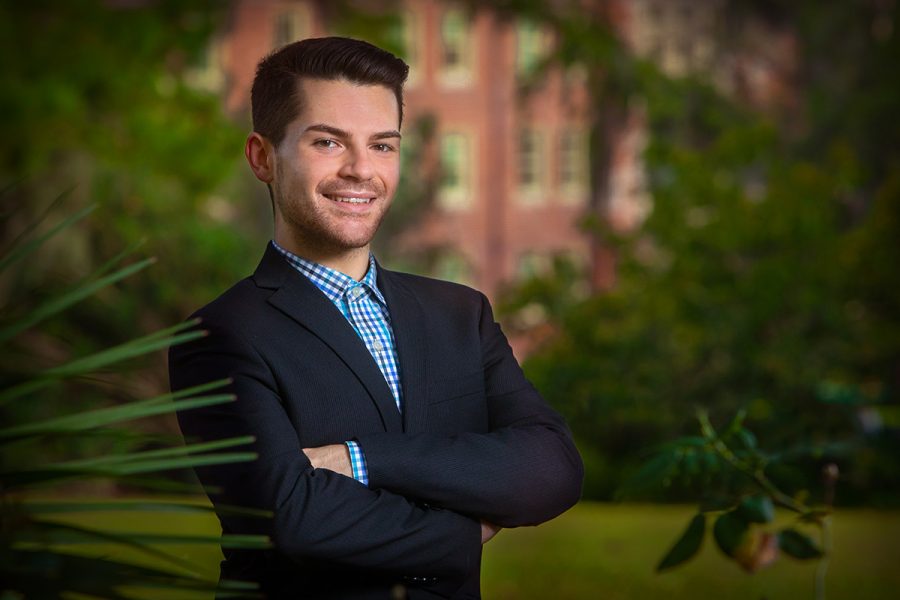 "In my time here, I am proud to have been part of amazing multidisciplinary research projects that are only possible at FSU."
When James Ippolito presented his undergraduate research at the annual meeting of the American Society for Nutrition in 2018, he had no idea it would lead him to enroll as a graduate student at Florida State University.
At the time, Ippolito was an undergraduate at the University of New Hampshire, presenting research related to multivitamin/mineral supplementation that he had published in the academic journal Current Developments in Nutrition. During the conference, he connected with FSU Assistant Professor of Nutrition, Food & Exercise Sciences Stephen Hennigar, who encouraged Ippolito to check out Florida State's Master of Science program in Nutrition & Food Science.
Hennigar, whose research focuses on micronutrients and trace minerals, such as iron and zinc, told Ippolito of his plans to start a new lab at FSU, and it piqued Ippolito's interest.
"I looked into other options for graduate school, but FSU really stood out to me," Ippolito said. "I chose to attend FSU to learn directly from the top-notch faculty, and I am so glad I did because I have learned so much and grown as a person during my time here at Florida State."
Ippolito was the first student to join Hennigar's lab, which has allowed him to gain valuable experience as a leader within his lab group, where he instructs new students on proper laboratory practices and procedures. He also served as leader of the Blood Processing Team for Hennigar's lab on a project with the FSU Track & Field team, processing time-sensitive blood samples used to improve the athlete's overall health or performance.
In the Hennigar lab, he's working on a new project related to food insecurity, while also exploring malnutrition, iron supplementation strategies, and infection – highly prevalent issues in many parts of the world — in his own study.
Ippolito said one of the biggest skills he has learned while at FSU is public speaking.
"When I started at FSU, I was definitely not comfortable in front of audiences, both large and small," Ippolito said. "This quickly changed. Within the first month of my time here, I was introducing a speaker for the Nutrition, Food and Exercise Sciences Seminar Series."
During his time at FSU, Ippolito lectured in his endocrinology class and presented his 45-minute long prospectus, all with the support and encouragement of his lab group from Hennigar's lab.
Those public speaking experiences prepared him to present his research at the Graduate School's Master's in 4 Competition in spring 2020. The premise of the Master's in 4 competition is for students to explain their personal research projects to a general audience in under four minutes with only four presentation slides and do so successfully.
For the competition, Ippolito presented his graduate research on Salmonella infection and iron supplementation. The goal was to present his findings in a way most people could understand, while still being true to himself and true to the science.
"I chose to present my actual data in this presentation using charts, which was criticized early on as not being accessible or understandable for a general audience," Ippolito said. "However, from a scientist's perspective, it is important to show raw data in this way, because the audience has to understand the data in order to understand the reason why the researcher arrived at their conclusion."
This decision ended up working in Ippolito's favor, as he was named one of the winners of the Master's in 4 Competition for spring 2020.
He also presented a more in-depth, 15-minute-long presentation on his research at the FSU College of Human Sciences Research Showcase, earning another victory.
"Being chosen as one of the winners at the FSU College of Human Sciences Research Showcase really validated my ability to communicate science to both a general audience in a quick presentation, but also in a science-focused audience in a longer presentation," Ippolito said.
Ippolito said he is grateful for his lab team and the feeling of teamwork fostered between them both inside and outside of the lab.
After graduation, Ippolito hopes to work in the food industry using his food safety, nutrition knowledge and laboratory experience to provide consumers with easily accessible, safe and nutritious products