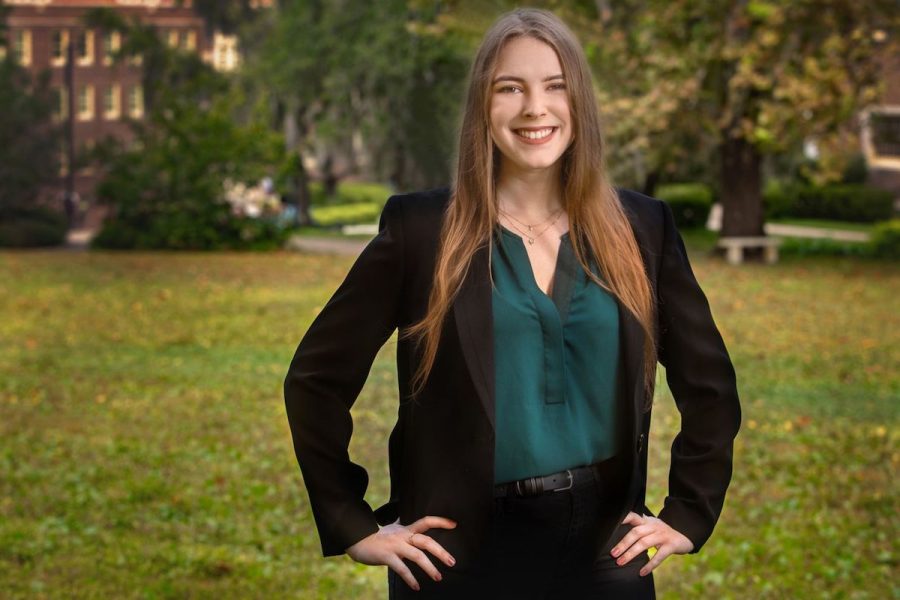 ""I would not be the person I am today were it not for the support of my professors at FSU and the amazing opportunities this university has provided me." "
Diana Conrad said she always knew she wanted to be a teacher. Four years of studying at Florida State University confirmed that dream — and even gave it a bit more meaning.
Conrad, who is majoring in chemistry with hopes of becoming a professor one day, said education has been a priority throughout her life thanks to the amazing support she's received from her teachers.
"I've learned so much about how to be a good teacher, about how to be there for your students," she said. "FSU showed me the kind of person I want to be and the kind of teacher I want to be for the students of the future."
Since she arrived in Tallahassee from her hometown of Sarasota, Conrad said she's grown inside and outside the classroom. 
Conrad said she was smitten with the FSU campus but early on realized she wanted to push herself outside of its picturesque boundaries. With that in mind, she has volunteered with the Food Recovery Network, a program housed within FSU's Sustainable Campus chapter. In her work with FRN, Conrad has distributed food from FSU dining halls to the needy throughout the greater Tallahassee community. 
"I've been at FSU for four years, and when you are in college, it's easy to forget that you are part of a community and that Tallahassee goes on well outside of the academic world," she said. "It's so important to see what you can do to give back to the greater Tallahassee community. We are so privileged to have amazing food choices at FSU, to get the food we want at the store. I wanted to see what I could do to give back to those less fortunate."
Conrad's desire to push herself and FRN has yielded big results for the group in Tallahassee. Today, she helms the organization and is responsible for shaping the group's focus. 
"With every recovery completed, we have been able to watch the statistics for total pounds of food donated and total meals donated steadily increase to the 69,264 pounds recovered and 57,719 meals donated that they are today," she said. "Since leading the program, I have been able to create more of an emphasis on using the recovered food to support students at FSU. When food insecurity affects college students, it proposes a whole new set of issues in addition to just hunger."
Inside the classrooms and laboratories at FSU, Conrad has enjoyed countless opportunities to indulge her interests and expand her knowledge of research. Conrad is a member of the Honors Program and, last summer, she worked on an IDEA Grant project for her Honors in the Major thesis.
"During my junior year, I began research with Professor Michael Shatruk in the area of inorganic chemistry," she said. "Working in a lab and being able to continually work on a project and improve on techniques allowed me to rediscover my pure curiosity about the chemistry field."
Honing her research skills is something Conrad said she hopes to continue doing as she considers graduate school and then, ultimately, returns to college classrooms and laboratories as a professor. 
"I plan to pursue a Ph.D. in inorganic chemistry with the goal of becoming a professor at a university," she said. "As a professor, I hope to inspire the next generation of students and honor the legacies of the professors who have inspired me." 
Conrad said it's her goal to take her cues from her FSU professors and create a similar classroom experience that both teaches and builds confidence.
"I hope to foster a learning environment that encourages others to challenge themselves and work to their full potential," she said. "With the confidence and skillset gained from working in research as an undergraduate student, I am excited to become a research professor where I can unite my love for research with my passion for educating and mentoring future generations of students."
Conrad said she'll carry the lessons from her time at FSU with her as both a foundation and a guide to help steer her toward her future. 
"My entire experience at FSU has been about trying new things, building community and trying to see the bigger picture," she said. "I've enjoyed so many opportunities to branch out, to see the impact service can make here in Tallahassee. I've learned so much about how to be a good teacher and researcher. FSU has helped give me so much confidence — confidence to be a researcher, to be a teacher, to be a volunteer." 
When she thinks back to her freshman year and how she has grown inside the classroom and out, Conrad said she's grateful for her time in Tallahassee.
"I think I've accomplished everything I wanted and more," she said. "FSU will always be a special part of my life, and I am so thankful for the opportunity to have come here."