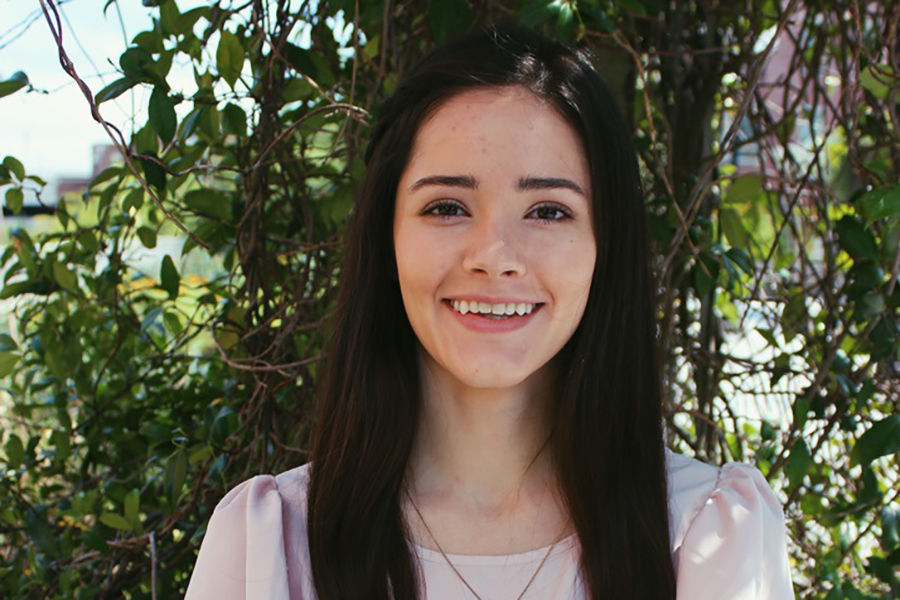 "My experience at Florida State University has surpassed my expectations: challenging, inspiring and supporting my journey toward becoming a more critical thinker, a more empathetic person and a more productive member of society. "
Junior psychology major Trystan Loustau has made the most of her collegiate journey at Florida State University, taking full advantage of opportunities for undergraduate research and on-campus involvement.
Loustau, a Jacksonville native, made the decision to attend Florida State University after being invited to the 2018 Interview Weekend for the Presidential Scholars Program. There, she was able to tour the campus and was introduced to the many faculty, resources and opportunities available to students.
Loustau's passion for research and intellectual curiosity drove her to become heavily involved in undergraduate research and the FSU Honors Program. She is currently an FSU Presidential Scholar, Honors Student and participates in the Honors Experience Program (HEP).
"When I was offered a position in the HEP program, I knew this was where I wanted to learn, grow and discover myself over the next four years," Loustau said. "Since then, my experiences at FSU have surpassed my expectations: challenging, inspiring and supporting my journey toward becoming a more critical thinker, a more empathetic person and a more productive member of society."
As a freshman, Loustau served as a committee leader for the HEP Equality Committee, a group dedicated to hosting student-led discussions about various political, cultural and social issues. Loustau's coursework, under HEP faculty members Ross Moret and Arianne Quinn, has led to several research opportunities on and off campus.
During the Fall 2019 Undergraduate Religion Symposium, Loustau delivered an oral presentation titled "Bridging the Gap Between Muslim Americans and Mental Health Professionals." It was inspired by a term paper she composed for Moret's HEP course "Freedom and Religion".
At the 2019 HEP Symposium, she co-wrote a short play performed by the drama department which focused on the rise of artificial intelligence and its moral philosophical implications. Loustau also gave an interdisciplinary oral presentation analyzing the musical "Into the Woods" through a philosophical lens.
Loustau expanded her work on "Into the Woods" under Quinn, who encouraged her to submit her paper to the Bruce Kirle Memorial Debut Panel in Music Theatre sponsored by the Association for Theatre in Higher Education (ATHE). Her paper, "Back to Child, Back to Husband: Containing Transgressive Mothers in Into the Woods," which focuses on the representation of motherhood in the musical, will be published in the journal Studies in Musical Theatre, and Loustau will give an oral presentation on her paper at the 2020 ATHE conference. It was accepted through a process of blind peer review with a panel of scholars and will be published as a scholarly article in the journal "Studies in Musical Theatre" in the Fall.
"I am incredibly honored to have my paper selected for this panel," she said. "I fell in love with the soundtrack and the interwoven storyline that revealed more and more each time I listened to it."
Loustau also collaborated with Quinn and a small group of HEP students on a project with the New York Public Library (NYPL). Using primary sources and relevant scholarly literature, Loustau wrote the character analysis section of a blog post on the musical "Baker Street," which was published on the NYPL website in May.
She has also worked on numerous undergraduate research projects in the field of psychology during her time with FSU. As a freshman, Loustau participated in FSU's Undergraduate Research Opportunity Program (UROP), working as a research assistant in assistant professor Jessica Ribeiro's lab studying suicidal behaviors using virtual reality technology.
Loustau presented her preliminary findings at the Undergraduate Research Symposium that spring and continued her work in the lab through a Directed Individual Study course for another semester the following semester. She presented the completed results in an original poster paper at the Association for Behavioral and Cognitive Therapy in Atlanta in November 2019.
Loustau's interest in the study of morality, which was first piqued in Moret's HEP courses, was furthered in a "Moral Psychology" class she took, taught by assistant professor Paul Conway.
Conway is serving as the faculty advisor on an original research project that Loustau is undertaking this summer, sponsored by the Scott and Ina McNichols Undergraduate Research Award, a $4,000 FSU IDEA Grant.
Her project will investigate how people's behavioral immune system may change the way they think about others in a moral sense. She is curious to see how these changes may be contributing to increased instances of prejudice and discrimination during the COVID-19 outbreak. Loustau plans to present this research at the President's Showcase this fall, and she hopes to publish her study in a professional journal.
"I have fallen in love with research here at FSU," Loustau said. "I know as long as I keep pursuing research that I'm interested in, I will end up in a place where I am meant to be."
Last year, Loustau served as an associate editor for The Owl, FSU's Undergraduate Research Journal, working with other members of the editorial board to provide undergraduate student researchers with the opportunity to experience the peer-review process and get published.
Next year, she will serve as the editor-in-chief of The Owl with the goal of increasing student engagement and helping students make the most of their submission experiences. In this position, she will also serve as assistant director of the Student Council for Undergraduate Research and Creativity, dedicated to supporting undergraduate research. She will also serve as a UROP Leader during the upcoming fall semester.
"I am excited to have the chance to help other students take advantage of the amazing resources and opportunities available for undergraduate research, both on-campus and beyond, Loustau said. "I will also have the opportunity to help equip them with practical skills for conducting research and securing those opportunities."
Her excitement for research and critical thinking has been noted by Conway, her IDEA Grant mentor.
"Trystan is an exceptional student," Conway said. "Upon meeting her, it was immediately apparent that she was thinking about things in a deeper way than most students. Her questions in my class demonstrated not only clear understanding of the models and related evidence and criticisms, but even challenged me to rethink my theorizing on some topics. She is extremely enthusiastic and motivated to conduct research and has generated multiple different project ideas with detailed follow-up plans. She is one of those students with an extremely bright future, and it is a privilege to work with her."
Loustau's interests are broad — from humanities to psychology — with much of her work resting on the intersection between psychology and media studies.
Knowledgeable in several programming languages, Loustau is also completing a minor in computer science and working to obtain a certificate in SAS Statistical Analysis and Programming. She hopes to use these skills to support her research endeavors. Additionally, she is a member of the Psi Chi International Honor Society and Phi Beta Kappa.
"If I had advice for anyone, it would be to take advantage of every interesting opportunity presented to you," Loustau said. "Don't be afraid to make your own opportunities if the need arises. FSU does an outstanding job of providing opportunities for undergraduates, especially in research. Every one of my research and leadership experiences have all been supported by FSU, and I truly could not have done all of these things without their support."
After graduating in Spring 2022 with a bachelor's degree in psychology, Loustau plans to pursue a doctorate in social psychology.