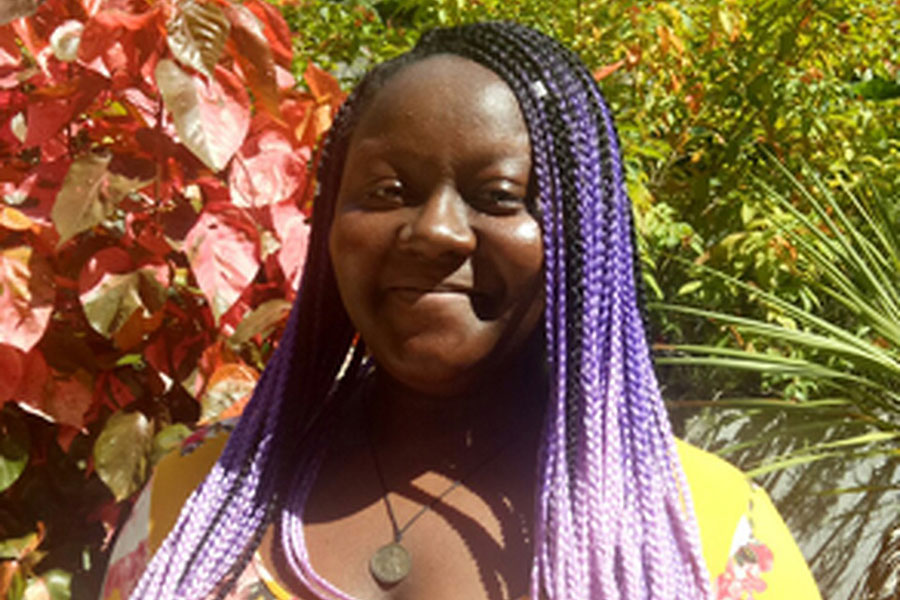 "My time at Florida State shaped my aspirations and strengthened my dedication to education, service and social change. I hope to take these teachings with me wherever I go in the world."
Growing up in South Florida, Arria Hauldin never expected to be where she is today. During her time at Florida State University, the recent graduate combined research, and local and global experiences to amplify stories that are often overlooked.  
"The actual idea of going to college was honestly more of a fantasy for a long time," Hauldin said. "Even though it was a goal of mine, I didn't know where I wanted to go, what I wanted to do or how I would even pay for it." 
During her junior year of high school, Hauldin was volunteering at a local hospital in Broward County when a nurse told her about his daughter's experience as part of the CARE Program at FSU. The Center for Academic Retention and Enhancement (CARE) provides equity and access to traditionally underrepresented students disadvantaged by virtue of educational and socioeconomic reasons.  
After looking more into CARE and seeing if she qualified as a first-generation college student, Hauldin later applied to the program and was accepted. During the 2016 Summer C term, she took part in CARE's Summer Bridge Program and throughout the remainder of her enrollment at FSU, she participated in required and optional activities for CARE students to help them reach their goals and use the resources available to them at FSU.  
"FSU's CARE Program offered me support from all angles," Hauldin said. "Not only was I receiving financial support, but I had a community of first-generation students to connect and grow with throughout my four years." 
Hauldin started as a biology major at Florida State because she appreciated the broadness of the field, but ultimately found an interest in anthropology during her sophomore year, through the Undergraduate Research Opportunity Program (UROP). 
"I would say that most of my research stems from my personal identity and is really focused on the human experience, and I want to continue that," she said. "Before UROP, I had never considered research or thought it was for me, but UROP has really motivated me to continue pursuing research long-term." 
Throughout UROP, Hauldin worked with TehQuin Forbes, a graduate student in the Department of Sociology, on a project titled: "LGBTQIA+ Attitudes Toward Their Straight Allies." This project was recently published as a research article, and Hauldin was credited for her contributions. She also presented a portion of this larger research project at the 2018 Undergraduate Research Symposium.  
Ultimately, Hauldin became a UROP Leader, helping to mentor and teach her own UROP student sections. This past year, she was selected as a trainer for future UROP Leaders.  
Hauldin's research and teaching interests led her to many international travel experiences. The summer after her freshman year, she volunteered in Thailand with GIVE Volunteers, a service-learning organization with country specific social, environmental and educational themes.  
In Thailand, Hauldin taught English and was the only black volunteer out of the 35 on this trip. Many of the locals and her students had never interacted with a black person, and she tried to use these difficult encounters as opportunities for teachable moments on a broader scale. 
In the summer of 2019, Hauldin traveled to Vietnam as part of FSU's Global Scholars Program. She and her research partner were the first FSU Global Scholar students to go to Vietnam through Coins for Change. She received $3,000 through the Global Scholars Travel Grant to fund this trip.  
Hauldin also received the U.S. Department of State's Benjamin A. Gilman Scholarship, which gave her $4,000 toward her trip to Vietnam. Throughout the application process, she turned to FSU's Office of National Fellowships (ONF), where Assistant Director, Jesse Wieland, helped her form a successful application.  
Hauldin and her research partner were awarded a $2,000 IDEA Grant toward a research project that explored the lives of minority single mothers in Vietnam, and how their experience translated into the wider global narrative of being a single mother.  
A Spring 2020 graduate, Hauldin had plans to take part in the Beyond Borders Jamaica Program during spring break to learn more about her cultural roots, but the trip was canceled due to the COVID-19 pandemic. She also was invited to serve in the United States Peace Corps and had planned to leave at the end of May to head to Mongolia for two years, but that trip has been delayed.  
Hauldin still remains optimistic despite the unexpected change of plans. She is currently looking for seasonal part-time jobs to "add to her story" until her tentative Peace Corp start date sometime in September. Hauldin is also wrapping up her Honors in the Major Thesis titled, "Caribbean Counterparts: The Experiences of Jamaican and Haitian Immigrants in the US Higher Education System," and based on her own experience.  
After serving in the Peace Corps, Hauldin hopes to earn a Fulbright and continue working in the field of education, while learning about a new culture in a new country. She plans pursue a master's in either public health or education, followed by her doctoral degree in anthropology. Her goal is to make the wide applications of anthropology known through a combination of teaching, research and nonprofit work.   
"My hope is that once people see similarities between one another, people can see that we all desire and need similar things," she said. "We can then use this knowledge to propel one another and uplift each other."