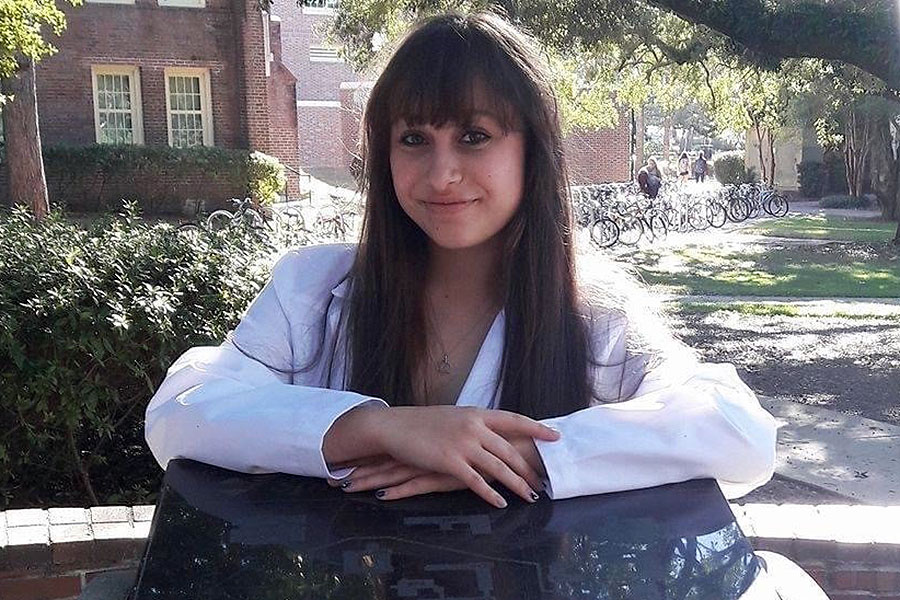 "I think FSU has prepared me very well for my next step, and I have a realistic image of what my career will look like because of my experiences at FSU."
Recent FSU graduate Arianna Broad forged her own path toward a brighter future and a better campus at Florida State University.
Broad decided to attend Florida State University after her acceptance into FSU's Women in Math, Science and Engineering Living Learning Community (WIMSE), and in the fall of 2016, she moved from Titusville, Florida, into Cawthon Hall with boundless opportunities awaiting her arrival.
Living Learning Communities (LLC) are a special feature of University Housing where first-year students with a common academic interest lodge together to establish a network between students and faculty at FSU. WIMSE is an LLC which provides female STEM majors with academic, social and professional support. Along with the physical housing, WIMSE arranges for a special colloquium geared toward supporting women in STEM, as well as exposure to mentors and careers in the STEM fields and several tours of on-campus labs.
Through WIMSE, Broad quickly became involved with on-campus research and made friends with the other 33 women on her floor.
"Living in an LLC ended up having way more benefits than I expected," Broad said. "It's a great way to foster community and make sure you always have a friend in your classes and someone to study with. Being a part of an LLC made a huge university seem smaller."
Through WIMSE's research experience program, Broad was able to start research as a freshman in the lab of Professor of Biological Science Fanxiu Zhu where she investigated how a protein in Kaposi's Sarcoma-Associated Herpesvirus aids in cell host immunity evasion. Broad continued her work in this lab for two and a half years, participating in two different summer research programs through the National Science Foundation's Research Experiences for Undergraduates.
The first was at the Louisiana State University Health Sciences Center in 2017. At LSU, she assisted in a clinical microbiology lab researching different drug susceptibility mutations in a certain fungus that had caused an outbreak in 2008 in the Children's Hospital of New Orleans. In 2018, she spent the summer at Cornell University where she contributed to the study "Structures of Immature EIAV Gag Lattices Reveal a Conserved Role for IP6 in Lentivirus Assembly," which was recently published in the medical journal PLOS Pathogens.
Her work at Cornell sparked a change in Broad's interests, and she decided to switch to Associate Professor Ewa Bienkiewicz's lab in the College of Medicine for her honors thesis. There, she researched a potential therapeutic peptide derived from a protein typically found in the brain. This peptide could help minimize blood toxicity and decrease the number of neurons that die during a stroke which, in turn, improves recovery time.
Last summer, Broad participated in an internship through the Leadership Alliance at Harvard University where she worked to understand the structure of a protein receptor that senses fructose, or sugar, in insects. Broad's extensive research on and off campus has resulted in an impressive resume and a long list of contacts.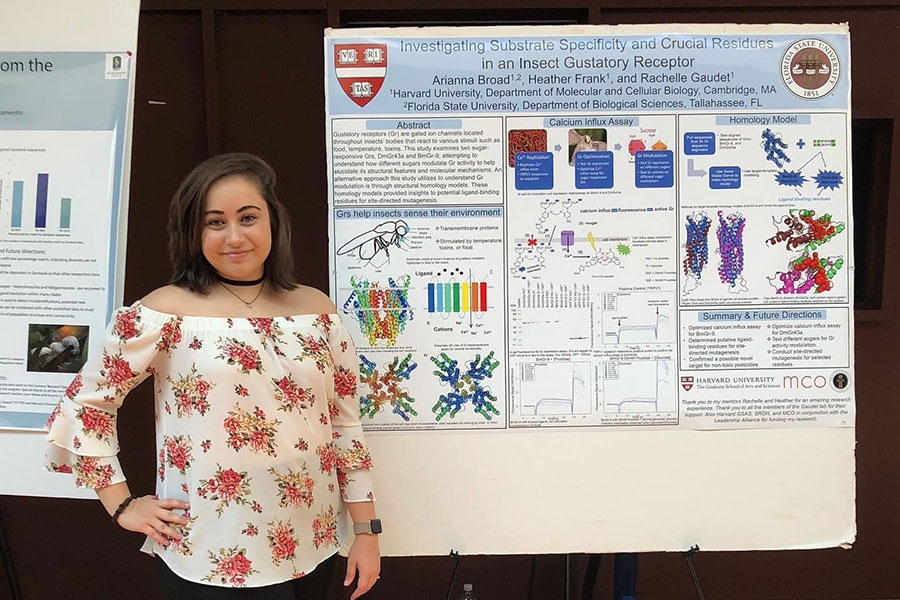 Broad's research also led her to discover the American Society for Microbiology (ASM) during her summer at LSU when the ASM National Conference called Microbe was held in New Orleans. At the conference, she learned more about advanced microbiology research and learned about different scholarship opportunities, internships and networking opportunities for students.
"I realized, 'Wow, these conferences are where it's at,'" Broad said. "Seeing all of the researchers with their posters, watching presentations and seeing the big biotech and pharmaceutical companies at the conference was really cool."
Upon returning to FSU in the fall, Broad decided to bring ASM to campus with help from two of her lab mates and worked to get the organization established as a Recognized Student Organization. In the fall of 2017, they attended the ASM regional conference in St. Petersburg, where Broad won the 2017 ASM Southeastern Branch Conference "Best Undergraduate Poster" award. Broad served as the organization's president for two years and as secretary for one.
"This experience made me a better leader," Broad said. "Before I had this role, my idea of leadership was being the one in charge and making sure everything got done. Now, I think leadership is understanding people's strengths and weaknesses and then assigning them tasks they can do that match those strengths."
Through FSU's ASM, Broad hosted several journal clubs and mentored several younger students, helping them apply for research and various academic opportunities.
"Because I have done so many summer programs, I know what people look for in applicants," Broad said. "I enjoy passing down my knowledge from my experiences and showing younger students how to frame their stories in a way that is both meaningful to them and makes them more competitive."
At FSU, Broad realized that research is more about life experiences than grades.
"Your classes can only take you so far," she said. "For researchers, most of your learning comes from reading research papers and doing things in the lab and going to conferences. It's not about the grades or being an honors student; I think that's a misconception with research. Research is about the experience and the passion and curiosity you have."
Broad's passion for research has been noticed by her mentors.
"What strikes me most about Arianna is her independent nature and passion for science," Associate Professor Ewa Bienkiewicz said. "She is creative and does not shy from tackling difficult concepts. Arianna's excitement is contagious, she asks probing questions and, importantly, searches for the answers on her own initiative. Her future looks bright, and I believe that she will embrace the challenges of the graduate school with focus and determination that will lead her to a successful career as an independent researcher and academician."
Broad is grateful for her time at Florida State and believes it was the right choice for her.
"I'm not going into grad school blindly," Broad said. "I think FSU has prepared me very well for my next step, and I have a realistic image of what my career will look like because of my experiences at FSU."
Broad graduated from FSU in May 2020 with a bachelor's in biological science. She has received the prestigious Cornell Sloan Fellowship and will attend Cornell University to pursue a doctorate in biochemistry and molecular biology starting this fall. Here she will have access to world-renowned resources such as the Cornell High Energy Synchrotron Source (CHESS) to take her structural biology passion to a whole new level. Entering Cornell, she will start her first doctoral laboratory rotation in the lab of Gary Whittaker potentially studying the structure of coronaviruses and influenza viruses. Upon completing her doctorate, she plans to use her position as a researcher to make research opportunities more accessible to all students.