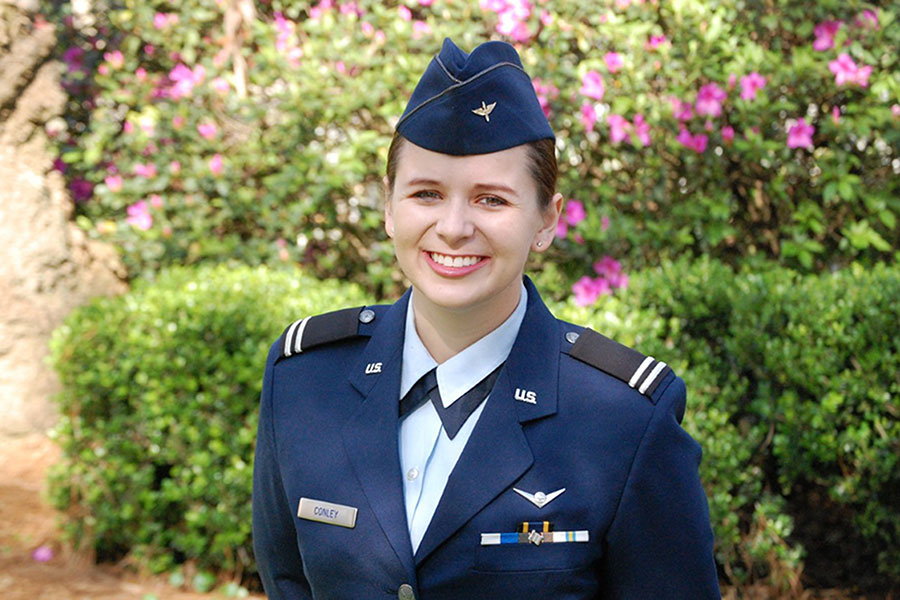 "Florida State really encourages students to pursue their dream, regardless of what that may be."
Senior Moira Conley came to Florida State University knowing she wanted to earn a degree in music. She didn't know, however, that she would leave FSU four years later with a commission as a Second Lieutenant for the United States Air Force in addition to her dual degree in Environment & Society and Music.
Conley, a Pensacola, Florida native, was always interested in music as a child. With her mom's support, this interest continued to grow during her high school years and while looking for summer camps to improve her musical skills, Conley discovered and auditioned for FSU's Honors Chamber Winds Camp.
The two-week camp occurs every summer under the direction of Richard Clary, a professor of conducting, senior band director and director of wind ensemble studies at FSU, and provides instruction for 15 advanced, pre-collegiate students to perform in at least two public performances.
"My favorite part about FSU's Honors Chamber Winds Camp was that it enabled me to work with actual FSU students," Conley said. "All of our counselors were either past or present students, and I was able to really get a sense of the music major lifestyle."
That experience at camp inspired Conley to attend Florida State after high school, but it was volunteering at a butterfly house that led her to pursue a degree in environment & society.
Following her freshman year, Conley still had a love for music but was questioning how she would turn it into a career for herself. She grew up in a military family but had never really considered it for herself until that moment.
Conley's father, a Retired Lieutenant Colonel for the U.S. Air Force, encouraged her to see what FSU's Air Force Reserve Officer Training Corps (ROTC) had to offer because she had always been interested in Air Force Band.
"I just totally fell in love with FSU's Air Force ROTC program and everything they stand for," Conley said. "I joined and the rest is history."
Conley attended Air Force ROTC's Field Training the summer before her junior year. Over these two weeks, students were evaluated in true "boot camp" style while being put under stress, testing their military discipline and challenging their emerging leadership abilities.
"I joined Air Force ROTC as a sophomore which is kind of a unique circumstance because most people join as a freshman," Conley said. "As someone that was new, I had to learn everything double and quickly adapt. I was very lucky to have a great mentor – my flight commander – who really pushed me to excel."
Conley's drive to succeed at Field Training was rewarded with the Commander's Scholarship. This scholarship is awarded to the top cadets in the class for their hard work and top academics in the Air Force ROTC program. Cadets are selected by Cadre for this award, which covers tuition with an additional book stipend.
As a recipient of the Commander's Scholarship, Conley had to take the oath of enlistment for the Air Force. This was a particularly special moment for Conley because both of her parents were able to attend the ceremony, with her father administering the oath.
While at Florida State, Conley has also combined and explored her interests through various research opportunities on campus. During her freshman year, she completed the Undergraduate Research Opportunity Program (UROP) with Professor of Music Theory Michael Buchler, whose research focuses on trends in cadences, or the end of a musical phrase. Through this UROP project, Conley and Buchler found that the cadences in modern musicals are ending on more optimistic, higher scales than they had been previously.
In her Music History II class last spring, Conley was tasked with writing a research paper that focused on a specific period of music within history. She seized the opportunity to bridge her interests in music and the military by writing a paper titled "Tactic and Tune: Fife and Drum Corps in the American Revolutionary War."
Her teaching assistant for the class, Ryan Whittington, encouraged her to submit her paper for the Undergraduate Music Research Symposium. Conley's paper was accepted, and she presented the research, but she wondered if there was more research related to her topic that she was missing.
As a result, over the last year Conley has been turning what started as a class paper into her thesis as part of the Honors in the Major program. Her thesis investigates the transformation of the soundscape at Valley Forge through the addition of new drill tactics and leadership ideologies. Conley successfully defended this thesis in March 2020.
"Moira is a perceptive and persistent historian whose research goes beyond a superficial examination of the music," said Charles Brewer, professor of musicology. "Her research is driven to understand the important sonic role of music in the later tactical success of the Continental Army during the American Revolution, especially following Valley Forge."
During her time at FSU, Conley has been able to freely explore her interests across various areas of campus and the community. She's served as a peer advisor for the College of Music, completed an internship with the Pensacola Symphony Orchestra as a music librarian and served as a group leader for the Gulf Winds Track Club.
Conley also has held various leadership roles on campus. Within Air Force ROTC, she's served as a Physical Fitness Officer, Flight Commander and Chief of Public Affairs.
An avid fitness enthusiast, Conley has completed multiple triathlons, half and full marathons while at FSU. Most recently, she completed the 2020 Tallahassee Marathon in 3 hours and 56 minutes, taking home first place in her age division while beating her old time by about 20 minutes. She hopes to one day qualify for the Boston Marathon.
"Florida State really encourages students to pursue their dream, regardless of what that may be," Conley said. "I've had the chance to combine my interests and make my own path along the way. I could not have done everything that I have without the support from the faculty and my friends and family back home."
Following graduation in May, Conley looks forward to her commission as a Second Lieutenant in the United States Air Force, where she will serve as a Combat Systems Officer. Conley was selected for this role based on a combination of her test scores, fitness score and GPA.
"Moira Conley is an inspirational student and leader. She has successfully balanced the high demands of Air Force ROTC and the rigor of her majors," said Lieutenant Colonel Scott Pohler, the director of operations for FSU Air Force ROTC. "She is a shining example of talent and selflessness. Her attitude, drive and dedication to a calling higher than herself gives me great confidence in the future of our country."