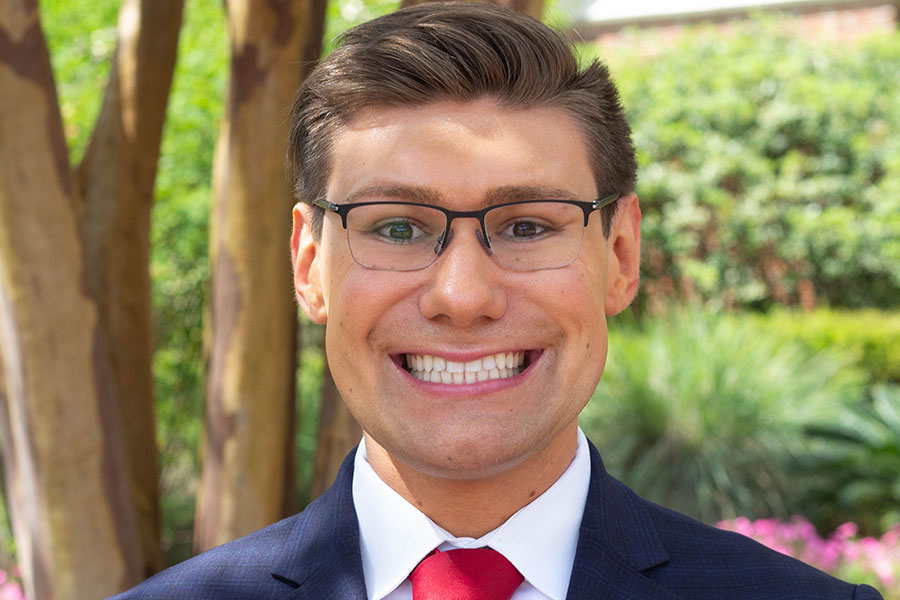 "FSU has allowed me to gain more than just a degree through various experiential learning opportunities the university and surrounding community offer to students."
Logan Love arrived at Florida State University without knowing anyone on campus.
Three years later, the first-generation college student has managed to forge his own path at Florida State, while collecting an abundance of impressive accomplishments.
Love, now a senior, grew up seeing FSU stickers and license plates on cars where he grew up in Virginia. Even his AP U.S. History teacher was a proud alumna of the university who always talked about how much she loved FSU and decorated her classroom in garnet and gold.
With an interest in politics and government, Love said that choosing to attend FSU was an easy decision to make.
"I was instantly drawn to the Interdisciplinary Social Science major that FSU offered," Love said. "I've always been interested in politics and government, but knew I wanted more than just a generic political science degree. I longed for a program that would challenge me while allowing me to enhance my passions, and this program has certainly done just that."
The week before the start of his freshman fall semester, Love was selected to attend FSU's Service Leadership Seminar (SLS), a weeklong event held before the start of the fall semester at no extra cost for students. The seminar gives selected incoming freshmen the chance to learn about community service, identity and leadership. Its goal is to enable these students with the skills needed to create lasting change on FSU's campus during their time as a student.
"SLS made the transition from high school to college that much easier," Love said. "It was not only fun but also introduced me to many people that will be lifelong friends and changed who I am."
The seminar had such an impact on Love's FSU experience that he decided to serve as an SLS Facilitator himself and give back to the program that had given him so much.
"My SLS facilitators created an environment where I was able to feel safe and I wanted to create that same safe space for other students," Love said. "It was really impactful to connect with the students and see them go through some of the same experiences I did. My FSU experience really culminated here full circle."
During his first year at FSU, Love lived in the Global and Public Affairs Living Learning Community (LLC) in DeGraff Hall. He was elected Secretary of DeGraff Hall as part of the Inter-Residence Hall Council (IRHC) where the team worked together to put on programs for their hall to engage residents in various areas. Love also served as Hall Ambassador and Homecoming Liaison.
"I attribute a large part of my first-year success at FSU to the constant support I had from my LLC, the IRHC and the community we were able to build together," Love said.
As an interdisciplinary social science major, Love has completed certificates in Public Policy, Public Administration and Leadership Studies and has been accepted into the Combined Bachelor's/Master's Pathway Program, which has allowed him to complete 12 credits of graduate level coursework as an undergraduate student. Love has done all of this in just three years while maintaining a 4.0 GPA.
"I personally don't feel like I'm a person who is just innately smart," Love said. "I have to work hard for my grades. That has involved a lot of dedication and sacrifice, but I would say it's been worth it. I've learned so much and have been able to pursue amazing opportunities because of the work I've put into my classes."
One of those opportunities was an internship with the Children's Campaign as a Public Policy Apprentice. The experience allowed Love to apply what he was learning in the classroom in the real word — he was able to advocate for children while collaborating with interns, conducting policy research and leading meetings.
According to Love, anyone attending FSU should always keep an open mind. He came to FSU thinking he would earn his bachelor's degree and go into the workforce. But while at FSU, Love was encouraged to continue his education after graduation.
"FSU has allowed me to challenge myself in the best way possible," Love said. "I've taken graduate classes and made myself proud, but I've also been able to show my parents that their sacrifice for me to be here is worth it."
Along the way, Love has gleaned inspiration from his favorite quote by Nelson Mandela: "It always seems impossible until it is done."
Love is scheduled to graduate in May 2020. He plans on continuing his education towards a Master's in Public Administration at Florida State University and wants to do further research for ways to improve education outcomes for underprivileged communities and identities.