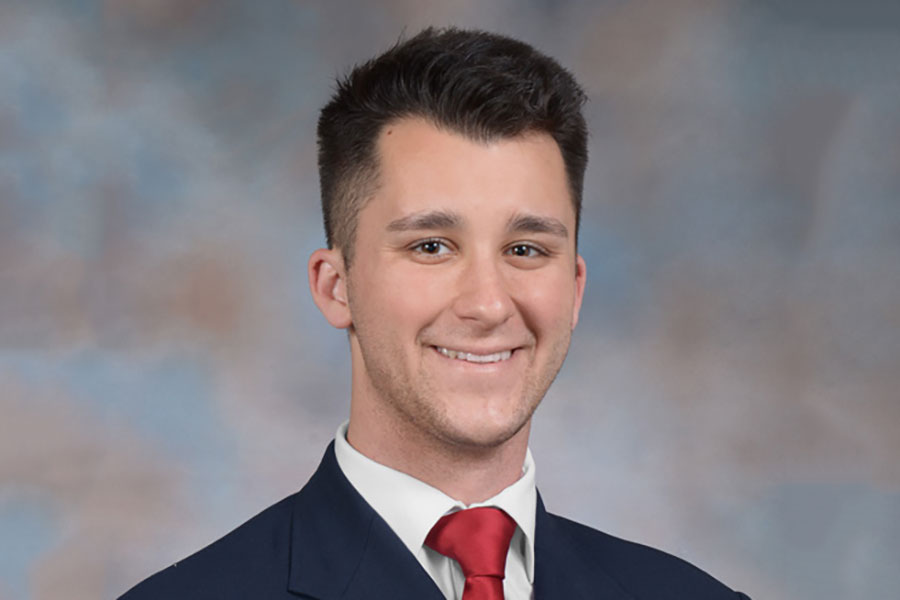 "FSU has a way of broadening your perspectives and giving you authentic experiences that you didn't even envision."
Robert Cotter, a Tarpon Springs native, wanted to attend a school that could provide him with both a rigorous pre-med track and well-rounded extracurricular opportunities. After touring several colleges around the country, Cotter chose Florida State.
"I realized that at FSU I could find the same Ivy League-caliber education along with opportunities that would enable me to not only love my time at FSU but to also reach my highest potential as a student and as a developing adult," Cotter said. "There was no other option for me but FSU."
Along with his acceptance into Florida State, Cotter was selected for the prestigious Presidential Scholars program. This merit scholarship program accepts the top 25 students of the incoming freshman class and aims to shape them into critical thinkers who make meaningful contributions to society. Along with a scholarship, the program includes faculty mentoring, special advising, leadership training and the development of a local service project.
"Presidential Scholars definitely helped me become a better leader, but I learned to become a better leader by learning how to be a better team member," Cotter said.
Presidential Scholars also opened doors for Cotter along his pre-med path. During his initial interview, Cotter struck up a conversation with Associate Professor Ewa Bienkiewicz, who offered him a spot in her lab at the College of Medicine studying Alzheimer's Disease. Cotter worked in this lab for three years, first through the Undergraduate Research Opportunity Program (UROP) and then through Honors in the Major for his honors thesis, "X-Ray Structure Determination of Complexes of Alzheimer's Amyloid-Beta Peptide with Oligomerization Inhibitors."
Cotter credits Dr. Bienkiewicz with teaching him curiosity, critical thinking, communication and the logical exploration of scientific inquiry.
Along with his research on Alzheimer's Disease, Cotter participated in the Brigham and Women's Hospital's Summer Training in Academic Research and Scholarship (STARS) Program, an internship for pre-medical students at Harvard Medical School. Cotter's work focused on issues faced by patients suffering from Multiple Sclerosis.
"It was an incredibly rewarding experience getting to work with researchers at the cutting edge of neuroimmunology research on a disease that affects millions of Americans," said Cotter. "I feel extremely blessed and look forward to using the lessons I learned to become a more effective and compassionate physician scientist in the future."
He's taken the lessons learned in the lab and applied them on campus and in the Tallahassee community. Along with a fellow Presidential Scholar, Cotter organized a phone bank for students to call elected officials about gun violence and gun control after the Marjory Stoneman Douglas shooting in South Florida.
Cotter also created a tutoring company his freshman year called NOle LIMITS Tutoring, which hires Presidential Scholars for SAT and ACT tutoring. In addition, he launched the FSU Honors Leon County Volunteer Tutoring Initiative, a free tutoring program to help improve the standardized testing scores and graduation rates of disadvantaged high school students throughout the local area.
Personal experience also has influenced Cotter's trajectory. During the summer after Cotter's sophomore year, his younger brother Will suffered a cervical break in his neck and was paralyzed from the chest down. Will spent nine days in the Intensive Care Unit (ICU), and during this time, Cotter became the support system for his family and coordinated his brother's care.
FSU President John Thrasher and First Lady Jean Thrasher visited Cotter's brother after he was transferred to the Shepherd Center in Atlanta, Georgia, for rehabilitation.
"Seeing the support from our FSU community was really key to allowing me to take care of my parents," Cotter reflected. "My experiences trying to support my family through my brother's spinal cord injury have given me the opportunity to better understand the struggles faced by patients and their families, which will one day make me into a more empathetic and more effective doctor."
In the months following Will's surgery, Cotter realized that support for families of trauma victims in ICUs is not provided in any systematic way. Recognizing that he could facilitate at least a small change in this realm, he founded the organization Cord Community Connection to provide support for family members and caregivers of patients in ICU with spinal cord injuries. The organization connects families in the acute pre-rehabilitation hospital phase with families further along in the process.
"A true indication of Robert's character was revealed that summer," said Craig Filar, Cotter's adviser and director of the Office of National Fellowships. "From my first interaction with Robert, it was clear that he would become a phenomenal doctor and scholar. I have observed him tackle his time at the university with such intention and grace."
Cotter is involved with several student organizations and institutions. He is a member of the fraternity Theta Chi and has held several leadership positions, including spearheading the fraternity's Dance Marathon fundraising efforts for two years. He also is a member Phi Beta Kappa, Phi Kappa Phi, the Garnet and Gold Key Leadership Honorary, and he has served as a medical responder and teaching assistant for FSU's Medical Response Unit.
He's also won a long list of academic awards: the 2016 Yvonne & Stephen Brown Legacy Scholar, the 2017 Theta Chi Victor Simon Memorial Scholarship and the 2018 and 2019 Theta Chi Sherwood and Janet Roberts Blue Memorial Scholarship. In 2019 he was selected as one of FSU's finalist nominations for the Truman Scholarship.
"I came into college with a plan to check all of the boxes to be a competitive medical school applicant," Cotter said. "In the end, I still checked all of my boxes but in so many different ways than I originally intended. Just like life, FSU has a way of broadening your perspectives and giving you authentic experiences that you didn't even envision. I wish I never had to leave, but I know that I'm moving forward and leaving FSU having grown so much, loved so much and been so happy that I can't be grateful enough to this university."
Following graduation, Cotter plans to spend a gap year participating in a research internship at Mayo Clinic in Jacksonville and volunteering at Brooks Rehabilitation Hospital. He then plans to apply to medical school.
"It is impossible not to recognize that Robert will be a phenomenal change agent to inform and reform the issues of which he is already aware and working," said Craig Filar. "Robert will also rise to the challenges that have yet to reveal themselves. He is an amazing representative of Florida State University."