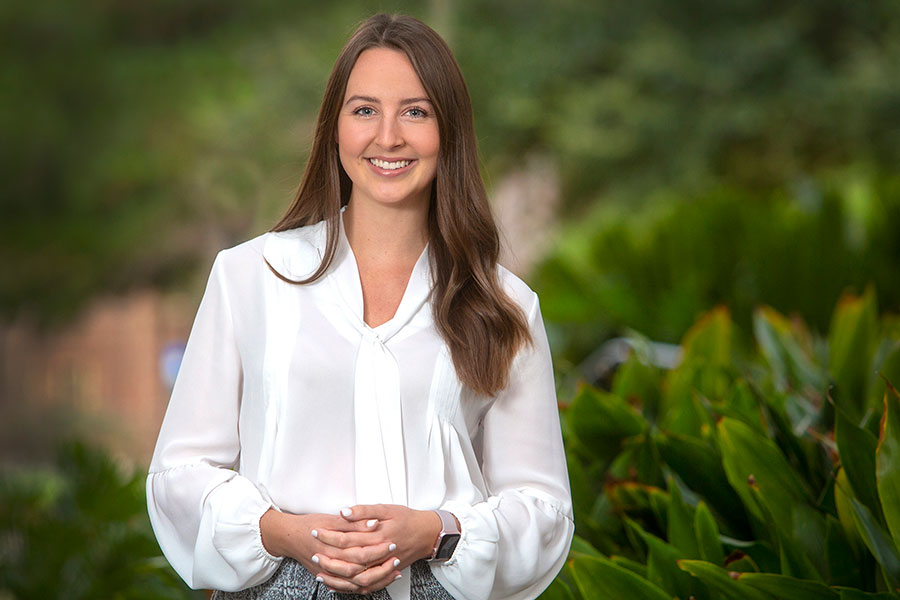 "I just want people to know that you can really do a lot while at FSU. I look back and am so grateful that I was able to do research, teach a FIG and be in RENEW, but also have fun at the same time and meet lifelong friends."
Senior Evan Albury wants to make a difference through suicide prevention research, and her experiences at Florida State University are helping her reach that goal.
Albury, who grew up in Palm City, Florida, said her parents raised her to help people. From a young age, she remembers doing volunteer work with her family for United Way and her church, and those experiences developed her enthusiasm for serving others.
Then, Albury discovered a love for psychology while attending Martin County High School.
"I took a psychology class in high school and thought to myself, 'wow, I love this.' It was the first class I wanted to study for and excel in," she said.
When she arrived at Florida State, Albury decided to major in psychology because it allowed her to combine her love for the field and her desire to help people.
"It was a way for me to be able to give back but also do what I love to do," Albury said.
Albury's been able to enhance her academic career with the abundance of both research and service opportunities that FSU offers.
As a sophomore, Albury began researching suicide prevention through the Undergraduate Research Opportunity Program (UROP). She worked with graduate students at the Joiner Lab — FSU's Laboratory for the Study and Prevention of Suicide-Related Conditions and Behaviors — and she presented their findings at FSU's Undergraduate Research Day and the Florida Undergraduate Research Conference.
In her junior year, Albury continued researching the topic for her honors thesis. Her research examined inconsistent responses to past suicide attempt surveys used in research and clinical practices. With the assistance of her mentors, she was able to develop her idea, create the study protocol, receive funding, develop her own questionnaire, write a manuscript and defend it to a tenured faculty committee.
She presented that research at the American Association of Suicidology's national conference and is now in the process of submitting her manuscript for publishing in a scientific journal.
"Even though there's so much research out about suicide, it is still such a huge problem," Albury said. "Doing this research makes me feel like I am making a difference."
Albury is an advocate for mental health both inside and outside the lab. She is a four-year member of the University Counseling Center's student organization Realizing Everyone's Need for Emotional Wellness (RENEW) and served as president during the 2018-2019 academic year. As a member of the group, Albury gives presentations on healthy relationships and acts as a peer mentor for an assortment of topics, such as study skills and time and stress management.
Albury's also dedicated herself to helping others by leading a psychology Freshman Interest Group (FIG) over the past two years. She supports freshmen in their transition from high school to college by supplying them with information and resources to thrive while at FSU. She said the experience has been one of her most rewarding thus far.
"I just want people to know that you can really do a lot while at FSU," Albury said. "I look back and am so grateful that I was able to do research, teach a FIG and be in RENEW, but also have fun at the same time and meet lifelong friends. I really think I made the most of my college experience. I feel like the high school me would be very proud."
Currently, Albury is working on three different suicide- and trauma-related studies at FSU. As acting project manager for two of the studies, she manages and maintains study procedures and protocol, recruits eligible participants and ensures satisfactory enrollment of study participants.
Albury also is a part of FSU's chapter of the National Alliance on Mental Illness, Tallahassee Memorial Hospital's Animal Therapy group and the Psi Chi International Honors Society.
Albury was nominated to be a student star by her FIG mentor, Alice Wright.
"Evan is poised, articulate, highly motivated and has excellent organizational skills," Wright said, "I see in her the intellectual and emotional maturity, adaptability and dedication that has led to her success at FSU but will also carry her far into the future."
She is set to graduate in Spring 2020 with dual honors and a 3.9 GPA. Additionally, she hopes to be inducted into the prestigious FSU Garnet and Gold Scholar Society.
After graduation, Albury plans to work as a research assistant at a university or medical facility to focus on evaluating suicide risk assessment approaches that allow for enhanced quality of care among individuals with an elevated suicide risk. She then hopes to attend graduate school and earn a doctoral degree in clinical psychology.