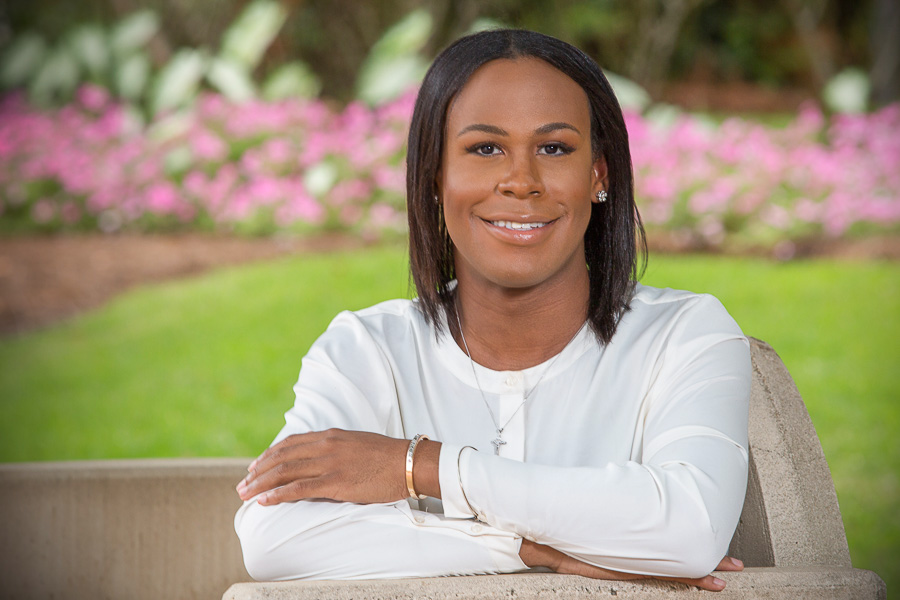 "Entrepreneurship gives people the ability to write their own histories."
Senior Isiah Parfait is pursuing an ambitious vision to empower people around the world through entrepreneurship, and he's taking significant steps at Florida State University to turn that dream into reality.
Parfait's personal journey is a testament to his perseverance, creativity and ingenuity. Over the past decade, he has faced tough challenges as his family struggled with homelessness. When he was in high school, the idea of going to college seemed implausible; in fact, it wasn't even on his mind.
"That was my reality, so I didn't really focus on what was next because I was trying to focus on the present," said Parfait, a double major working to earn degrees in international affairs and Spanish. "Florida State chose me in a sense. (Former state Rep.) Will Weatherford was my mentor through the Take Stock in Children program. He helped me learn about FSU's CARE program, which offers so many resources for students in my situation. I realized FSU had a lot to offer, and I believed I could get a foundation to help me grow."
Parfait started to build that foundation with help from FSU's Center for Academic Retention and Enhancement (CARE), which offers disadvantaged first-generation students the resources and services they need to succeed.
Parfait was interested in studying abroad, and FSU helped make that goal happen. With assistance from FSU's Office of National Fellowships, he received a Benjamin A. Gilman International Scholarship through the U.S. Department of State. The grant allowed Parfait to travel to Costa Rica, where he took Spanish immersion classes and experienced Latin American culture.
That's the kind of experience Gilman Scholarships are intended to provide. They pay for study-abroad trips so students with federal Pell Grants can gain critical skills and learn about different cultures.
In Costa Rica, Parfait considered how entrepreneurship and access to capital can empower communities after he saw how hundreds of years of colonialism had negatively impacted the knowledge and skills of people in communities such as San Jose and Limón.
"That trip was so important for me because it showed me different possibilities for nurturing social change," Parfait said. "The experience really made me think about the Costa Rican people and peoples whose histories were determined by others."
Parfait realized entrepreneurial education and policy could be a positive response to help the people of Costa Rica, as well as other underserved communities around the world.
"I believe entrepreneurship is the best vehicle for simultaneous social change and economic growth," he said. "Entrepreneurship gives people the ability to write their own histories. It helps people recognize and practice that they have power in the world."
Inspired by his experiences in Costa Rica, Parfait pursued an immersive experience during spring 2017 with FSU International Programs at the FSU Valencia Study Center in Spain. There, he developed his entrepreneurship skills and combined what he learned in his two majors.
"I got the unique opportunity to study at the center and intern in an entrepreneurship incubator in Valencia," Parfait said. "That really showed me what it was like to work in entrepreneurship, and it was a meeting of the minds for me in cultural studies and entrepreneurship."
"I am thankful for my Seminole family — those who positively encouraged my academic ambitions and supported me throughout the 'figure-it-out' moments I experienced during my collegiate career."
Back home, Parfait continued his entrepreneurial experience by joining the FSU Tech Fellows program, working in a business incubator in Orlando in 2018.
The FSU Tech Fellows program provides summer internships to first-generation college students at business incubators, startups and technology companies to provide real-life entrepreneurship and business experience.
During the internship, Parfait developed skills in marketing and public relations, and he conducted research on the entrepreneurial ecosystem.
His research focused on community development and barriers that negatively affect the success of businesses owned by women, minorities, immigrants and youth. He also investigated how job training and government-sponsored programs can help to overcome economic challenges.
As he learned about empowering people in the workforce, Parfait worked hard to give back to the community by serving as a mentor. One example included his commitment to FSU's PeaceJam Southeast, which brings young leaders to Tallahassee where they address key issues.
"The opportunity for me to give back and mentor students is so important," he said.
In addition, Parfait has combined his passion for mentorship and social change as a student leader with Design for America at FSU. The group is part of a national network of universities that tries to solve social problems with a mix of empathy, human-centered design, entrepreneurship and innovation.
Parfait also looks for mentoring opportunities in his role as a resident assistant to more than 30 students in an on-campus residence hall.
"As a student leader, I help to make sure the environment is inclusive," Parfait said. "I help students reframe and rethink how they can adapt their questions to the FSU community. Being there for them in all parts of their lives is what I really enjoy."
All of Parfait's mentoring, professional and international experiences through Florida State helped prepare him for the Public Policy and International Affairs Junior Summer Institute (PPIA).
The PPIA program gives students interested in public policy the chance to experience pregraduate-level courses for seven weeks at an affiliated university. Students take classes, participate in workshops and meet with researchers and professionals in the field.
In summer 2019, Parfait studied at Princeton University to learn more about policymaking and analysis.
The experience helped him move toward his goal of empowering communities through access to entrepreneurial opportunity and financial capital. Focusing on domestic policy, his cohort developed policies to tackle social determinants of health in Pennsylvania.
"The greatest pleasure was getting the opportunity to connect with good-hearted and brilliant scholars from universities across the United States under the guidance and support of our administrators," he said.
After graduation in spring 2020, Parfait plans to take a gap year before enrolling in a graduate program. He hopes to teach Spanish abroad or work in a business incubator in Latin America. In the long term, Parfait intends to develop a career that allows him to promote inclusion and help people realize their abilities and potential.
"I am thankful for my Seminole family — those who positively encouraged my academic ambitions and supported me throughout the 'figure-it-out' moments I experienced during my collegiate career," he said.
Parfait added he has gained confidence and a clearer vision of his future as a result of his transformative experiences at Florida State.
"FSU showed me I am in charge of my own decisions," he said. "I make my own reality and my will can make things happen. The university offers a system where you can prepare yourself to make a positive difference in the world."