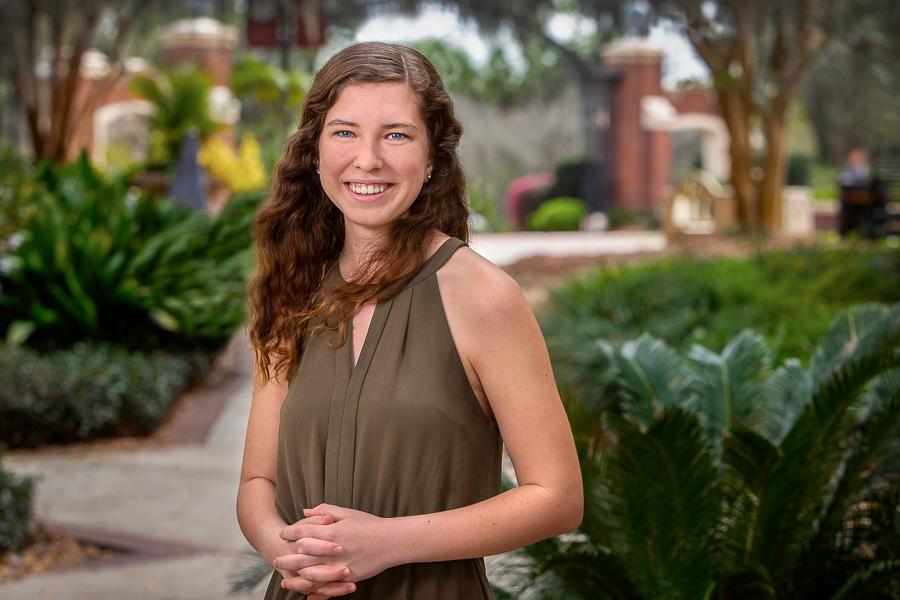 "I've been open to trying things, and that's led to a lot of personal growth."
Senior Lauren Moran arrived at Florida State University in 2016 with an open mind about trying new things and an open heart to helping improve the lives of others.
That receptive attitude not only taught Moran unexpected lessons about herself, it also changed her life's trajectory.
"A lot of different experiences have pushed me out of my comfort zone, and they pushed me in a supportive way," said Moran, a member of FSU's Honors Program who's pursuing a double major in psychology and international affairs. "I've been open to trying things, and that's led to a lot of personal growth and helped me realize what my main interests are."
Moran was selected for the Presidential Scholars Program, FSU's premier undergraduate merit scholarship, which awards more than $30,000 over four years to students with potential to become transformative leaders. That distinction set in motion a very active and eclectic academic agenda for Moran, and she was well prepared for a lively college career that kept her on the move. As a child, Moran's mother served in the U.S. Air Force, and they moved to new locations every two to three years.
The Presidential Scholars Program opened the door for Moran to join FSU's Global Scholars Program, which helps students set up summer internships with international nonprofits.
Moran completed two summer internships with the Honduras Child Alliance. In 2017, she worked as a mentor in an elementary after-school program in El Porvenir, Honduras.
In 2018, she was invited back. The return trip was made possible by FSU's Moellership Program, which provides stipends of up to $4,000. For that application process, she took advantage of the information and support available through FSU's Office of National Fellowships.
Moran took on extra responsibilities during her second internship in Honduras. In addition to teaching a class in Spanish, she interviewed parents of students to document their main concerns.
"My conversations revealed a big disconnect between parents and the nonprofit's teachers," Moran said. "A lot of the parents I interviewed had never talked to a representative from the nonprofit, so it was really cool to step into that space and be the first person to develop those tenuous relationships between parents and teachers."
Another unexpected opportunity at Florida State helped Moran make a surprising discovery about herself, and it changed her future.
As a member of the Presidential Scholars Program, she was required to participate in FSU's Undergraduate Research Opportunity Program (UROP). Moran had never considered doing research, so she felt like the prerequisite was outside her comfort zone.
That feeling quickly passed. Moran discovered a passion for research after completing a study on FSU's E-Series courses, which challenge students to "engage, explore, examine and evaluate" issues with analytical tools they'll use for the rest of their lives.
For her UROP project, Moran collected data on E-Series courses and analyzed results with the goal of developing ideas on how to better structure the curriculum. In other research efforts, she assisted David Berlan, assistant professor at the Askew School of Public Administration, on a study examining the funding of nonprofits.
Right now, she's living in New Zealand for the summer of 2019 to work on a research project examining the effects of living-wage policies on people's quality of life, perceived fairness about pay and job satisfaction. This experiential-learning opportunity is another example of the projects funded by FSU's Presidential Scholars Program.
Moran's love of research has led her to The Owl, Florida State's own undergraduate research journal. Last year she served on the editorial board; this year she's the journal's editor-in-chief. The Owl is a forum for undergraduate students to publish research articles and creative works. It is sponsored by the Student Government Association and is a publication of the Student Council for Undergraduate Research and Creativity.
Even with her hectic schedule, Moran makes time to volunteer in the community. Through FSU's Center for Leadership and Social Change, she finds service opportunities with EngageTLH. The program makes it easy for students to get involved with nonprofits in one-time service projects or continuing programs.
"It's really cool that the Center for Leadership and Social Change has developed an option to try out different organizations," Moran said. "Those experiences help you to figure out which social issues you are most passionate about addressing."
Moran's record of trying new things has helped her map out a clear path forward. She plans to pursue a doctorate in industrial/organizational psychology and continue working with nonprofits. As she does, you can bet she will sustain her open-minded attitude that has helped create so many transformative opportunities for her at Florida State University.