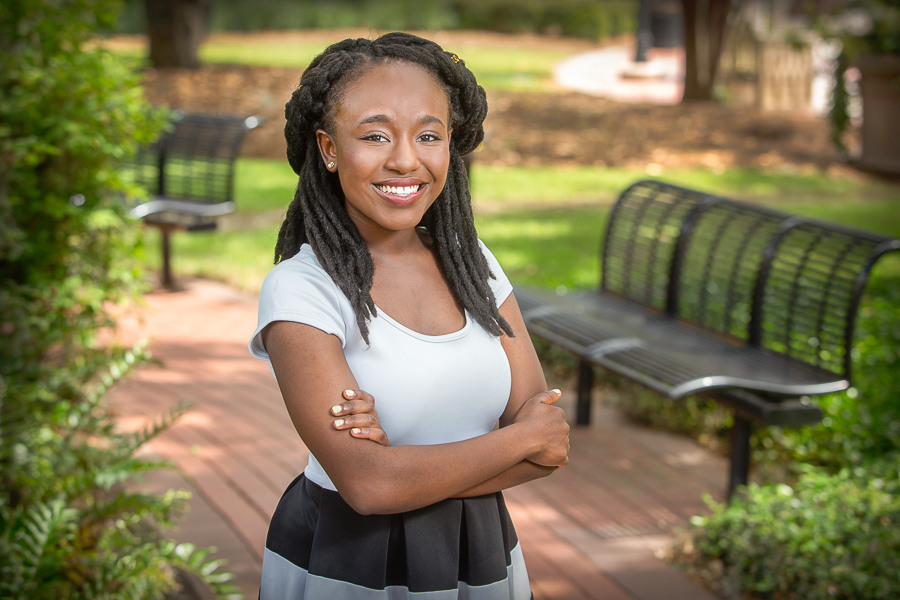 "I feel blessed and honored to go to this great university."
Premedical student Sheena Chege has distinguished herself at Florida State University by achieving academic excellence, serving others and taking on leadership roles.
Throughout her FSU career, the senior from Fort Myers has completed those challenges with poise and professionalism, according to Elizabeth Foster, director of PreHealth Advising in the Interdisciplinary Medical Sciences program at FSU's College of Medicine.
"Sheena has been a teaching assistant for FSU's Interdisciplinary Medical Sciences program's seminar courses for more than a year," Foster said. "As a premedical student, she knows this career path can be daunting, but she feels privileged to offer guidance to her students so they may reach their full potential as health care providers."
Chege brings that same attitude to the College of Medicine's outreach program called SSTRIDE — Science Students Together Reaching Instructional Diversity & Excellence. Its mission is to deliver STEM education resources to middle- and high-school students in rural areas. Chege has worked with students in Gadsden County.
"I work in an 8th grade biology class, and this experience has taught me the power of investing in the next generation," Chege said. "It is amazing to witness what these students can accomplish when someone believes in them and helps them believe in themselves. I love the fact that I can invest in a rural community where schools often struggle with funding and teacher retention. These students need support so they can be academically successful."
Chege's own record of academic success is exceptional. She has earned spots on the dean's list and president's list. As a freshman, she was accepted into the Honors Medical Scholars Society. The program is designed to welcome aspiring medical students into the College of Medicine community and offers them service opportunities.
Chege found one such opportunity through a childhood screening event sponsored by the program. She learned about assessing a child's developmental status, and that experience prompted her to get certification for that process.
"That training gave me valuable insight into the developmental milestones of young children, and I started volunteering at a child care center as a teacher's assistant for two-year-olds," Chege said. "I learned so much about the unique needs of disadvantaged families, and my passion for that work grew stronger."
The Honors Medical Scholars Society was such a positive experience, she decided to run for leadership positions in the organization. First, she was elected service chair, and later she was elected to serve as co-president.
Her experience working with children led to a job with the Gladiolus Learning and Development Center, a nonprofit child care agency in Fort Myers that provides free and discounted daycare and voluntary prekindergarten services. She worked with children ranging in age from infancy to school age and loved it.
"It was an incredible honor to work with these amazing child care providers and learn from their expertise and experience," Chege said. "I learned how to create an environment where children can develop to their fullest potential. I learned that each child is unique, and child care providers face challenges catering to each child's specific needs throughout the day."
Chege also became a member of FSU's Honors Program, which made her an ambassador of sorts for the university. She and other Honors Delegates greeted high school students at special events on campus and conducted tours.
Chege was inspired by her father to pursue a career in medicine because she saw how much he loved his job as a physician.
"He always told us that he was surprised when he got paid because it didn't feel like a job to him," she recalled. "He really instilled a love for service in my sister and me."
Looking to the future after graduation next spring, Chege hopes to be accepted into FSU's medical school. She strongly believes in the school's mission to train doctors to work in medically underserved areas.
"The focus here is to develop compassionate, patient-centered physicians, and those values reflect mine," Chege said. "I hope someday to work in a rural area as a pediatrician who cares about patients beyond just treating their illnesses. I believe FSU's College of Medicine will give me the training to excel in the field.
"This is such an incredible school. I feel blessed and honored to go to this great university, and I look forward to carrying on the FSU tradition."