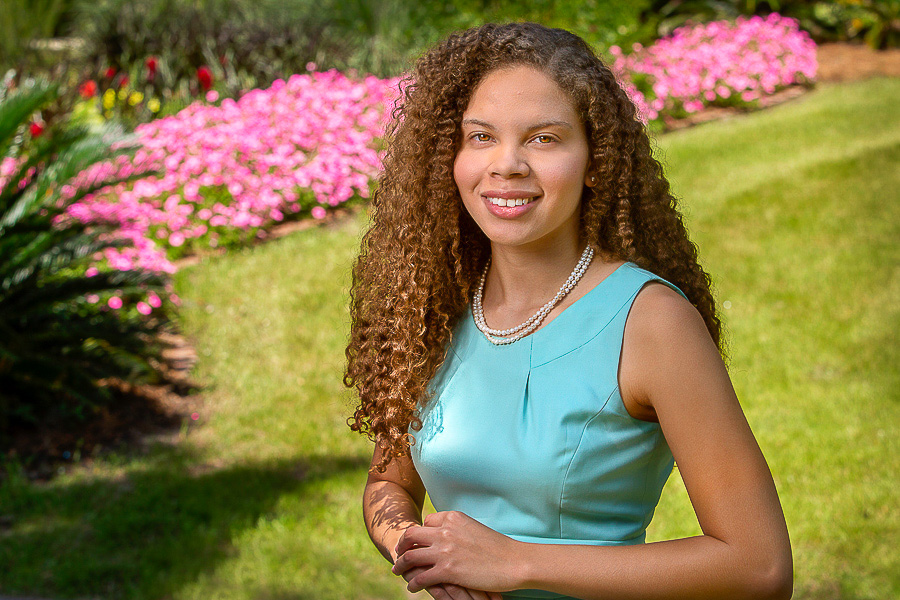 "Florida State has helped me develop my passion to make science more accessible for everyone."
Senior Nia Harmon is on the fast track to success, and one of the main reasons why is her intellectual curiosity.
The chemistry major wants clear answers to complex questions — often complicated queries — and that mindset has propelled her personally and academically.
Harmon loves science and hopes to turn that passion into a teaching career. She's already getting a start on that goal. Harmon serves as a teaching assistant at FSU, and one of her priorities in class is to bring science alive for students.
"I am excited by teaching and science and when I have opportunities to combine both in my roles as a teaching assistant or mentor, it's very rewarding to help students find meaning in what they study," Harmon said. "My first goal is to help them understand, and my second goal is to connect classroom lessons to real-world applications."
That philosophy helped her as a high school student. She took on the challenging International Baccalaureate program and earned enough credits to start college as a sophomore, and it has guided her ambitious schedule at Florida State.
Harmon has taken advantage of a wide variety of FSU's research opportunities. In her first year on campus, she joined the Undergraduate Research Opportunity Program (UROP), which offers rare opportunities for first- and second-year students, as well as transfer students, to conduct research with faculty members.
Harmon's UROP project placed her in an organic chemistry lab, where she focused on synthesizing dyes for intracellular imaging. The experience was a thrill not only because of what she learned, but also because of the affirming relationships she formed with other students in the group.
"We became a sort of powerhouse research team, feeding off each other's energy," she said. "That dynamic was something I'll never forget."
Harmon created other memorable experiences through her work in FSU's Research Experiences for Undergraduates program.
One project at the National High Magnetic Field Laboratory challenged her to use mass spectrometry to measure the amount of sulfur-containing species in crude oil. After she determined those results, Harmon wrote her own computer code to help analyze the data.
"That was kind of a computer-science-meets-chemistry project, and it was a good experience," she said.
Harmon received the 2019 Scott and Ina McNichols Undergraduate Research Award to fund her Honors in the Major thesis research in physical chemistry at the MagLab. Honors in the Major is a distinction that students earn by completing a research or creative project in their major and defending it before a committee.
That research was a spinoff of Harmon's work in the InternFSU program launched in 2018. The program selects 100 full-time undergraduate students for paid positions during the fall and spring semesters to help them get hands-on experience related to their prospective careers. The experience allowed Harmon to conduct research in magnetic resonance.
She has compiled a long list of awards and achievements at Florida State.
Harmon served as a mentor and leader for students in FSU's Freshman Interest Groups program, made the President's List multiple times, received the Katherine Blood and Harold H. Hoffman Scholarship in Chemistry and was selected for membership in the Phi Beta Kappa Society, the oldest academic honor society in the United States.
In addition, Harmon has been active in the Florida Georgia Louis Stokes Alliance for Minority Participation, which aims to increase the number of underrepresented students with science, technology, engineering and math (STEM) degrees. She completed two terms as president of the group and another term as vice president.
"It's been enlightening and empowering to see minorities in all of these different STEM disciplines working toward the same goal," she said.
Harmon has already completed valuable student-teaching experiences, which reinforced her vision of becoming a teacher. Throughout high school and college, she has remained engaged in a science outreach program that has allowed her to teach at Heritage Trails Community School and several other schools in Tallahassee.
Harmon teaches STEM lessons and leads hands-on demonstrations.
"I enjoy opportunities to give back, and I really like watching my students learn new lessons," Harmon said. "It's rewarding to explain something and then watch them successfully piece together the puzzle."
Harmon's own ability to understand and explain those scientific puzzles sets her apart among her peers, according to Mark Kearley, a teaching faculty member in the Department of Chemistry and Biochemistry.
"I have had the pleasure of witnessing Nia present her research numerous times, and she understands the science at a much higher level," Kearley said. "She is able to relate the significance of the work to any scientist, and that ability is quite rare for an undergraduate student."
Salvatore Profeta, the coordinator of FSU's upper-level undergraduate labs in the Department of Chemistry and Biochemistry, described Harmon as a very special student.
"Nia is one of those students who comes through your courses once in 10 years," Profeta said. "She is a bright student with unusual maturity, remarkable motivation and extraordinary concern for friends and fellow students. Her dedication extends well beyond campus to those who do not have advocates in STEM education.
"What really impresses me is her compassion for those who don't have ready access to STEM education. She wants everyone to have opportunities to develop a passion for science. Nia is truly a 'woman with a mission.'"
The next goal in that mission is graduate school. Harmon wants to become a college professor, and she hopes to inspire future generations of chemists.
"Florida State has helped me develop my passion to make science more accessible for everyone," Harmon said. "I don't think it should be viewed as a secluded academic area. I want to raise awareness of the many challenges in science and encourage people to help find impactful solutions."
Harmon's FSU career also included membership in the American Chemical Society Club and the American Chemical Society's Scholars Program, the Phi Beta Kappa Honor Society, the FSU Honors Program and the Garnet and Gold Scholar Society.