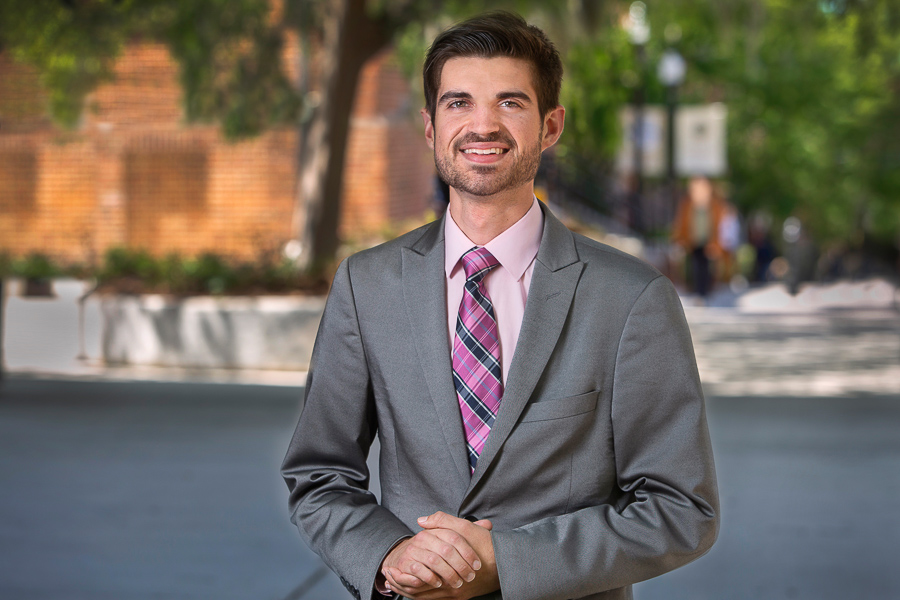 "FSU has given me so many people to know, who are willing to help, and that's been a great thing about coming here."
Senior Nicholas Seier first discovered his love of playing the saxophone in middle school, and that revelation has led him on an intriguing and gratifying path through Florida State University toward his career goal of becoming a music educator.
Seier, an instrumental music education major from Orlando, appreciates the positive influence that a good teacher can have on a student. The trajectory of his own life has been influenced by wise advice from his high school band director, P.L. Malcolm.
"I realized how much he did for me as a student and how much he has done for all students," Seier said. "I thought, 'I need to do that same thing for people in the future and be that solid rock for young musicians.'"
When he was still in high school Seier attended FSU's summer music camps, and that experience helped him decide to pursue a music degree in college. He applied to several schools and chose Florida State's College of Music because of its rich tradition of saxophone instruction.
"The thing about FSU's College of Music is that there are so many great people who are not just great at what they do but they're great to be around, and they always push you to be your best in a positive way," he said.
The College of Music offered Seier lots of opportunities to get involved on campus. He joined the renowned Marching Chiefs in 2016-2017 and served as a row leader. In that role, he became a peer mentor for incoming members of the saxophone section.
"FSU has given me so many people to know, who are willing to help, and that's been a great thing about coming here," Seier said.
During his freshman year, Seier became a member of Phi Mu Alpha Sinfonia — the nation's oldest and largest secret music society, created in 1886 by Ossian Everett Mills in Boston. The aim of the fraternity is to bring together young men who share a love of music.
Seier has earned scholarships, including the Delta Iota Alumni Scholarship, which is awarded by the Phi Mu Alpha Sinfonia Education Foundation. In addition, he has received the Larry V. Morgan Scholarship and the Jim Gannett Memorial Scholarship through Bottomline Technologies.
Seier also advised incoming music students as a member of the FSU College of Music Board of Advisors. That meant he was often the first student to greet incoming students, and he worked hard to make them feel welcomed and accepted.
"College of Music students spend dozens of hours each week in isolation practicing to be their best," he said. "When students meet someone who understands how difficult the major can be, they have more empathy for one another. New students especially need motivation to produce their best work."
Seier also joined LeaderShape, an institute at FSU's Center for Leadership and Social Change, which challenged him to help people in the community and refine his leadership skills.
"The people in the small groups I work with at LeaderShape really have changed my view of the world," Seier said. "If it wasn't for them, I don't think I'd be here right now. The people inspire me, they tell me when I'm wrong, and they tell me when I'm right."
LeaderShape opened Seier's eyes to how he could help individuals and his community.
"I have a lot of opportunities to help other people, and it's really important for me to be mindful of that and also try to understand others," Seier said. "That's helped me a lot with my teaching too."
Seier recently completed his Honors in the Major thesis. Honors in the Major is a special program at FSU where students complete research projects related to their area of study. Those students graduate with honors and receive special recognition at commencement ceremonies.
For his project, Seier studied the different teaching methods of two FSU saxophone professors, Patrick Meighan and Eric Nestler, and contrasted their different approaches on connecting with students.
"One of the most significant results of the study was that the teachers discovered their own unique way of teaching through time and experience, and each approach worked best for that teacher," he said.
Seier is currently completing an internship at a middle school in Coral Springs, where he serves as an assistant band director. He's working a full-time schedule and getting valuable experience that has already paid off.
Seier has landed a job as a music educator in Tampa, where he will teach middle school band and orchestra starting in August. He is embarking on the career he envisioned and getting the opportunity to inspire students through music, just as he was inspired by his former band director.
"With music education, you build positive relationships with students," he said. "It's not just the person teaching but also the content, and you get that strong relationship through the music-making experience."