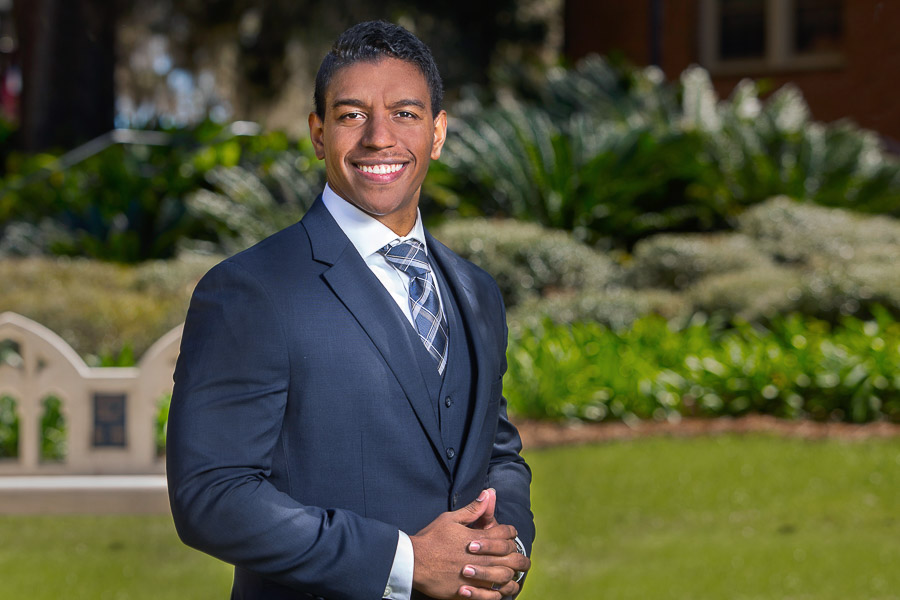 "The people at Florida State are the kinds of kids who I will keep in my life forever."
Senior Christopher Reis grew up on the island of Trinidad and Tobago in the Caribbean, where he formed some lasting idyllic memories of the twin-island country.
One of his fondest memories has become a motivating factor in his pursuit of a bachelor's degree in mechanical engineering at Florida State University.
Reis recalls how the ocean would recede at low tide and form what seemed like an endless plain of seafloor. That doesn't happen anymore, and he believes rising sea levels are to blame. The end of that phenomenon and loss of such a striking scene has inspired him to go into a field that could help preserve the environment and prompt positive changes.
"I plan on devoting my life to making a change," Reis said. "I want to make some real, tangible contributions."
Reis understood the change he hoped to create would only be possible if he went abroad to pursue an education in mechanical engineering. As he started researching his college options, fate seemed to intervene.
Reis ran into a former classmate who was attending Florida State on a swimming scholarship.
"He got me interested, so I looked up FSU online and was really pleased with what I learned about the engineering program," he said.
The more Reis learned about FSU, the more he became convinced that the university's exceptional research opportunities offered exactly what he wanted. He applied and his outstanding high school record qualified him for FSU's International Undergraduate Tuition Waiver. The scholarship provided an in-state tuition rate and helped reduce the cost of his education.
During his FSU career, Reis has made it a priority to focus on his engineering courses and seek out related opportunities, including working as a research assistant at the National High Magnetic Field Laboratory (MagLab). He's currently performing research at the Applied Superconductivity Center (ASC).
In one project, Reis works to optimize superconducting radio frequency cavities used in particle accelerators. He's searching for a way to make accelerators less expensive and more accessible to researchers.
That research has led to a spinoff project involving a process called electropolishing or electrochemical polishing. It's used to smooth out rough spots or other irregularities on metal surfaces.
Another one of Reis' projects at the MagLab aims to provide a breakthrough in the medical field. Researchers use extremely powerful magnetic fields to slow down human cells and proteins because that technique allows them to be analyzed more effectively. Reis is working to develop ways that make these magnets operate more efficiently.
Last summer, Reis took advantage of a unique opportunity to conduct research at the Plasma Science and Fusion Center at the Massachusetts Institute of Technology. He participated in a fascinating project that measured how the walls of fusion chambers were impacted by temperatures reaching to 100 million degrees.
"These research opportunities are the most satisfying parts of my college education, and they are so motivating," Reis said. "I am so thankful to Florida State for giving me the opportunity to be able to do these things."
Reis' focus on academics has brought him a lot of recognition at FSU. He made the dean's list three times, the president's list five times and earned certificates of outstanding academic performance from the W.E.B. DuBois Honor Society. He also was inducted into Tau Beta Pi, the oldest and largest engineering honor society in the nation.
Despite his big, ambitious goals, Reis makes time to participate in student life on campus, including the Caribbean Students' Association. The organization functions as a home away from home for Reis — it's a place where he can interact with students who have similar backgrounds.
The group offers support and entertaining activities, and it's a forum where Reis can build on his commitment to make a positive impact in all areas of his life. He also spends time helping others and performing volunteer work.
"I've done everything from feeding the less fortunate, to cleaning up the community, to raising money for natural disaster relief and Alzheimer's research," Reis said. "I coordinated our annual walk for Lupus."
He looks forward to a bright future with plans to pursue a doctorate in nuclear science and engineering. Reis said he will never forget the special times he enjoyed at Florida State and the many talented friends he met.
"The people at Florida State are the kinds of kids who I will keep in my life forever."