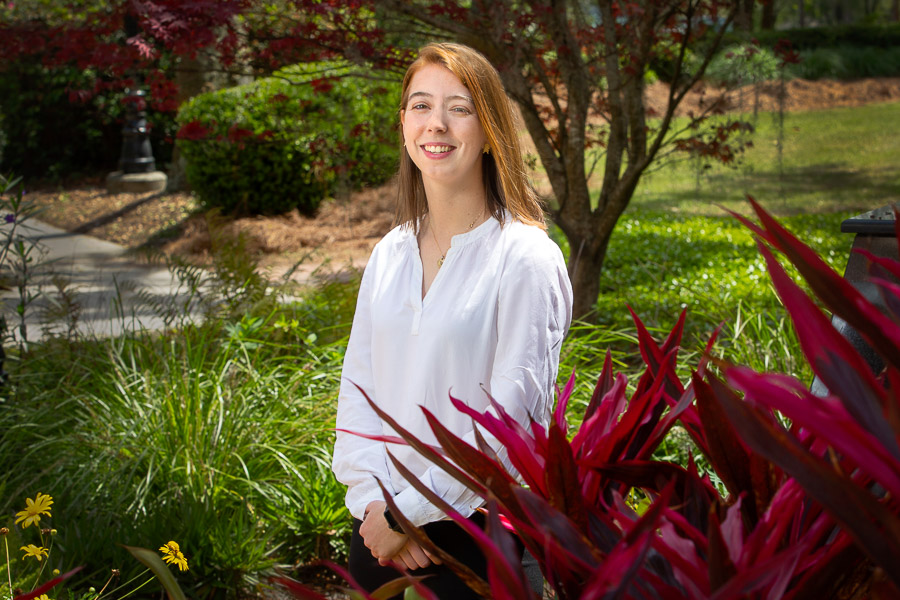 "I knew Florida State would give me a college experience that was purposeful and also fun."
Senior Angela Tavolieri is proudly carrying on her family's Florida State tradition.
The biochemistry major from Fleming Island said she always had a feeling she would attend FSU because both of her parents are alumni.
"I considered FSU a piece of my childhood because we went to football games and spent time on campus," Tavolieri said. "When it came time to choose a college, I toured the university and could see a beautiful mixture of excitement and intentional academic pursuit. I knew Florida State would give me a college experience that was purposeful and also fun."
Those impressions turned out to be accurate. Tavolieri's collegiate career has included a lot of research work, including projects at FSU's Institute of Molecular Biophysics under the guidance of Associate Professor Elizabeth Stroupe. She participated in a Directed Individual Study, which allows students to earn credit hours outside the classroom by performing lab work, field research or completing an internship.
Tavolieri's research determined the X-ray crystal structure of an enzyme called sulfite reductase, and her findings were published in the Journal of Structural Biology. She was listed as the paper's first author, which is rare and considered a special honor for an undergraduate student.
Stroupe praised Tavolieri's intellect and drive.
"She was a quick study and rapidly became independent," Stroupe said. "She not only performed research tasks independently, but also pushed herself as she completed each step."
Tavolieri wants to go to medical school, so she's taking advantage of opportunities that provide hands-on experience.
One opportunity sent her to Managua, Nicaragua, with the group MEDLIFE. During the trip, she worked with doctors in a mobile clinic to provide medical care to people in different communities. The clinic included several medical stations, including dentistry, OBGYN services, pediatric care and access to medications.
Another international trip with the Wesley Foundation took her to Chontala, Guatemala, where Tavolieri helped build houses and teach at a vacation bible school.
"I've had a good balance between practical experience and classwork," Tavolieri said. "I haven't been in the classroom the whole time. I've gotten a lot out of the different opportunities."
Tavolieri's classroom performance has been exceptional. She has earned the Florida State Freshman Scholarship, an academic award of nearly $10,000. She is a Bright Futures Florida Academic Scholar, which pays tuition and awards stipends. In addition, she has received the Russell H. and Dorothy P. Johnsen Scholarship, which assists chemistry students.
Tavolieri has joined several organizations such as the Phi Beta Kappa Society, the oldest academic honor society in the nation.
"I've met the coolest people and made some really good friendships outside the classroom," she said.
Tavolieri's long-term career vision is to become a gynecologic oncologist, but her immediate future includes an internship at the National Institutes of Health with the Intramural Research Training Award program. It allows postbaccalaureate students to conduct research for a year before they start studying for a medical degree.
"I have loved Florida State," Tavolieri said. "When I arrived, it already felt like home because the university had been part of my family for so long. Now, I'm excited to have experienced that same FSU tradition."