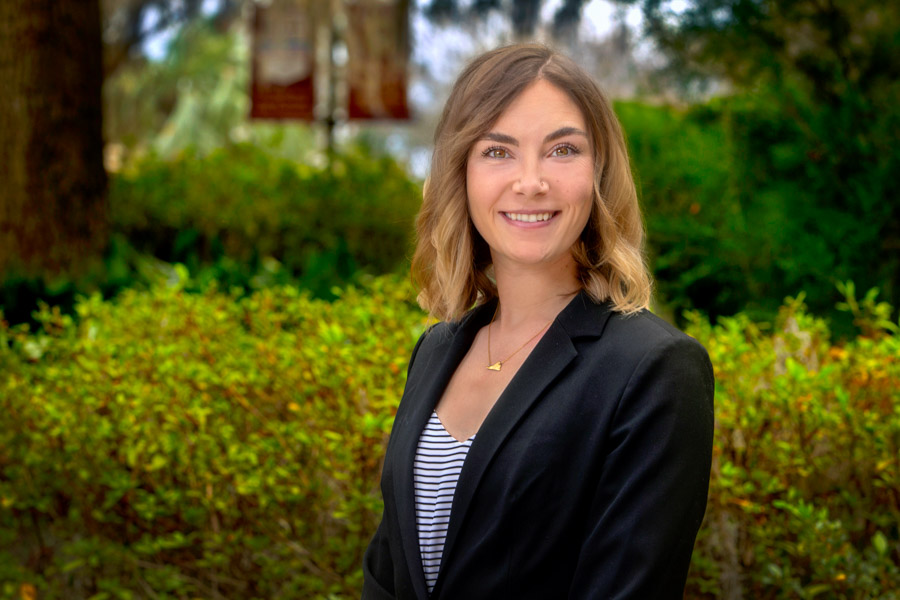 "FSU has not only helped me strengthen skills that I'll need in the future, but it has provided an environment where I could reflect and learn more about myself."
Scarlett Roy's love of music was a key reason why she decided to attend Florida State University, and that astute choice helped her discover her career passion.
Roy, a senior biology major, got her first taste of life in Florida when she moved here from Virginia as a teenager. The idea of enrolling at FSU excited her, especially if she could join the Marching Chiefs.
"I was infatuated with Florida State when I was in high school, and it was mainly the music that brought me here," Roy said.
She hoped to become a part of the Marching Chiefs' storied musical tradition, so one of the first things she did as a freshman was to audition for the band. The result was exhilarating.
"When I found out I made the cut for the Marching Chiefs, it was one of the proudest moments of my life," Roy said. "You're a part of something that is so much bigger than yourself, and the band goes back so many years. I was a member for three years, and those were easily some of the best years of my life."
As a member of the Marching Chiefs, Roy developed new confidence and she made friends who helped her with academic goals. The experience inspired her to broaden the vision of her future.
When she arrived on campus, Roy planned to pursue a pre-dental academic track but soon switched to biology.
It was the right choice.
After receiving some great advice from a friend she knew through the Marching Chiefs, Roy applied to FSU's Undergraduate Research Opportunity Program (UROP) at the end of her freshman year. That experience led to a crucial research assistantship in the biology lab of Professor Kenneth Taylor where she discovered her passion for research.
Roy had such a positive experience in UROP, she decided to serve as a leader in the program. It offers first- and second-year students a chance to participate in research in any field under the guidance of a professor. The yearlong program helps students explore their own areas of interest and get hands-on research experience.
Roy hoped to inspire the next group of research students.
"I wanted to be a UROP leader to help students figure out if research was something they could be really passionate about," she said. "The cool thing about UROP is that it's very interdisciplinary, which allows you to build skills that you wouldn't normally build. Research is so important, and Florida State is a top-tier research institution."
Roy's interest in microbiology and ecology prompted her to apply for an FSU IDEA grant to support a research project. The grants, awarded to students in all majors, provide funding for original research, creative projects and innovative ideas.
Roy won the grant and under the guidance of Biology Professor Thomas Miller, she set out to examine whether certain environmental factors related to climate change and pollution affect the structure of pitcher plants — carnivorous plants that can trap prey with their specialized leaves.
The goal was to determine if different levels of nitrogen in the soil would cause pitcher plants to develop differently. If so, farmers could use the plants as early indicators of pollution in the soil.
"We didn't end up finding any connection between nitrogen and the plant, but we did find sunlight has a significant effect on the morphology of the plant," Roy said. "We're hoping to publish a paper on our findings."
The opportunity to participate in research has meant a lot to Roy in several areas. She confirmed her career passion, developed leadership skills and gained confidence in public speaking.
Outside of research, Roy continued to fulfill her love of music as a member of Kappa Kappa Psi, a national honorary band fraternity. Members perform community service to help the Marching Chiefs and FSU's College of Music, whether it's setting up the field before practice or making sure band members have plenty of ice-cold water on hot days.
Roy said Florida State has provided valuable research and extracurricular experiences and encouraged her to learn about the world around her, as well as herself. In the future, she plans to earn a doctorate in microbiology and pursue a career in research.
"I came to college thinking I wanted to go into the dental field, and I didn't know anything about research," she said. "Now, I want to get my Ph.D. in microbiology and do research for the rest of my life."