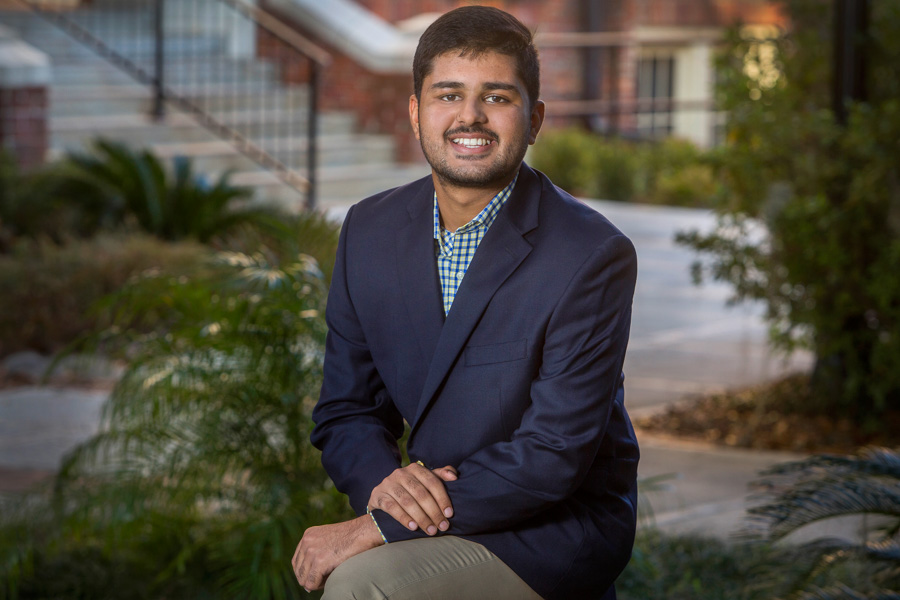 "FSU provided me with so many opportunities and so many great professors. I was able to grasp all of my opportunities and grow as a person."
Senior Muhammad Ehab Rasul has excelled at Florida State University in his research and leadership endeavors, while learning about diverse cultures and also sharing his culture with the community.
He was born in Lahore, Pakistan, and his family moved to Tallahassee in 2009. Rasul attended Leon High School and began to consider opportunities to attend a university in the United States.
"I had seen the FSU football games, I had been on campus, and I really liked it," Rasul said. "I didn't think about any other college besides FSU."
Focus on Research
Now, Rasul is finishing a double major in media/communication studies and psychology, and he's focusing on academic research that would be beneficial in a career.
In fall 2016, Rasul was accepted to the Undergraduate Research Opportunity Program, and the experience sparked his interest in media studies research. He worked under the guidance of Stephen McDowell, associate dean of student affairs in the College of Communication and Information.
In 2017, Rasul was awarded an IDEA Grant from the Center for Undergraduate Research and Academic Engagement. With the $1,000 award, Rasul researched how female politicians were portrayed in films produced in Hollywood, as well as the Indian movie industry, and he examined whether those representations impacted people's perceptions of women in politics.
Rasul presented his research at the FSU Showcase of Undergraduate Research Excellence in fall 2017.
"I wanted to analyze how the media industry is growing there," Rasul said. "How it's different from the United States, how it's similar, how the media affects the perceptions of the West and how the perceptions of people in Asia and South Asia are affected by how the media portrays them."
Educational Travels
This year, Rasul has continued to dive into South Asian Media and Cultural Studies with the help of a second IDEA Grant. The award allowed him to travel to Pakistan to research how Pakistani and American newspapers reported drone strikes and civilian casualties from the perspective of the "moral disengagement theory," which contends a person might be more willing to break certain ethical standards depending on the context of a situation.
Under the guidance of Arthur Raney, the James E. Kirk Professor of Communication in the College of Communication and Information, Rasul investigated how media psychology theory is used to undermine civilian losses in the war on terror.
"Muhammad's thirst for knowledge is readily apparent when you meet him," Raney said. "In his effort to quench that thirst, he seems to be making the most of the opportunities available to him here at FSU."
In his research, Rasul has compared, contrasted and tried to bridge a gap of understanding between western and eastern cultures by analyzing each culture's use of media. Rasul has presented his work at national and international conferences, such as the Conference of the International Communication Association held in Prague this year.
All about Cricket
Outside the classroom, Rasul is passionate about the sport of cricket. His enthusiasm for the game and natural leadership skills prompted other students to join him on the field, which led to the creation of the FSU Cricket Club.
"One thing I took with me from Pakistan was cricket," Rasul said. "I love sports in general, but cricket is in my blood, so I really wanted it to be a club sport at FSU. I was able to grow in confidence and leadership by starting a club from scratch and educating a lot of people about what cricket is."
As president of the Cricket Club, Rasul gained leadership and organizational skills, while educating others about his native culture. He lived in Pakistan until the age of 11 before moving to the United States, and that experience gave him a unique perspective.
"I don't really consider myself an international student — I'm kind of immersed in American culture you could say — but I still have two different perspectives," Rasul said. "I speak four languages: three from Pakistan, one is Hindi, and I am moderately fluent in Spanish, so I have all these different perspectives from the languages. Whenever I'm in a conversation I look at a specific issue, and I don't just look at it through one perspective."
In the future, Rasul plans to attend graduate school and pursue a doctorate in media psychology and health communication. He's preparing for a career with a research company, think tank or as a professor at a research university. Rasul said his undergraduate research work has shown him career possibilities and helped him prepare for graduate school.
Overall, he said his FSU experience has boosted him both personally and academically.
"Florida State definitely made me more outgoing," Rasul said. "FSU provided me with so many opportunities and so many great professors. I was able to grasp all of my opportunities and grow as a person. Now, I know where I want to go with my life."