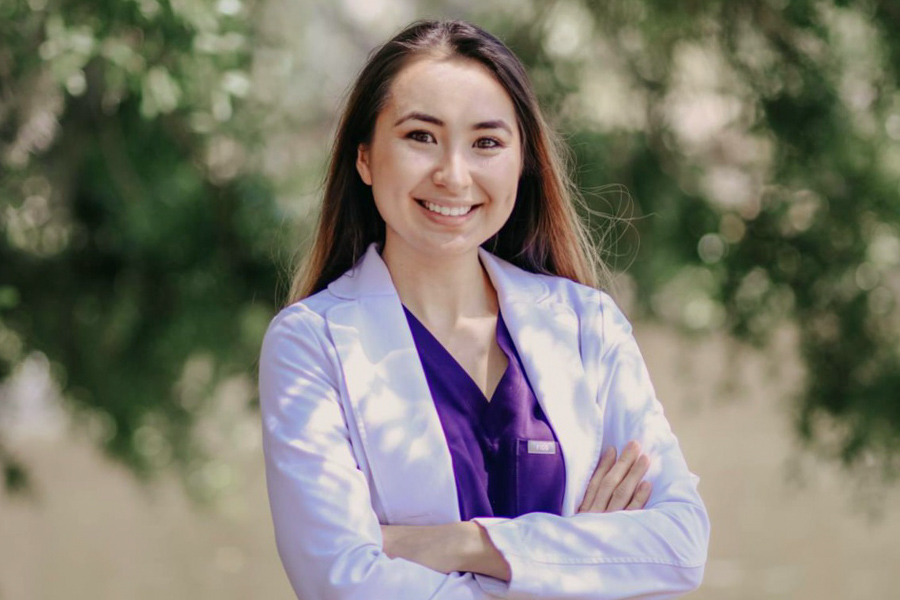 "I knew that FSU was the school for me when I reached out and immediately was offered a meeting to discuss my educational goals."
Mishya Otis is a third-year graduate student at Florida State University pursuing a doctorate in nursing practice and following her passion for dermatology.
Otis, a native of Sarasota, earned a bachelor's degree in nursing at the University of South Florida in Tampa. Following graduation, Otis decided to continue her education and work toward a more impactful job in nursing.
"I decided to further my education at the end of my undergraduate nursing program because I wanted to be on the forefront of practicing preventive care," Otis said. "When I was doing nursing in undergrad, I realized I didn't necessarily want to be in the hospital setting. I wanted more of a leadership role."
That goal led Otis to FSU's Doctor of Nursing Practice program, which is designed to prepare nurses for the highest levels of nursing practice.
"I chose to attend FSU because it was my first choice for graduate education, and it came highly recommended to me by my undergraduate instructor and a lot of nurses where I was doing clinical work," Otis said. "I knew FSU was the school for me when I reached out and immediately was offered a meeting to discuss my educational goals and interests with one of the program directors."
The Doctor of Nursing Practice program at Florida State offers a unique opportunity for students to pursue graduate education while balancing other responsibilities in their lives. The program includes six core courses online, and the remaining classes are provided via interactive television. The TV link creates a live two-way connection between students and instructors located in Tallahassee, Panama City and Sarasota.
That option is crucial for Otis as she juggles a hectic schedule in her final year of school. She's working hard to complete her degree while holding a job and taking care of her two children. FSU's Doctor of Nursing Practice program is structured in a way that helps students like Otis succeed. It offers more flexible online and interactive classes. That kind of system allows Otis to work on a degree remotely, which means she can live and work close to her family in Sarasota.
"FSU's hybrid program allows me to not only continue my doctoral education through video conferencing in Sarasota, but it also allows me to continue balancing work, home health nursing and caring for my young children," Otis said.
Through the DNP program, Otis has received a lot of valuable opportunities. She has attended professional development events to enhance her skills and share lessons. Otis has exceeded the required number of clinical hours in dermatology.
"I attend a lot of regional conferences and workshops to expand my clinical knowledge in order to become a highly valued nurse practitioner," she said. "I want to be the best that I can be when I graduate."
Otis has also been recognized for academic achievements at FSU. She is an active member and scholarship recipient of the Phi Sigma Theta National Honor Society and the Sigma Theta Tau International Honor Society of Nursing. In addition, Otis is the recipient of scholarships from the Lettie Pate Whitehead Foundation, the J. Milton Hoffa and Nellie E. Hoffa Memorial Foundation and the Mary E. Parker Foundation.
In Sarasota, Otis is conducting a research study for her nurse practitioner project. She is evaluating whether appearance-based motives increase sunscreen use among young adults. She hopes to find a more effective way to encourage people to use sunscreen for the prevention of melanoma.
"The faculty members really encourage us to go and seek out opportunities," Otis said. "They want us to enrich others, including faculty and peers, when we find opportunities or learn new things so we all can benefit from the knowledge."
Otis will graduate in spring 2019. She hopes to work as a family nurse practitioner in dermatology. Otis also plans to apply for a nurse practitioner fellowship and other postgraduate dermatology training programs.
As a graduate student at FSU, Otis has excelled in her personal, professional and academic endeavors. She has taken advantage of a wide array of experiential and networking opportunities, and she attributes much of her success to those special opportunities.
"I think you have to network with experts who are passionate about your field of interest and hone your clinical skills," Otis said. "If you're going to be passionate about a specialty, be passionate about learning."