Florida State University President Richard McCullough and First Lady Jai Vartikar had the opportunity this summer to see firsthand how FSU students are living and learning in some of the most historical and beautiful European cities in the world.   
McCullough and Vartikar, accompanied by FSU Board of Trustees Chair Peter Collins and his wife, Jennifer Collins, an FSU International Programs board member, visited the jewels in the crown of FSU's International Programs — the European study centers in London; Florence, Italy; and Valencia, Spain. 
"It was incredible not only to see the study centers, but the students were just absolutely remarkable," McCullough said. "I don't think we've heard the phrase 'life-changing' from students as many times as we did when we were there." 
FSU's International Programs maintains a year-round presence at the study centers, which provide opportunities for FSU students to live and study in vibrant, diverse and culturally rich cities across the Atlantic Ocean during the fall, spring or summer semesters. 
"The quality of the facilities at our three European campuses would make any Seminole proud," Chair Collins said. "The locations and significance of our study centers, and the surrounding housing, is unmatched in the study-abroad world. I came away thinking that I would love to be a student again and be at one of these locations for a semester." 
FSU ranks third in overall study-abroad enrollments and long-term study-abroad enrollments and places fourth in short-term study-abroad enrollments, according to the Institute of International Education's Open Doors report for 2020-2021. 
"The International Programs team certainly appreciates the visit of this esteemed group to our three European study centers," said Jim Pitts, director of FSU International Programs. "It was a fabulous opportunity for our staff and faculty abroad to highlight our unique facilities, resources and programs. Many of our students and alumni shared insights into how life-changing studying abroad can be. In fact, the group participated in a couple of classes, providing them with firsthand knowledge of how our faculty incorporate the resources of the host cities into the curriculum." 
First stop: London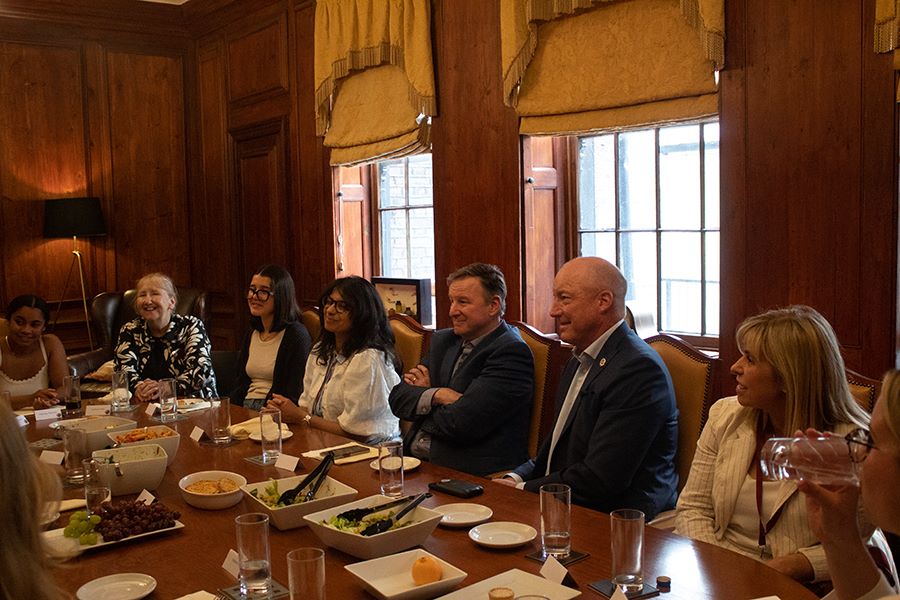 The group met with students, faculty and staff during a tour of the FSU London Study Centre. Located in the historic Bloomsbury district, FSU London is a series of interconnected historic 17th-century Georgian buildings fitted with state-of-the-art technology. It's among London's oldest and largest locations of U.S.-based academic institutions. 
President McCullough, First Lady Vartikar, Chair Collins and Jennifer Collins had lunch with students and visited classes before attending a reception that evening to celebrate FSU London's Golden Jubilee. The 50-year anniversary took place in 2021, but COVID-19 pandemic restrictions postponed the planned in-person celebrations.

In addition, faculty members from FSU London with expertise in British history and literature took the group on a tour of Buckingham Palace and the British Museum, which is located next to the study center.
"I always enjoy being a student," McCullough said.   
In addition to British history and literature, FSU London also offers courses in chemistry, biology, archaeology, philosophy and theater. Students have opportunities to participate in internships across a broad range of majors, including marketing, business, logistics, the arts, media and government. 
Next stop: Florence, Italy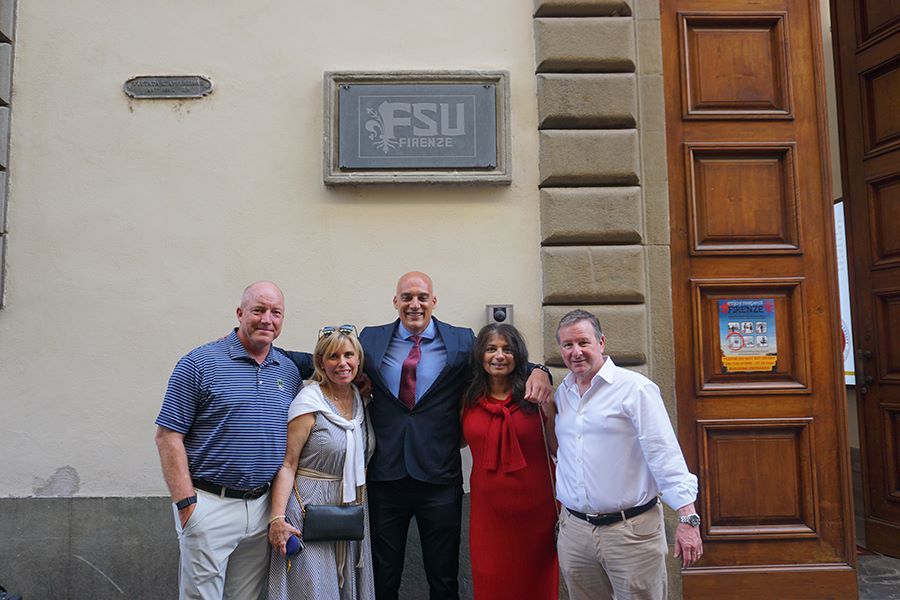 The group traveled from London to Florence, Italy, to visit the FSU Florence Study Center. Housed in the Palazzo Bagnesi Falconeri, a restored 37,000-square-foot palace in the heart of Florence that dates to the time of Michelangelo, FSU Florence is the oldest of the university's European centers. 
"When you go and touch and feel it, then you really get an idea of what's going on over there and what crown jewels these study centers are to our university," McCullough said.   
The Florence Study Center offers FSU prerequisite courses in math, natural sciences and English, plus classes in Italian language, fashion, design, entrepreneurship, business and hospitality. The center boasts a state-of-the-art media room, sewing lab and teaching kitchen to infuse Italian culture into academic disciplines. 
The traveling party toured the historic facility, had lunch with students, faculty and staff and attended a reception that evening. 
Last stop: Valencia, Spain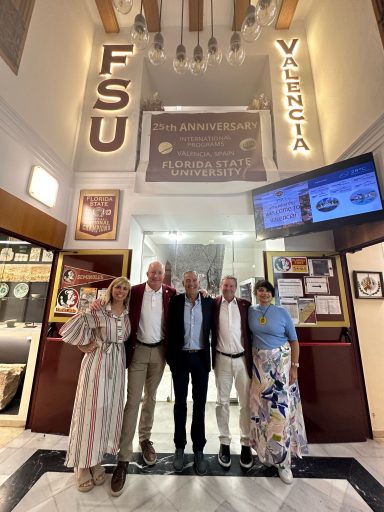 The group arrived at the FSU Valencia Study Center, its final destination. Housed in two historic buildings just behind the iconic Serranos Towers, FSU Valencia offers a glimpse into the past equipped with 21st-century modernity.  
While in Valencia, the group was interviewed for the upcoming issue of "Nomadic Noles," a magazine produced by students in the English Department's Editing, Writing and Media program studying abroad in Valencia.  
One highlight for McCullough during the Valencia visit was seeing the Holy Chalice of Valencia. Guarded behind glass in the city's Gothic cathedral, the Holy Chalice of Valencia is one of the longstanding claimants to being the Holy Grail, the cup used by Jesus during the Last Supper.  
"That was really quite something to see," McCullough said. 
While the group enjoyed exploring the rich history of London, Florence and Valencia, meeting with students was the most memorable part of the trip.  
"The highlights to me were whenever we spent time with the students directly," Chair Collins said. "We did interviews, we had social gatherings, dinners and lunches with different groups, which gave a good window into the experience we are providing in the study abroad program." 
It was a chance for FSU's leadership to understand and experience the opportunities available to students and faculty abroad and to assess opportunities for growth.  
"The foresight of previous presidents to buy these buildings and create these programs is incredible," McCullough said. "I think there are additional opportunities for us to create sabbaticals for faculty members to go overseas and expand FSU's international presence and reputation." 
For more information about FSU International Programs, visit international.fsu.edu.