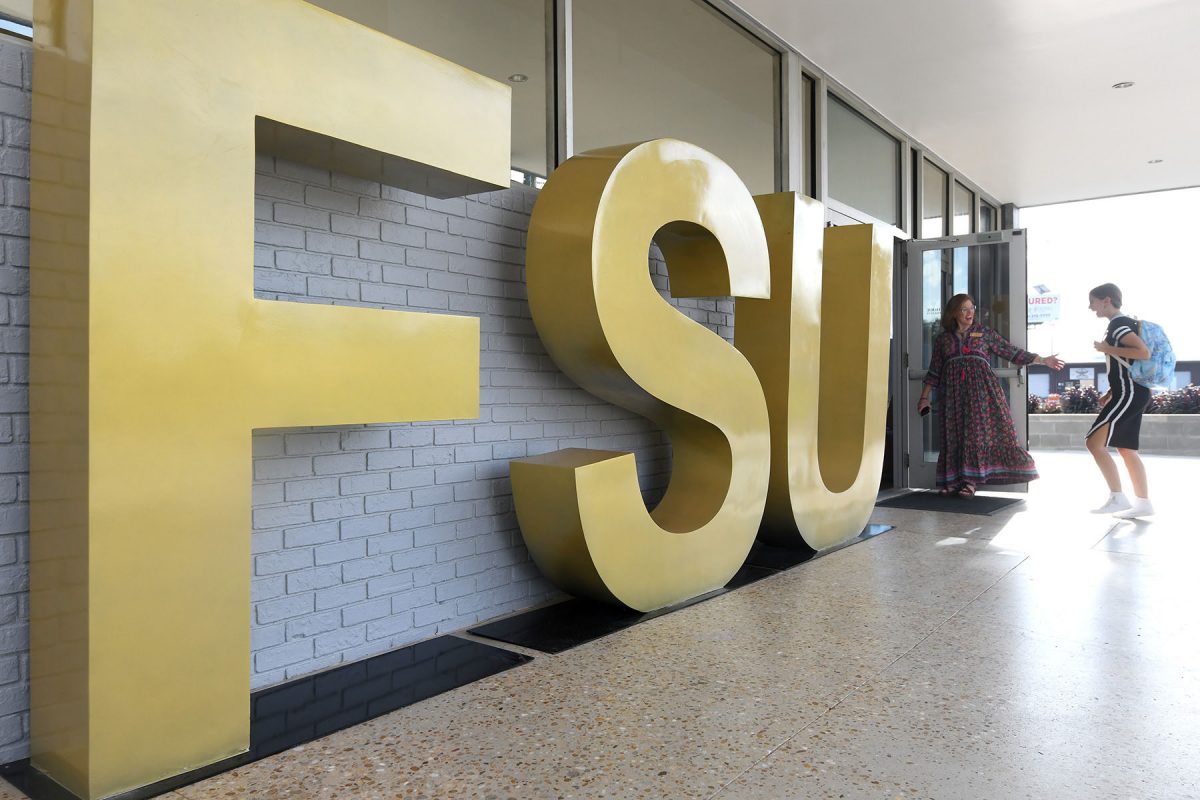 Florida State University Panama City's Collegiate Laboratory High School welcomed students for the first day of classes on Thursday, Aug. 10, marking an educational milestone, as well as a first in local history.
"We are our own school district—that's something that's very important to note, because we're a lab school," said Director Debbi Whitaker in the lull between students arriving and the beginning of first period classes. "We are looking forward to research opportunities and to having our students experience not only traditional high school, but also a collegiate environment, in that we not only have our own space, but we'll be sharing space with FSU Panama City."
As the bell sounded for Day One, 100 ninth graders settled into their new school routines at the off-campus facility at 2440 St. Andrews Blvd. Because parents must provide transportation for students, Whitaker happily reported a smooth drop-off occurred, crediting parents for following the new procedures and police support for keeping traffic controlled.
Emotions still ran high, however. World History teacher John Vallas said morning nerves were the same for him Thursday as on every first day of school in his lengthy career.
"As usual on the first day of school, I'm a bit nervous," Vallas said. "I think most of the teachers are, and the reason for that is that we care. We want to make good first impressions with the students in order to have a good school year."
Whitaker added that the usual first-day jitters and anxieties were multiplied by being in a brand-new school and under the FSU PC umbrella. But she was confident everyone would settle in and become accustomed to the Collegiate School.
"The quiet that was here this morning before the doors opened was a sweet time, and now that there's noise all in the halls, that's an even sweeter time," Whitaker said.
School days will run from 8 a.m. to 3:30 p.m. weekdays, giving students a full hour in each of their four core classes. The last two classes of the day will be for career exploration and electives in the arts. Students may earn technical certifications and dual enrollment credits beginning in their freshman year. Before- and after-school programs also will be offered.
"All of our dual enrollment courses will be taught by instructors—faculty and professors—at Florida State University," Whitaker said, noting that students will spend each Friday on the Panama City campus. "We are trying to overlap any traditional classes that we can with dual enrollment or AP classes. Why would you not want to have your high school credit and at the same time get a college credit?"
For more information about the Collegiate High School, visit the website, tcs.fsu.edu.