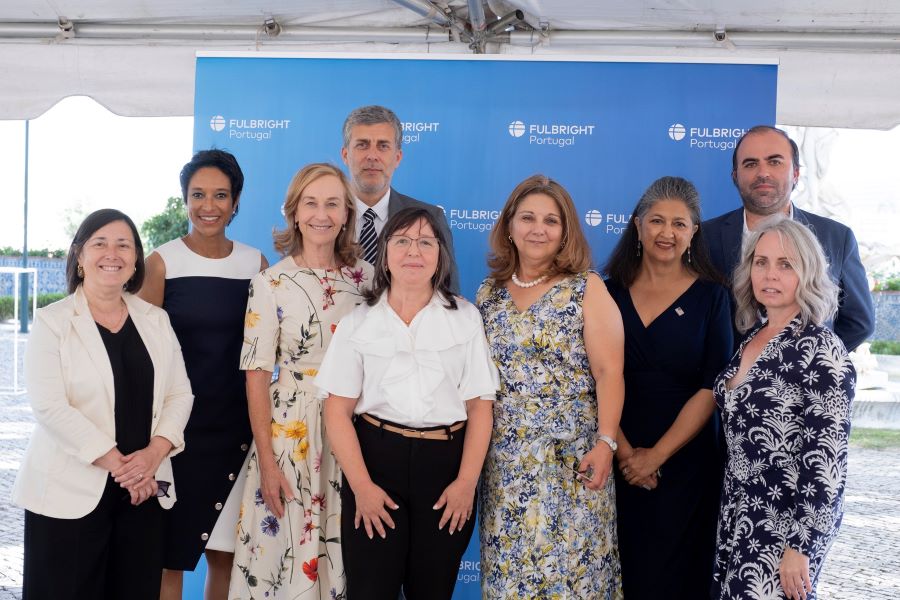 A Florida State University alumna and internationally recognized travel expert has been appointed to the Board of Directors of the United States-Portugal Fulbright Commission, the flagship international academic exchange program sponsored by the U.S. Department of State.
Sheree M. Mitchell, who earned her bachelor's degree in 2001 and master's degree in 2004 from FSU's Department of Modern Languages and Linguistics, received the prestigious appointment from Randi Charno Levine, the U.S. Ambassador to Portugal, in July.
"I believe Ms. Mitchell will be an important advocate of international educational exchange, and I am sure that her involvement will support the critical mission of the U.S.-Portugal Fulbright Commission," Levine said.  
The U.S.-Portugal Fulbright Commission is led by an executive director and supported by 10 board members comprising five directors from Portugal and five directors from the U.S. who represent various industries in public and private sectors. Mitchell, a double alumna of FSU's Spanish program, is the newest American director.  
A Florida native, Mitchell has traveled to more than 40 countries, speaks English, Spanish, Portuguese and some Italian, and currently serves as president of the American Society of Travel Advisors for Portugal. Her distinguished, 20-year career includes founding and heading Immersa Global, a tour operator and destination management company specializing in providing bespoke cultural experiences and authentic programs in Portugal. Her work is a direct outgrowth of time spent studying abroad and immersing herself in different languages and cultures, an experience she is excited to help grant to others.  
Recently named among the world's top travel experts by Travel + Leisure, Mitchell is especially looking forward to working with the commission's executive director and other board members to connect with potential applicants from lesser represented communities in her new role. 
"Living, studying and working abroad have influenced the most important decisions in my life," Mitchell said. "It has also shaped how I see the world, but most importantly, how I interact with those around me. It is truly an honor to be appointed to a commission that provides these life-enriching opportunities to others." 
"Living, studying and working abroad have influenced the most important decisions in my life."

— Sheree M. Mitchell
The Fulbright Program, the most widely recognized and prestigious international exchange program in the world, was established in 1946 by U.S. Senator James William Fulbright to encourage public diplomacy in the post-World War II era. Fulbright strongly believed that the formation of a new educational exchange program would promote mutual understanding between nations and between communities.  
There are currently 49 Fulbright Commissions worldwide, and these commissions are tasked with responsibilities including: Planning and implementing educational exchanges, recruiting and nominating candidate for fellowships, designating qualified local educational institutions to host Fulbright fellows, fundraising, engaging with alumni, supporting incoming fellows and, in many countries, operating an information service for the public on studying in the U.S.  
Following these guiding principles, Mitchell will focus on connecting with potential Fulbright Program participants in Portugal, especially first-generation college students and members of underrepresented ethnic and cultural groups. 
"In a post-WWII environment, Senator Fulbright believed that international exchange programs were the best way to create and support public diplomacy," Mitchell said. "The goal was to 'turn nations into people.' Almost a century later, I couldn't agree more. As an American, it is very exciting to be a part of such an amazing U.S.-born and led initiative abroad." 
Mitchell's experience in creating cultural immersion programs began as a student when the FSU Center for Global Engagement invited her to help manage a short-term cultural exchange program in Costa Rica. After graduating in 2004, she taught Spanish for a decade before embarking on a year-long solo trip that ended in the founding of her company Immersa Global. 
"Within the context of the U.S., I have realized that my background in languages and cultural immersion are my greatest assets," Mitchell said. "They have opened the doors to a life of infinite possibilities. Once you learn how to navigate living in different cultures as well as the mechanics of how to learn languages, you truly become a citizen of the world."  
To learn more about FSU's Department of Modern Languages and Linguistics, visit modlang.fsu.edu. For more information on the U.S. State Department's Fulbright Commission, visit eca.state.gov/fulbright/about-fulbright.