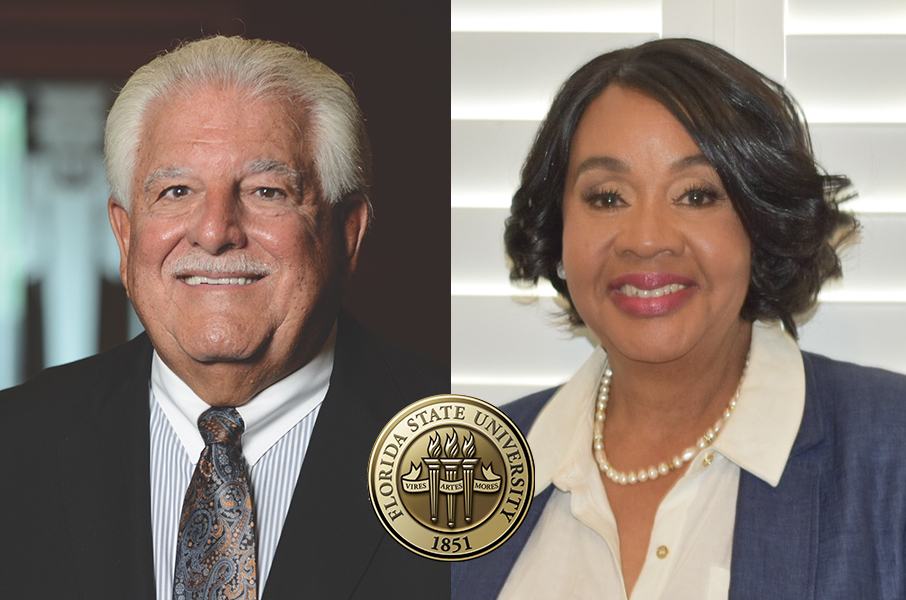 Two distinguished alumni will be the featured speakers at Florida State University's two fall commencement ceremonies Friday, Dec. 9.
Dr. William T. Hold, the namesake of the College of Business's Risk Management and Insurance program, will address graduates at the 2 p.m. ceremony, while Dr. Maxine Montgomery, professor of English and this year's Robert O. Lawton Distinguished Professor, will speak at the 7 p.m. ceremony.
President Richard McCullough will preside over both ceremonies which will take place at the Donald L. Tucker Civic Center, 505 W. Pensacola St.
This fall, 3,243 students will receive their degrees from FSU. Of that number, 2,053 will receive bachelor's degrees, 976 will receive master's/specialist degrees and 117 will receive doctorates while the College of Law will confer 97 degrees. The Office of the Registrar estimates about 2,200 students will participate in the two ceremonies.
Hold is the executive chairman and retired president of The National Alliance for Insurance Education & Research, which he co-founded in 1969. He double majored and earned degrees in risk management and finance at FSU in 1963 before moving on to the University of Wisconsin in Madison, where he earned master's and doctoral degrees. Hold donated $5 million to the Risk Management and Insurance program in 2012, which helped propel the program into the nation's elite. The College of Business inducted Hold into its Hall of Fame in 2012, and the university awarded Hold an Honorary Doctor of Humane Letters degree in 2021.
Montgomery was recognized earlier this year with the highest honor faculty can bestow upon one of their own: the Robert O. Lawton Distinguished Professor Award. One of the nation's premier scholars in African American Literary and Cultural Studies, Montgomery graduated with bachelor's and master's degrees from FSU before earning a doctorate in English from the University of Illinois at Urbana-Champaign. She is the recipient of five University teaching awards, published or edited eight books, and created 11 new courses in the English department. As chair of the University's 2020-2021 Task Force on Anti-Racism, Equity and Inclusion, she has also carried out programmatic efforts in support of diversity, equity and inclusion. Last year, Montgomery was awarded a National Endowment for the Humanities Collaborative Research Grant for her work with the Gloria Naylor archive.
For more information, visit commencement.fsu.edu.