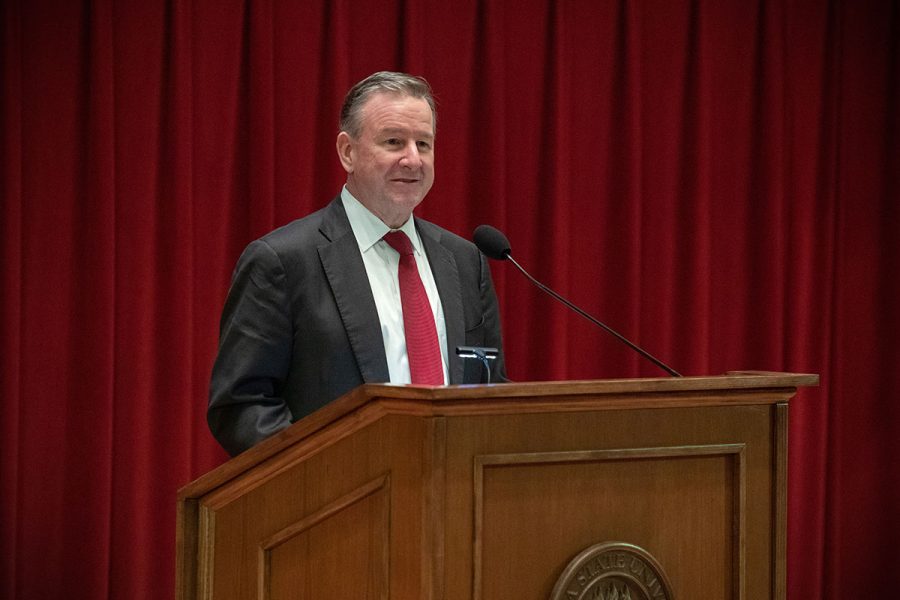 Florida State University President Richard McCullough reflected on the remarkable achievements of the past year and said that he is filled with optimism about leading the university to greater heights during his State of the University address Wednesday.
"We are an academic powerhouse on the rise, and I look to the future with confidence and excitement," McCullough said.
McCullough delivered his annual update to the FSU Faculty Senate during the group's monthly meeting, which took place in the Durell Peaden Auditorium at the College of Medicine.
He noted that at a time when some universities across the nation are struggling with declining enrollments and deep cuts in state funding, FSU is seeing record numbers of student applications and greater investments from public and private sources than ever before.
"I think it's very clear that our time is now," McCullough said.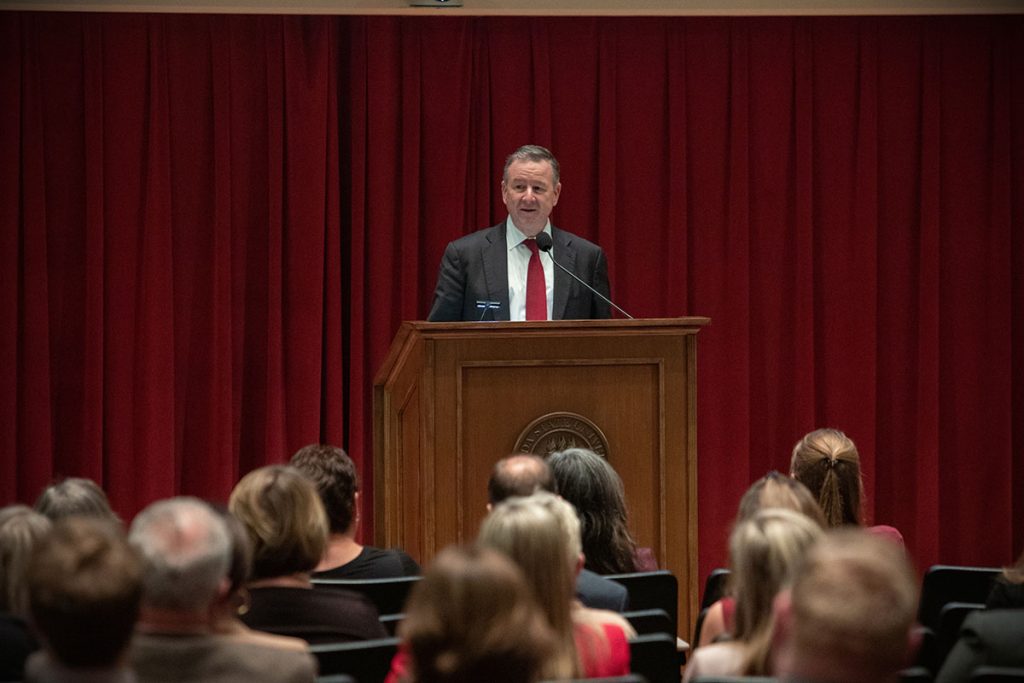 During the address, McCullough outlined the nine goals he presented to the Board of Trustees earlier this month, which include rising in the national rankings, investing in student success and expanding the university's research enterprise.
He reaffirmed the university's overarching goal to achieve recognition as one of the nation's Top 15 public universities and make progress toward membership in the Association of American Universities (AAU). In September, U.S. News & World Report again ranked FSU No. 19 on its list of the top public universities, and McCullough said he is confident that the university will continue to rise.
"We continue to get better because of our hard work, optimism and, most importantly, strategic investments," he said. "We look at every category at this university and dig down deep … This year student indebtedness is down, faculty compensation is up, our student test scores are up, the quality of students is up, and our competitiveness on a national scale is rising."
A focus on student success and increasing graduation and retention rates are fueling FSU's rise in the rankings and driving student applications. In fact, FSU had the most first-year student applications of any institution in the State University System of Florida with about 80,000 this year.
This past year, the university invested additional resources to enhance programming for first-generation students through the Center for Academic Retention and Enhancement, or CARE, allocated funding to double the number of Honors students from 400 to 800, and raised $15 million in gifts to support and grow the Presidential Scholars Program – FSU's premier undergraduate scholarship.
Another major goal is to expand the university's research enterprise. McCullough pointed to the new FSU Health initiative, which will create opportunities to attract significant National Institutes of Health (NIH) funding and increase the university's research portfolio exponentially.
Last spring, the Florida Legislature appropriated $125 million to build a new academic health center in Tallahassee. The project promises to transform health care delivery, education, and biomedical research in the region and make Tallahassee a health care destination. The vision for FSU Health extends to Panama City and throughout the booming Panhandle region.
"This is a tremendous opportunity for Florida State to move into our backyard and build a research and health care delivery system for this region," McCullough said.
To help achieve FSU's academic and research goals, McCullough said one of his top priorities has been to hire more full-time, tenure-track faculty. In the past year, the university has made major investments in this area, hiring more than 150 new faculty, with about 90 of those in tenure-track positions.
"We are especially focused on identifying and recruiting senior-level faculty, including National Academy members," he said. "These faculty will help us pursue our research goals, attract federal grant funding and contribute to our national prominence."
Along with growing the research enterprise, McCullough said the university will continue to support a culture of entrepreneurship and innovation by streamlining tech transfer policies to help make it easier for students and faculty to bring their ideas to the marketplace.
McCullough said the university is actively working on implementing recommendations of the President's Task Force on Anti-Racism, Equity, and Inclusion, and several initiatives have already been completed, including increasing funding to hire underrepresented faculty.
This year's legislative session, which included a $125 million appropriation for FSU Health, was the most successful in university history. When the next session begins in the spring, McCullough said the university will continue to use a strategic approach and seek funding and operational support that will help FSU reach its long-term goals of reaching the nation's Top 10 public universities and membership in the AAU.
"We have bold and audacious goals, and of course we cannot accomplish them alone," he said.  "As a public institution, we are uniquely positioned to improve the quality of life at Florida State University, but also the quality of life in the State of Florida."
Fundraising is another top priority for McCullough, and the university will build upon an excellent year. In the past fiscal year, the FSU Foundation raised its the second-highest total in gifts and pledges in more than a decade. He said the university will focus on increasing alumni giving and will begin laying the groundwork for its next comprehensive campaign and securing gifts for the university's highest, most strategic priorities.
In closing, McCullough underscored his optimism toward FSU's future, and pledged to work tirelessly to achieve the university's goals.
"From student success and faculty achievement to research and entrepreneurship; from fundraising and relationship building to nurturing an inclusive community and celebrating our athletic success, we have been relentless in our pursuit of excellence, and we have gained national attention for our efforts," he said.
"This truly is our time."