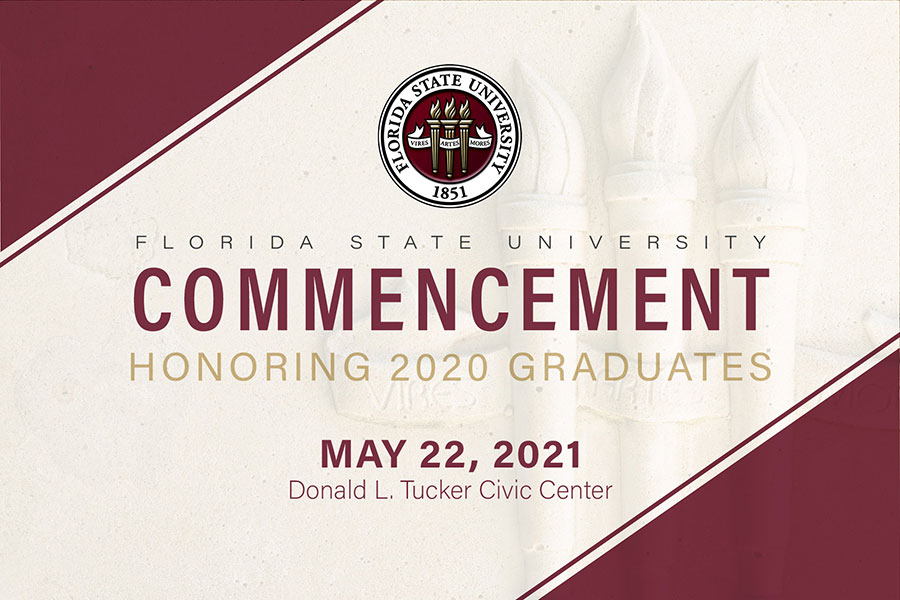 UPDATED: MAY 17, 2021
Florida State University will celebrate the Class of 2020 during three in-person commencement ceremonies Saturday, May 22, at the Donald L. Tucker Civic Center. 
In March, President John Thrasher invited all 2020 graduates back to campus for a proper celebration after the university was forced to cancel in-person ceremonies over the past year due to the COVID-19 pandemic.  
The university will retain many elements of its traditional ceremonies while taking the necessary steps to ensure that graduates and their guests can gather in the safest way possible. 
The ceremonies will allow for proper social distancing for graduates who will be seated on the Civic Center floor, as well as four guests per graduate in the audience. About 2,100 graduates are expected to participate in three ceremonies.  
A condensed program will feature the reading of graduates' names while they walk across the stage. All graduates will be required to wear a cap and gown. Professional photographers will be available to document the event. 
Graduates will walk according to their college. Ceremonies will take place: 
Saturday, May 22, 9 a.m.
Applied Studies
Arts and Sciences
Communication and Information
Music 
Saturday, May 22, 2 p.m.
Business
Criminology and Criminal Justice
Dedman College of Hospitality
Education
Engineering 
Jim Moran College of Entrepreneurship 
Saturday, May 22, 7 p.m.
Fine Arts
Human Sciences
Law
Medicine
Motion Picture Arts
Nursing
Social Sciences and Public Policy
Social Work 
Graduates also will receive an email from the FSU Alumni Association, which is partnering with the Division of Student Affairs, with full details of the weekend's festivities beginning the afternoon of Friday, May 21. This information also will be available on commencement.fsu.edu.