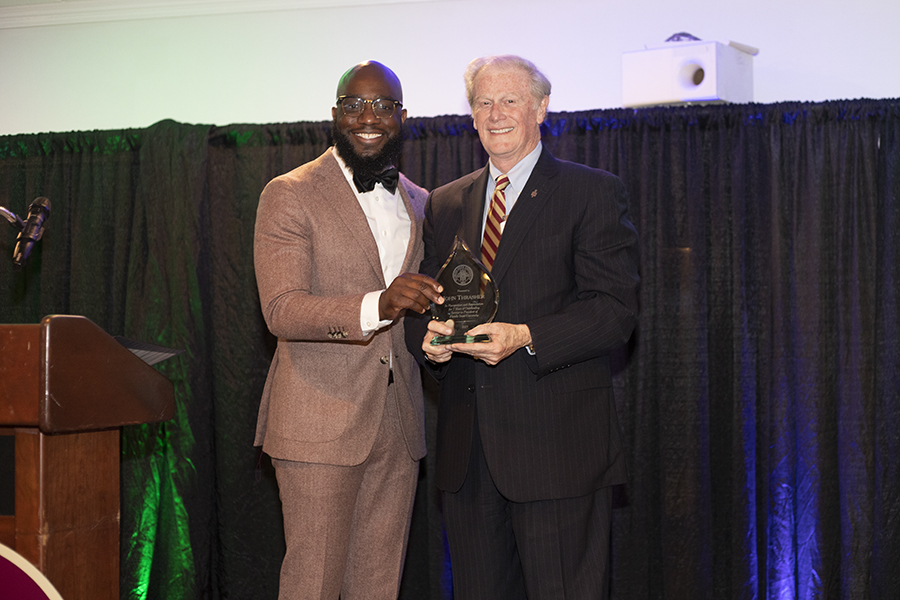 Florida State University President John Thrasher was inducted into FSU's Greek Hall of Fame for his lifetime of service to the FSU community during the Pursuit of Excellence Awards ceremony April 14 at Capital City Country Club. It is the Department of Fraternity and Sorority Life's highest individual honor.
"President Thrasher's leadership, vision and commitment to the fraternity and sorority community will have a lasting impact," said Chris Graham, director of Fraternity and Sorority Life. "His legacy speaks for itself. I am not aware of a university leader more involved with and concerned about students. I personally appreciate all of the support he has provided me and the FSL community. While we will miss him and Jean, we will continue to benefit from all that they have done."
Fraternity and Sorority Life also announced the creation of the President John Thrasher Leadership and Service Award, which will honor those individuals who have gone above and beyond to serve both the Greek and FSU community. In particular, the award recognizes the leadership and service they have provided during times of crisis or upheaval.
Thrasher faced many unprecedented challenges during his tenure as the university's president, but his unwavering commitment to the FSU community has helped to elevate the university's reputation and become a Top 20 public institution.
Each year, FSL will honor seven award recipients, representing the nearly seven years Thrasher has served as FSU president. The seven inaugural winners, recognized for the caliber of leadership they have demonstrated in the face of obstacles, are:
Michael Oded, Sigma Alpha Epsilon
Zachary Wollermann, Kappa Alpha
Jorge Serrano, Phi Iota Alpha Fraternity, Inc.
Alyssa Lamadriz, Sigma Gamma Rho Sorority, Inc.
Carter Mareus, Alpha Phi Alpha Fraternity, Inc.
Sophia Pacheco, Kappa Alpha Theta
Amanda Green, Phi Mu