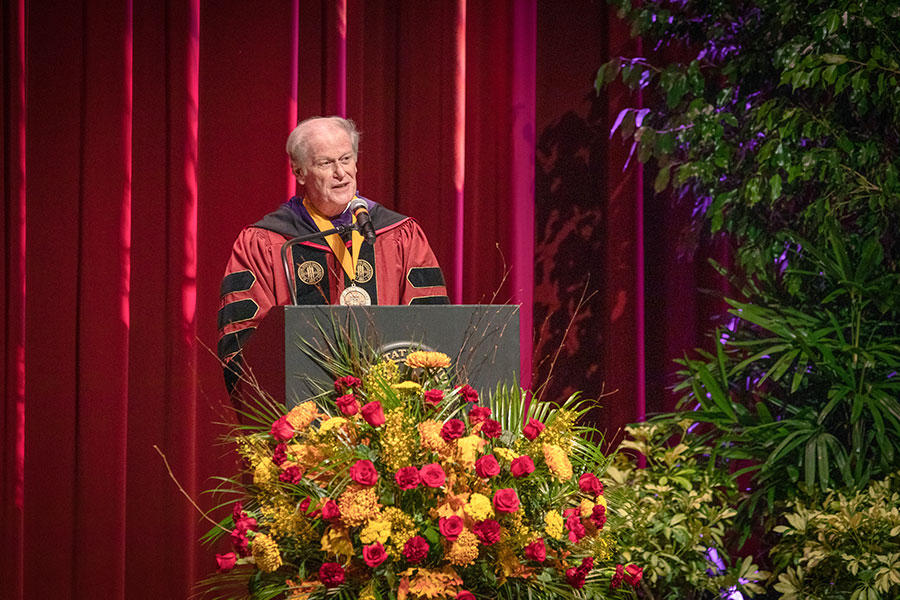 Citing their resolve and sacrifice in the face of a global pandemic, Florida State University President John Thrasher commended new graduates during Friday's fall virtual commencement ceremony, which was webcast via WFSU and YouTube.  
With the COVID-19 pandemic and social distancing protocols moving the ceremony online, Thrasher said he missed the opportunity to enjoy face-to-face festivities but that his disappointment was tempered by pride for this class of graduates.  
"I wish more than anything that we could be together for this ceremony," he said. "I said this in the spring and summer, and I will say it again today — the Class of 2020 will go down in history as the one that sacrificed so many of our cherished traditions so that we may all be safer."  
Thrasher encouraged graduates to embrace the seriousness of the moment and reminded them that their time at FSU had prepared them for today.  
"The future is uncertain, I know, but we are counting on you to go out into the world and solve society's toughest challenges," he said. "That's what Florida State has prepared you to do, and we need you now more than ever." 
FSU awarded 2,797 degrees this fall. That includes 2,005 bachelor's degrees, 634 master's and specialist degrees, 103 doctorates, 10 juris doctor degrees, 42 juris master's degrees and three LLMs. Eighteen undergraduates graduated with a perfect 4.0 grade point average.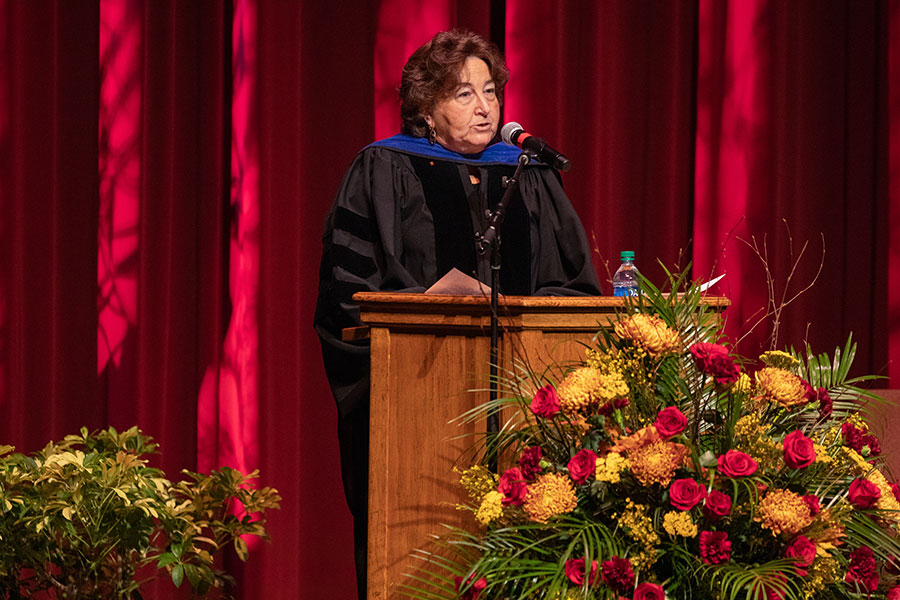 Sharon Nicholson, one of the world's top climatologists and a professor of meteorology in the Department of Earth, Ocean and Atmospheric Science, delivered the commencement address. Nicholson was recognized by FSU faculty members last spring as the 2020-2021 Robert O. Lawton Distinguished Professor, the highest honor faculty bestow upon one of their own. 
Nicholson framed the challenges facing today's graduates as similar to those facing her and her fellow graduates exactly 50 years ago when the protests surrounding the Vietnam War, along with turmoil surrounding social and civil rights, roiled the nation.  
"We had not seen such social and political divisions since the Civil War," she said. "Civil rights, workers' rights and gender equality were big issues." 
"Now, we are once again at war," she continued. "This time against a deadly virus with young and old dying. Social protests are erupting with citizens clashing with the police and national guard. There are calls for equality and diversity. The political and social divides within the U.S. are once again vast." 
These challenges should not depress graduates Nicholson said, adding that the future is indeed bright.  
"The current situation too, shall pass," she said. "The hardship of the pandemic and social unrest will pass, and society will be getter for the lessons we learn. And we will make gains toward equality and inclusiveness."   
Invoking her passion as a climatologist and citing global warming, pollution and diminishing fresh water supplies, Nicholson urged graduates to be mindful of their impact on the environment and to feel empowered to help make change.  
"I ask each of you as you go forward to remember the fragility of the Earth and its environment and become a steward of the Earth," she said. "Your actions impact your surroundings. Live responsibly and maintain sustainability by recycling, reusing and reducing your carbon footprint. Support policies that preserve the environment. Your individual contributions do matter."  
Nicholson noted that this generation of graduates is uniquely positioned to tackle today's challenges.  
"You are all technology natives born in a technological world," she said.  "You are the generation that will use that technology to bring solutions to environmental concerns like global warming, conservation of natural resources, and the development of alternative energy strategies." 
"Now, as you leave FSU behind, remember the good years here," she said. "But note your best years lie ahead. You have the power to make them what you want them to be."  
Student Body President Jonathan Levin asked graduates to find the positives among the tribulations and to be the shining light in a room full of darkness. 
Levin reminded graduates to call upon the FSU motto when faced with challenges.  
"Don't let these times overshadow your experience here at Florida State University," he said. "And as you go into the world, seek leadership, stand strong in the face of adversity and, when it comes time to make hard and even scary decisions, I challenge you to cling to our values of vires, artes and mores: strength, skill and character." 
The ceremony will be archived online for future viewing on demand at www.learningforlife.fsu.edu/fsu-graduation/.
Among the graduates was Tiger Greene, a native of Santa Rosa Beach, Florida, who celebrated earning his bachelor's degree in hospitality and tourism management with friends and family in Tallahassee. 
"Choosing to go to the FSU Dedman College of Hospitality has been one of the best decisions I have ever made in my life," he said. 
Greene said being involved in planning a career expo at Dedman gave him great hands-on experience while allowing him the opportunity to foster friendships with people in the industry. He said that would never have been possible without FSU. 
"Graduating is absolutely bittersweet because of how much this place has meant to me," he said. "I absolutely love Florida State and the Dedman College, and I will bleed garnet and gold until my last day." 
Niceville native Alex Tolbert knew she wanted to attend Florida State after participating in FSU's Summer Music Program when she was in seventh grade. Truly a student with interdisciplinary interests, Tolbert earned an undergraduate degree in political science and also pursued minors in chemistry, biology, psychology and business during her time at FSU. Following graduation, she will use her multifaceted education as she begins medical school in 2021. 
"The culmination of all of my undergraduate experiences has solidified my commitment to becoming a physician and equitable health policy advocate," Tolbert said. "FSU provided me with the opportunity to pursue my interests in a variety of disciplines, and I know that's where I was meant to be." 
Although it wasn't the graduation ceremony that Tolbert expected, she's thankful that the virtual ceremony will allow her family members in Canada and Montana to celebrate with her. 
"I am very grateful to have such a strong support system and that we can all celebrate together, even if from afar," she said. "The most valuable lesson I have learned while attending FSU has been always being open to opportunity. It only takes one experience to open a new world of possibilities."