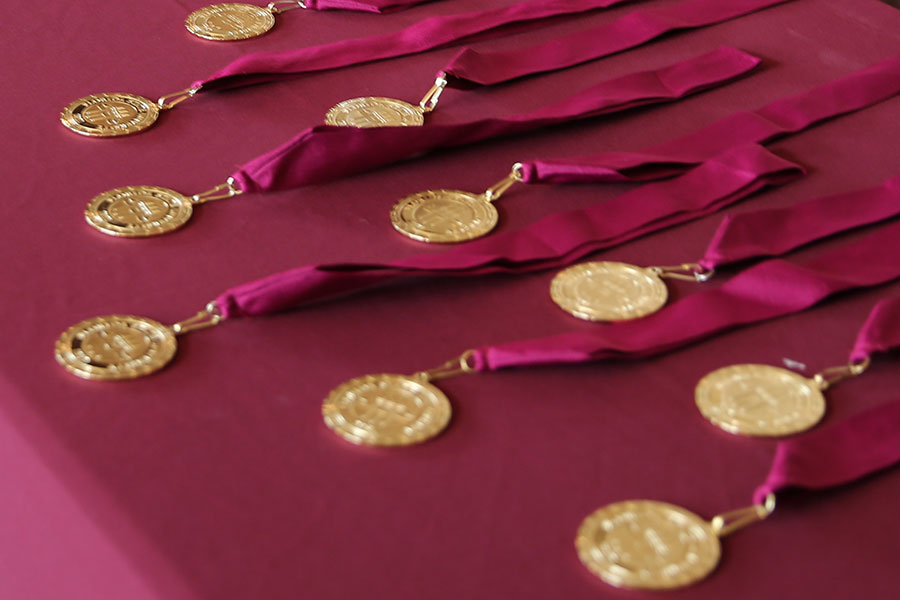 Florida State University awarded honors medallions to 77 high-achieving graduates during a virtual ceremony on Thursday, Dec. 10.
The FSU Honors Program supports the efforts and talents of the university's most intellectually curious students who have the potential, dedication and drive for creating change.
The virtual ceremony included remarks by Provost Sally McRorie; Dean of Undergraduate Studies and Assistant Provost, Joe O'Shea; Annette Schwabe, associate dean of Undergraduate Studies and director of the FSU Honors Program; and Bridgett Birmingham, Diversity and Inclusion Librarian for FSU Libraries.
"Whether you are going on to graduate school, or entering the workforce, or maybe taking time to pursue some additional internships, or other enrichment opportunities I hope you take with you the same passion, and determination, and resilience that you have demonstrated as an FSU honors student," McRorie said.
The breakdown of the honors awardees is as follows:
55 graduates, University Honors Program
Earned at least 18 Honors points in fulfillment of the FSU honors program requirements.
18 graduates, Honors in the Major Program
Completed an honors thesis in fulfillment of the requirement for the distinction "with Honors" in their major department.
1 graduate, Dual Honors
Completed both the University Honors Program and the Honors in the Major program.
3 graduates, Outstanding Senior Scholar
Completed the University Honors Program and the Honors in the Major program and graduated Summa Cum Laude, having a GPA of 3.9 or higher.
For more information about the FSU Honors Program, visit honors.fsu.edu. To view the ceremony or program, visit https://honors.fsu.edu/fall-2020-honors-graduates.
The honors medallion recipients, along with their hometowns, academic majors and award designations, are listed by state and city below.
ARIZONA
Yuma, AZ
Nathen Mergen, Criminology and Criminal Justice, Honors in the Major
ARKANSAS
Greenbrier, AR
Benton Jaco, Biological Science, Honors in the Major
COLORADO
Alamosa, CO
Natasha Couoh, Advertising, University Honors
CONNECTICUT
Manchester, CT
Sheridan Meek, Statistics, University Honors
FLORIDA
Altamonte Springs, FL
Tamara Gluck, Social Work, University Honors
Boca Raton, FL
Salma Garcia-Moreno, Environmental Science, University Honors
Lawrence Ghougasian, Accounting, University Honors
Boynton Beach, FL
Elias Larralde, History, Honors in the Major
Bradenton, FL
Logan Bell, Clinical Professions, Outstanding Senior Scholar
Cape Coral, FL
Katherine Morris, Exercise Physiology, University Honors
Coral Springs, FL
Liam Jennings, Biological Science, University Honors
Crestwood, FL
Dillon Bezehertny, Political Science, University Honors
Dade City, FL
Owen Clanahan, Biological Science, University Honors
Delray Beach, FL
Dominic Tarro, Psychology, University Honors
Eustis, FL
Darian Heers, Clinical Professions, University Honors
Fort Myers, FL
Molly Rimes, Political Science, University Honors
Madeline Sarnac, Clinical Professions, University Honors
Gainesville, FL
Julia Barrett, Sociology, University Honors
Jacksonville, FL
Madison Amaral, International Affairs, University Honors
Elizabeth Braddy, Computer Science, University Honors
Logan Franks, Pre-Clinical Professions, University Honors
Myles Jackson, Biological Science, University Honors
Land O Lakes, FL
Samantha Politano, Environmental Science & Policy, Dual Honors
Cole Sheridan, Scientific Computing, Honors in the Major
Lithia, FL
Jared Blanchard, Management Information Systems, University Honors
Longwood, FL
Nicholas Bottomley, Accounting, University Honors
Gabriella Marquez, Exercise Physiology, University Honors
Marathon, FL
Alyssa Turner, Biological Science, Honors in the Major
Melbourne, FL
Helen McSorley, Economics, University Honors
Seth Meehan, Accounting, University Honors
Bonnie Wilt, Clinical Professions, University Honors
Miami, FL
Gabriela Boudani, Psychology and Communication Studies, University Honors
Michelle Grand, Civil Engineering, Honors in the Major
David Ramos, Bachelor of Music Education, Honors in the Major
Zulay Rodriguez, Biological Science, Honors in the Major
Jordan Schwartz, English Creative Writing, Honors in the Major
Jaylene Sosa, Psychology, Honors in the Major
Mooresville, FL
Sidney Lopez, Finance and Media Communication Studies, University Honors
Naples, FL
Emma Crawford, Exercise Physiology, University Honors
Kelly Lewis, Applied and Computational Mathematics, University Honors
Navarre, FL
Jacqueline McTamney, Cell and Molecular Neuroscience, University Honors
Niceville, FL
Alexandria Tolbert, Political Science, Outstanding Senior Scholar
Ocala, FL
Catherine Sombat, Advertising, University Honors
Orange Park, FL
Maxwell Adolph, Marketing, University Honors
Orlando, FL
Kathryn Ashby, Interdisciplinary Social Science, University Honors
Panama City Beach, FL
Chad McGuire, Computer Science, University Honors
Parrish, FL
Sophia Metallo, Accounting, University Honors
Pensacola, FL
Madelyn Dimitroff, Cell Molecular Neuroscience, University Honors
Plant City, FL
Brandon Young, Middle Eastern Studies, University Honors
Ponte Vedra Beach, FL
Sophia Draughon, Biochemistry, Honors in the Major
Julia Worman, Political Science, University Honors
Port Charlotte, FL
Brittany King, Psychology, Outstanding Senior Scholar
Ruskin, FL
Gaberiel Clements, Political Science, Honors in the Major
Sarasota, FL
Fallon Katz, Exercise Physiology, University Honors
Arek Kauthen, Biochemistry, University Honors
Nicole Uthuppan, Clinical Professions, University Honors
St. Cloud, FL
Logan Macmillan, English, University Honors
Sunrise, FL
Regan Williams, Biological Science, University Honors
Tallahassee, FL
Abigail Baker, Environmental Science, University Honors
Caitlyn Colvin, Information Technology, University Honors
Samantha Crawford, Literature, Media and Culture, Honors in the Major
Cassie Crumpacker, Criminology, University Honors
Colin McDuffie, Risk Management/Insurance, University Honors
Brian Ranner, Interdisciplinary Medical Sciences (IMS), University Honors
Taylor Reynolds, Anthropology, University Honors
Valparaiso, FL
McKenzie Bentley, Interdisciplinary Humanities, Honors in the Major
West Palm Beach, FL
Megan Primavera, Computer Science, University Honors
GEORGIA
Marietta, GA
Nicole Vignone, Family and Child Sciences, University Honors
ILLINOIS
Mundelein, IL
Sheridan McGuire, Editing, Writing, and Media, Honors in the Major
Naperville, IL
Evan Young, Finance, University Honors
MICHIGAN
Sterling Heights, MI
Sarah Creech, Political Science, University Honors
NEW JERSEY
Clark, NJ
Alexander Wilson, Biological Science, University Honors
NEW YORK
Buffalo, NY
Brianna Bucello, Psychology, Honors in the Major
Victoria Krentz, Psychology, University Honors
SOUTH CAROLINA
Charleston, SC
Hunter Johnson, International Affairs, Concentration in Geography, Honors in the Major
Summerville, SC
Cathleen Hample, Management Information Systems, University Honors
VIRGINIA
Arlington, VA
Amy Forza, Law Enforcement Intelligence, Honors in the Major