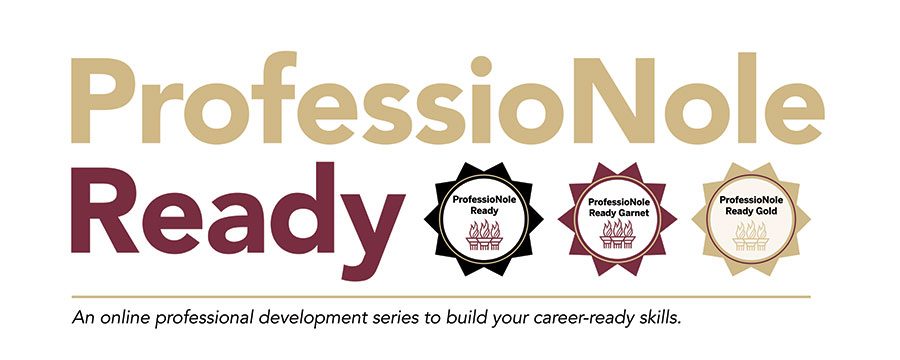 The Florida State University Career Center's flagship online professional development series, ProfessioNole Ready, has received national recognition for excellence in the field of career services from one of the industry's leading organizations.
ProfessioNole Ready was awarded an honorable mention from the National Association of Colleges and Employers (NACE) in the Technology Excellence category as part of its annual Excellence Awards competition. Entries in this category were judged on the program need and objectives, relevance to target market, integration, design and use of medium, creativity, innovation, measurable outcomes and ease of replication.
"I am so proud of the ProfessioNole Ready program and the work that Senior Assistant Director Emily Kennelly has done to make this career-ready program accessible to our students," said Myrna Hoover, director of The Career Center. "This program is a necessity for every student to better prepare them for their future career."
The aim of ProfessioNole Ready, which is based in Canvas and available 24/7, is to equip students with the career-ready skills they need to be strong candidates to potential employers. Within the program, students can earn three digital badges of recognition by completing a designated number of modules for each badge level.
All 14 of the self-guided modules within ProfessioNole Ready are based on the career competencies set forth and defined by NACE. Each module addresses career-ready competence that will help students to effectively articulate their skills to potential employers and become more confident in their career decisions.
Since ProfessioNole Ready launched last summer, more than 900 students have enrolled in the program. During the online learning period implemented by FSU due to COVID-19, engagement for the program has increased by 173 percent.
To learn more about enrolling in ProfessioNole Ready and integrating the program into a course, visit career.fsu.edu.