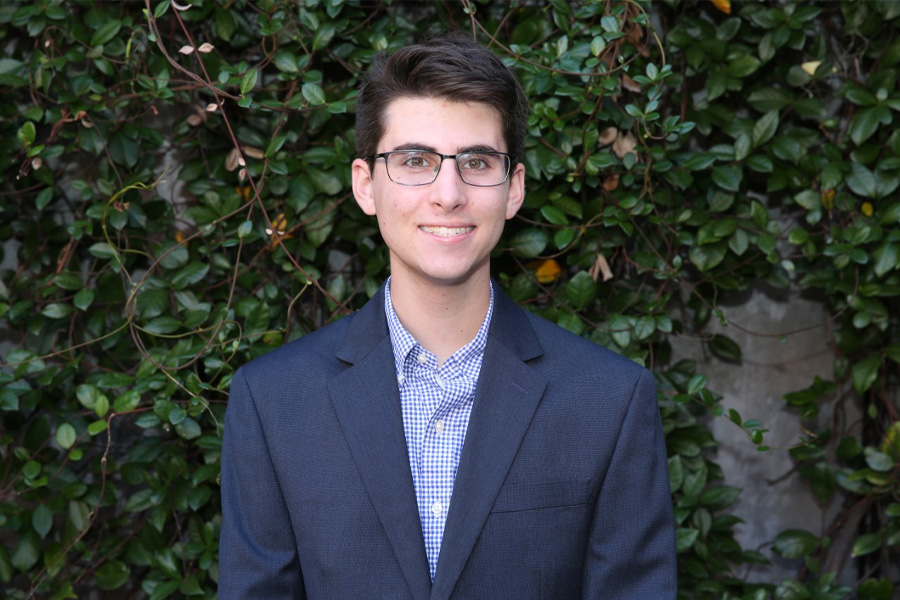 Rising junior Jonathan Marcus is the latest Florida State University student to receive an Ernest F. Hollings Undergraduate Scholarship from the National Oceanic and Atmospheric Administration (NOAA).
The nationally competitive scholarship includes up to $19,000 of academic assistance over two years and a 10-week, paid summer internship with NOAA.
"It has been a dream of mine to work with or for NOAA at some point in my career," Marcus said. "This scholarship first appeared on my radar back in high school in a career prep class. From that moment, it was a goal of mine."
Resources at Florida State — like the Office of National Fellowships and the Undergraduate Research Opportunity Program (UROP) — swayed Marcus toward FSU when he was deciding where to attend college and helped him go after that goal.
"Almost immediately after arriving at FSU, Jonathan began taking strategic and intentional steps toward his ambitious career goals," said Annette Schwabe, associate dean of Undergraduate Studies and director of the FSU Honors Program. "Something that distinguishes him from other accomplished students who find their professional passions early is that he is curious about an array of issues and fields, including those outside of the natural sciences."
Marcus, a meteorology major from Huntsville, Alabama, and an FSU Presidential Scholar, has been growing as a meteorologist since he came to Florida State. As a freshman participating in UROP, he worked alongside professors at the Center for Ocean-Atmospheric Prediction Studies to investigate temperature changes in rain near tropical cyclones.
During his sophomore year, he expanded his studies into the broadcasting realm of the discipline. After taking a weathercasting class, he earned a spot on the student-run forecast show FSU Weather. He has also shadowed professional meteorologists at National Weather Service stations on the FSU campus and in Huntsville.
"Jonathan is one of our top student TV weathercasters, one of the top students in my Spring 2020 course 'Introduction to Atmospheric Dynamics' and the 2019-2020 treasurer of the North Florida chapter of the American Meteorological Society and National Weather Association," said Jon Ahlquist, associate professor in the Department of Earth, Ocean and Atmospheric Science. "And he always has a smile on his face."
The two callings of his profession — the ability to predict what the weather is likely to do and to effectively communicate that to the public — both appeal to Marcus.
"There's a growing need for that sort of interdisciplinary approach," he said.
After a virtual orientation with other scholarship recipients, Marcus will learn more about the NOAA facilities where he could spend his internship. He hopes to work with a forecasting center, such as the National Hurricane Center in Miami or a National Weather Service field office.
"As I mentored Jonathan through the application process, he demonstrated to me a clear understanding of his goals," said Craig Filar, director of the Office of National Fellowships. "His tireless dedication to educating and informing the public about the weather and atmospheric phenomena is matched by his inherent curiosity to ask deeper questions to advance the field of meteorology. These traits are critical to NOAA's mission and aligned Jonathan perfectly with the Hollings Scholarship."
Marcus knew early in his life he wanted to be a meteorologist.
"I've just always been into the weather," he said. "My dad was a television broadcaster, and when he retired, the station's meteorologist let me sit at the weather desk, and I was in complete heaven as a four-year-old."
When a tornado outbreak in 2011 impacted his hometown of Huntsville, Alabama, it solidified his interest.
"I was already into meteorology at that point, but that made me look at it and think 'What can I personally do to help prevent this massive loss of life?' and that's where my passion for tornado warning communication and improving the warning cycle for these deadly storms was sparked, and that continued into my college journey," he said.
The Hollings Scholarship was established in 2005 to honor Ernest F. Hollings, a U.S. Senator from South Carolina and advocate of ocean policy and NOAA. The scholarship application period for the class of 2021 opens on Sept. 1, 2020 and will close on Jan. 31, 2021.
For more information on national scholarships, visit the website for FSU's Office of National Fellowships.