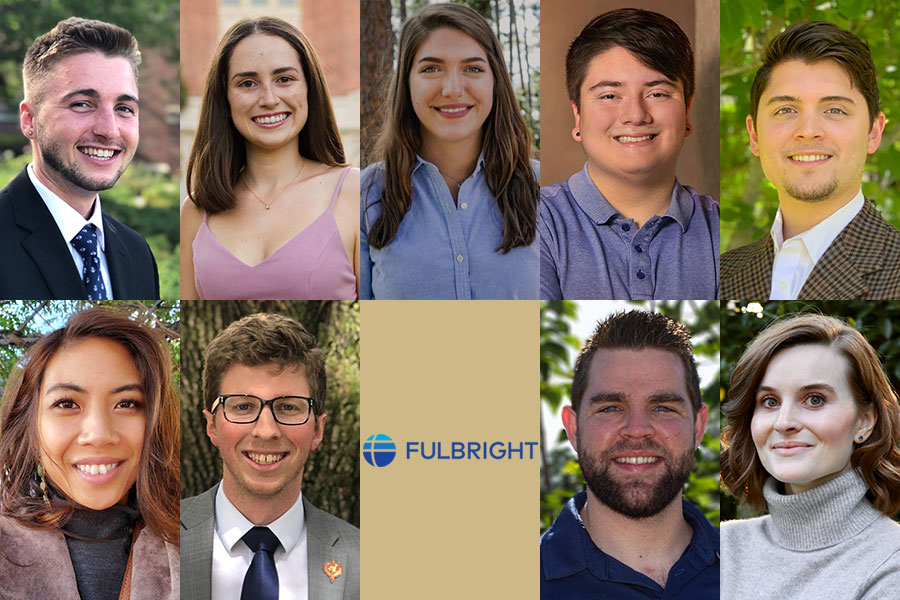 Nine Florida State University graduate students and recent alumni will conduct research or have the opportunity to teach English abroad during the 2020-2021 academic year as a part of the Fulbright U.S. Student Program.
Since 1945, the program has provided students and young scholars opportunities to develop research, study and teach all over the world. The scholarship is overseen and funded by the Department of State's Bureau of Educational and Cultural Affairs and is the largest U.S. exchange program in the nation with partnerships in 140 countries.
"Florida State University's students, year after year, continue to be recognized nationally by the Fulbright program for their proposals for meaningful international research and study," said Craig Filar, director of the Office of National Fellowships. "This year is no exception; the nine FSU students chosen as 2020 student Fulbright recipients represent the phenomenal dedication and determination to engage with the world through cultural exchange. This dedication to building harmony between countries and cultures at the grass roots level is even more important given the current crisis with COVID-19. Congratulations to our nine student Fulbright recipients. They will represent us incredibly well as they set forth across the globe next year."
Six recipients earned study/research grants, allowing them to create their own academic projects in collaboration with advisers at foreign universities or other institutes of higher learning.
Three recipients will participate in the English Teaching Assistant program, which assigns Fulbright scholars in classrooms all over the world to assist local English teachers. They also serve as cultural ambassadors for the United States abroad.
In light of COVID-19, the Fulbright program has delayed the beginning of all international experiences to the spring, unless the grantee has been accepted to pursue a graduate degree at a university hosting in-person classes or the U.S. Travel Warning for the host country is below a Level 3.
The Florida State University recipients of the 2020 Fulbright U.S. Student Program scholarships are:
Rachel Carlisle, 29, of Laurel, Mississippi, is a third-year doctoral candidate studying art history with a specialization in Northern European art (c. 1400 – 1600). She will study as an affiliate of the University of Augsburg in Germany where she will continue research surrounding her dissertation, "All'antica Augsburg: Picturing German Antiquity in the Age of Print."
"I am immensely grateful for this research opportunity and the opportunity to represent the United States abroad," Carlisle said. "This award will facilitate extended access to the art, architecture and archival documents central to my dissertation and will prepare me for a career of art historical research and teaching defined by the examination and interpretation of objects both inside and outside of the classroom."
Kristie Dick, 22, of Jacksonville, Florida, is a senior graduating in August with a degree in biology and will be teaching English in Changhua County, Taiwan. Following her Fulbright, she plans to pursue a doctorate in astrobiology to study the potential of extraterrestrial life on exoplanets.
"Fulbright is allowing me to take time off from scientific research to focus on my communications skills before pursuing a Ph.D. in Astrobiology," Dick said. "I chose Taiwan because of its burgeoning tech scene and access to STEM fields. Specifically, I would like to learn Mandarin Chinese so I can better collaborate with other international scientists."
Schyler Ellsworth, 28, a native of Spanish Fork, Utah, is a third-year doctoral candidate studying ecology and evolution in the Department of Biological Science. He will be researching the rapid evolution of centipede venom from centipedes that have become isolated on islands off the coast of Brazil. Upon completing his doctorate, he intends to continue mentoring the next generation of scientists and expanding his research as a professor.
"Receiving the Fulbright Fellowship will allow me to start realizing this dream and will help me to expand my research and academic connections for my future career in science," Ellsworth said.
Joseph Guidubaldi, 21, a Presidential Scholar from Port Orange, Florida, graduated from FSU with dual honors in May with a bachelor's in biological science along with minors in chemistry and psychology. He will be studying cell and gene therapy at University College London (UCL) in London, U.K. and will perform collaborative research with Professor Jonathan Gale of the UCL Ear Institute. Following his Fulbright, he plans to pursue a doctorate in clinical neuroscience and have a career in academia and translational medical research.
"I hope to combine my research and degree at UCL with my foundation in biology and neuroscience acquired at FSU during my undergraduate education," Guidubaldi said. "By merging these varied experiences, I will bridge together the fields of neuroscience and molecular biology, crafting an exceptionally adept and unique foundation to prepare myself for a career in academia and translational medical research."
Pamela Knoll, 33, a Miami native, is a 6th-year graduate student studying physical chemistry and will be continuing her work in Spain through Fulbright. She plans to become a professor in the future.
"This unique opportunity working in Spain with Professor García-Ruiz will expand my scientific understanding while simultaneously providing a deeper appreciation of the world," Knoll said.
Jacob Mason, 22, of Ponte Vedra Beach, Florida, is a recent FSU graduate with a dual bachelor's degree in international affairs and economics and an additional major in Chinese language and culture. During his trip, he will be teaching English in Changhua County, Taiwan. After completing his Fulbright, he plans to attend graduate school and pursue a career as an economic officer in the U.S. Foreign Service.
"I am very excited and honored to have the opportunity to teach in Taiwan through Fulbright," Mason said. "I look forward to serving as an American cultural ambassador, learning more about my host country's culture and deepening my own Chinese language study."
Sebastian Mejia, 22, of Naples, Florida, graduated in May with a dual bachelor's degree in Latin American/Caribbean studies and international affairs. He will conduct research through Fulbright in Rio de Janeiro, Brazil, and plans to attend a doctoral program afterward.
"This experience will sharpen my qualitative research skills, which will be useful in my future career as a researcher," Mejia said.
Eli Myron, 22, of Saint Johns, Florida, graduated from FSU in May with a bachelor's in environment & society and biological science. His research project will be based in the Philippines and will focus on using 3D reconstruction to further understand the role of giant clam restocking programs on degraded reefs in the northwest of the archipelago. Myron will be working with various non-governmental organizations, as well as the University of the Philippines, to conduct this project and engage with coastal communities to further understand how they interact with coastal ecosystems. After his Fulbright, he hopes to pursue a doctoral program in marine biology to continue understanding and implementing methods for coastal resilience.
"I am deeply honored by this opportunity and hope to use this experience to generate understanding for truly meaningful, bottom-up approaches to coastal sustainability," Myron said. "Among many of my incredible mentors, this project would not have been possible without the dedicated guidance of my research mentor Dr. Sandra Brooke, the unwavering support of my adviser with the FSU Office of National Fellowships, Jesse Wieland, and the belief and trust of my Philippine affiliates."
Charlotte Puopolo, 22, of Jacksonville, Florida, graduated from FSU in May with a bachelor's in international affairs and Spanish, along with minors in French and philosophy & law. She will teach English in the Canary Islands, Spain. Post-Fulbright, she plans to attend law school or get a master's in public policy.
"This Fulbright grant will allow me to better understand public policy from an international perspective, especially in terms of education and immigration," Puopolo said.
Sean Dougherty, a third-year doctoral student majoring in clinical psychology from Pittsburgh, Pennsylvania; William Ortiz, from Port Saint Lucie, Florida, who graduated in 2019 with a bachelor's degree in history and international affairs; David Advent, 23, from Boiling Springs, North Carolina, who graduated in 2019 with a bachelor's in English literature and international affairs; and Savannah Grant from Fort Myers, Florida, who graduated in May 2019 with a bachelor's degree in  international affairs and political science, were selected as alternates for the award.
For more information on national scholarships, contact the Office of National Fellowships or the Office of Graduate Fellowships and Awards.