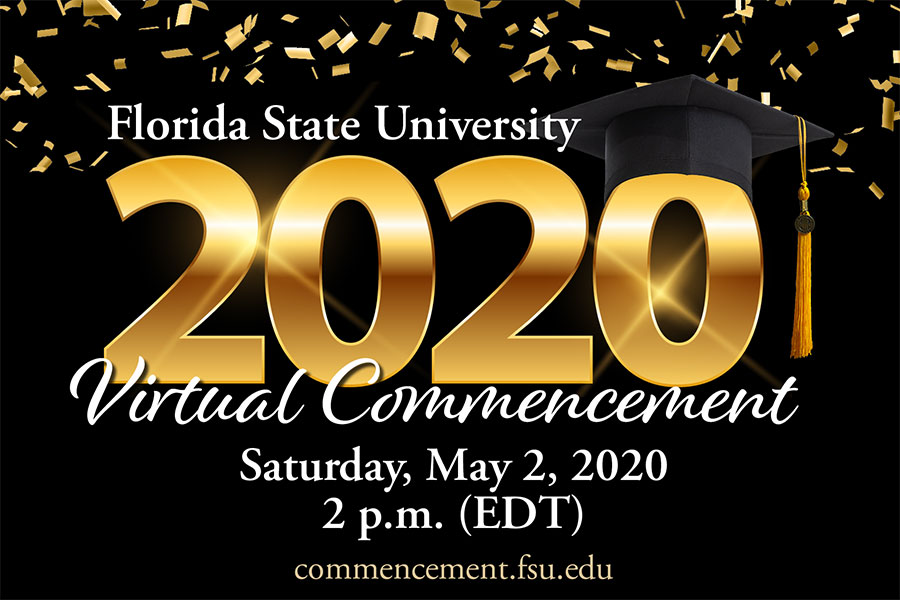 How to Enhance Your Virtual Commencement Celebration
Explore the Division of Student Affairs' "Nole Grad" page for activities, recipes and contests counting down to #FSU20 commencement.
Share photos and videos with your fellow graduates on Facebook, Instagram and Twitter, and tag @floridastate and #FSU20. Be creative and have fun!
Check out FSU's Giphy stickers, FB frames and IG filter to add some extra fun to your stories! To find them, search for Florida State or #FSU20.
Stream FSU Spring Commencement on your TV. Take a look at this short video for some quick tips!
The countdown to commencement is on as Florida State University prepares to host a virtual graduation ceremony Saturday, May 2.
President John Thrasher will preside over the ceremony, which will be streamed on the university's website, Facebook and YouTube channels. The ceremony will begin at 2 p.m. ET.
"Graduation is a significant milestone that should be celebrated with joy even during these unusual times," Thrasher said. "I hope our virtual ceremony will be the centerpiece of our graduates' celebrations at home with family. I know they are not going to want to miss the commencement address by Mark Zeigler, who is sure to remind us of everything that makes FSU such a special place."
Zeigler, a longtime teaching professor from the FSU School of Communication, has played a role in nearly every FSU commencement ceremony since 2009.
In addition to the commencement address, the virtual ceremony will include many of the traditional elements that make an FSU commencement special, including an opening processional featuring "Pomp and Circumstance," the playing of the National Anthem, the Pledge of Allegiance, the official conferring of graduate and undergraduate academic degrees, and the turning of tassels on the graduates' caps.
The names of the graduates will appear on screen at the end of the ceremony during a 10-minute "credit roll." Individual colleges will read the names of their graduates in separate videos to be posted at commencement.fsu.edu on May 2.
Florida State encourages graduates to share how they are watching and celebrating commencement by posting photos and videos on Facebook, Instagram and Twitter, and tagging @floridastate and #FSU20.
For more information, visit commencement.fsu.edu.