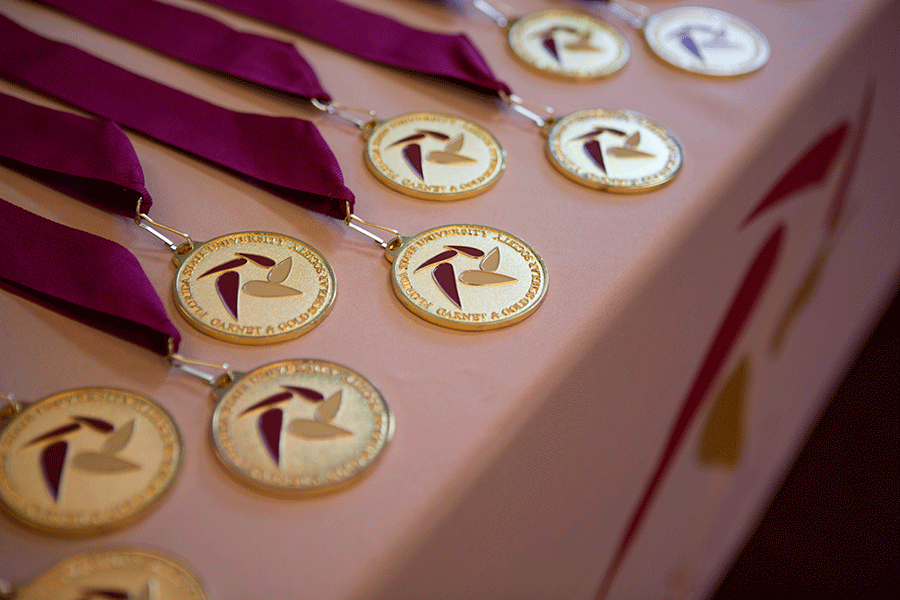 Florida State University welcomed 316 new student inductees into its prestigious Garnet & Gold Scholar Society this spring, the largest class of inductees to date since the program was started.
This spring's ceremony was held virtually due to COVID-19.
Established in 2010, the Garnet & Gold Scholar Society facilitates student involvement and recognizes undergraduate students who excel within and beyond the classroom in at least three of five areas: international experience, internship, leadership, research and service.
"We are proud to welcome this new group of inductees to the Garnet & Gold Scholar Society," said Amy Hecht, vice president for Student Affairs. "They are a wonderful representation of the university, and we are pleased to give them recognition for their involvement bettering the campus and community."
To become an inductee of the Garnet & Gold Scholar Society, students must meet the engagement criteria and submit a synthesis reflection essay in their final semester before graduation. Participants are recognized with a unique medal and receive a designation on their official university transcript, making these students more marketable to potential employers or graduate programs.
"We truly believe that the work you have done within your classroom and beyond — both in the Garnet and Gold Scholar Society and during your experience at Florida State University — will benefit you in your future career and life," said Myrna Hoover, director of The Career Center.
The Spring 2020 inductees, along with their hometowns and academic major(s), are:
Antigua and Barbuda
Kaynas Phillips, Cell and Molecular Neuroscience
Canada
Montreal, Quebec
Nhazbby Jean-Baptiste, Family & Child Sciences
Cuba
Guines, Habana
Sabrina Mato, Political Science and International Affairs
Mexico
Cancun, Quintana Roo
Daniel Smith, Finance and Real Estate
Nicaragua
Managua, Nicaragua
Katherinne Peralta Laguna, Digital Media Production
Panama
Panama City, Panama
Veronica Quintero Carrizo, Studio Art, Media & Communication Studies
United Arab Emirates
Dubai, UAE
Fabio Nasseh, Information Technology
Alabama
Athens, Alabama
Paige Duskie, International Affairs, French
Birmingham, Alabama
Delaney Harkins, Finance, Biology
Arkansas
Little Rock, Arkansas
Eric Meincke, Instrumental Music Education
Colorado
Broomfield, Colorado
Morgan Morrow, Environmental Science
Colorado Springs, Colorado
Lauren Moran, Psychology, International Affairs
Connecticut
Southbury, Connecticut
Justin Stow, Meteorology, Physical Science
Trumbull, Connecticut
Elizabeth Greiner, Elementary Education
Florida
Amelia Island, Florida
Hannah Alderson, Chemical-Biomedical Engineering
Apopka, Florida
Cassie Bednar, Marketing, Art History
Boca Raton, Florida
Marly Bressler, Marketing, Management Information Systems
Christian Ragland, Editing, Writing, and Media
Sarah Sullivan, Environmental Science
Boynton Beach, Florida
Caroline Deyoe, Food & Nutrition Sciences
Bradenton, Florida
Erin Fenske, Nursing
Sarah Molinari, Biological Science
Claudia Usubillaga, Nursing
Rhiannon Jacobson, Information, Communication & Technology, Political Science
Brooksville, Florida
Myranda Hotchkiss, Nursing
Callahan, Florida
Keyshawn Grimmage, Family & Child Sciences
Cape Coral, Florida
Siobhan Brennan, Political Science, Environment & Society
Gabriela Castellanos, Advertising, Marketing
Ally Frith, International Affairs
Manuela Martinez, International Affairs
Alexis Restrepo, Exercise Physiology
Celebration, Florida
Phebe Lemert, Biological Science, Psychology
Cameron Matoska, Psychology
Willow Michie, Environment & Society
Chipley, Florida
William Bradley, Business Administration, Interdisciplinary Social Sciences
Clearwater, Florida
Stephanie Hamilton, Music, Creative Writing
Samantha Hicks, Biology, Psychology
Taylor Perko, Marketing
Ashley Thomas, Communication Science & Disorders
Clewiston, Florida
Isis Porta, Biology, Psychology
Cocoa, Florida
Hannah Rittenhouse, Information, Communication & Technology
Cocoa Beach, Florida
Carmen Araujo, Industrial Engineering
Coconut Creek, Florida
Phoebe Scheidegger, Art History, Italian
Cooper City, Florida
Arria Hauldin, Anthropology
Coral Springs, Florida
Niccolla Emanuel, Media and Communication Studies
Atalya Santos, Communication, Digital Media Production
Savannah Woller, Psychology, Sociology
Crestview, Florida
Erika Balazs, Clinical Professions
Davie, Florida
Angelina Lam, Risk Management & Insurance, Real Estate
Daytona Beach, Florida
Rosalie Morrissey, Biology, Secondary STEM Teaching/FSU-Teach
Deerfield Beach, Florida
Rebecca Farina, Media and Communication Studies
Nicholas Hessing, Communication Science and Disorders, Environmental Studies
Tynese Thompson, Finance, Sport Management
Deland, Florida
Caitlyn Cornetto, Nursing
Delray Beach, Florida
Jennifer Magi, Environmental Engineering
Alisson Sealy, International Affairs, Economics
Jaelyne Vigoa, Commercial Entrepreneurship
Destin, Florida
Keaton Farne, Communication Science & Disorders
Fleming Island, Florida
Grace Michaels, Russian
Fort Lauderdale, Florida
Erica Berner, Nursing
William Cutts, Political Science
Jasmine Johnson, Accounting, Management Information Systems
Angela Lertkiratikul, English/Editing, Writing, and Media
Starr Mandell, Family & Child Sciences
Fort Myers, Florida
Nicola Crouch, Biology
Shaye Curley, Nursing
Stephanie Lee, International Affairs
Zoe Michael, Exercise Physiology
Fort Walton Beach, Florida
Shane Whitney, Economics, Political Science
Hollywood, Florida
Elizabeth Dash, Political Science, Media & Communication Studies
Daniel Engler, Advertising
Lea Lafrance, Family & Child Sciences
Marquita Rusley, Environment & Society
Hudson, Florida
Taylor Kelly, Criminology
Jacksonville, Florida
Akice Agwa, International Affairs
Ava Ancelin, Psychology
Nyshia Baker, Information Technology
Rayanna Campbell, Social Work
Elizabeth Coen, Communication Science & Disorders
Savanna Dehner, Clinical Professions
Lauren Dejongh, Interdisciplinary Medicines
Essence Duncan, Psychology, Criminology
Jessica Goldman, Communication Science & Disorders
Katherine Goodwin, Communication Science & Disorders
Christa Greene, Communication Science & Disorders
Amanda Harris, Finance, Marketing
Jalicia Lewis, Political Science, Public Relations
Eli Myron, Biology, Environment & Society
Kalee Reichard, Elementary Education
Victoria Strongosky, Social Work
Jane Washburn, Exercise Physiology
Camille Tidwell, Biology
Jupiter, Florida
Loren Ayres, Environmental Science
Victoria Bell, Communication Science & Disorders, German Studies
Laura Elkin, Psychology
Andrew Taylor, Sociology
Kissimmee, Florida
Karina Amalbert, Interdisciplinary Social Sciences
Chanelle Dupuis, French and Spanish
Lake City, Florida
Megha Patel, Biological Science
Lake Mary, Florida
Erin King, International Affairs
Taylor Weathers, Economics, International Affairs
Lake Wales, Florida
Lydia Arnold, Nursing
Lake Worth, Florida
Love Fontilien, Family & Child Sciences
Lakeland, Florida
Alex Moerschbacher, Information Technology
Katherine Shapiro, History, International Affairs
Land O Lakes, Florida
Jonathan Jerez, Psychology
Lutz, Florida
Robyn Rossi, Nursing
Lynn Haven, Florida
Stephanie Kindos, Environmental Science and Policy
Madison, Florida
James Flournoy, Risk Management & Insurance
Maitland, Florida
Elyse Bressler, Psychology
Melbourne, Florida
Alexander Adams, Political Science, Spanish
Rachel Alba, Nursing
Elianna Cooper, Literature, Media, and Culture Studies, International Affairs
Lily Parker, Biological Science
Claire Young, Theatre, Psychology
Melbourne Beach, Florida
Jessica Bissey, Economics
Merritt Island, Florida
Leah Huff, Geography, International Affairs
Miami, Florida
Vanessa Arnel Baptista, International Affairs, Literature, Media, & Culture
Serena Bradshaw, Psychology, African American Studies
Alyssa Cerchiai, Public Relations, Editing, Writing & Media
Myryame Desrosiers, Biological Science
Miguel Ferrer, Political Science, French
Jonathan Garcia, Information, Communication & Technology
Melina Garcia, Nursing
Kemp Gonzalez-Xu, Computational Biology
Rachael Gunter, Risk Management & Insurance, Professional Sales
Karina Hernandez, Communication Science & Disorders
Yantong Huang, Biology
Dieudeline Joseph, Criminology
Mirdens Lambert, Environmental Studies
Christine Lopez, Psychology, Communication Science & Disorders
Jaime Luis Lopez, International Affairs, Economics
Taylor Love, Media and Communications Studies, Editing, Writing & Media
Myeisha Lumpkin, Social Work
Myles Marion, Communication Science & Disorders
Kens Metellus, Health Management Policy and Information
Paula Paseiro, Biochemistry
Gaia Rebak, International Affairs
Alexandra Roses, Commercial Entrepreneurship
Daena Senatus, Biological Science
Zuzanna Szulc, Marketing
Michael Vreones, Biological Science
Miami Beach, Florida
Juan Buitrago, Chemical Engineering
Samantha Seiglie, Criminology, Sociology
Milton, Florida
Sabrina Bonilla, Nursing
Miramar, Florida
Karma Kovacs, Social Work
Dyvonier Larcheveaux, Psychology
Gabriela Rodriguez, Editing, Writing, and Media
Naples, Florida
Alyssa Gonnella, Cyber Criminology, Computer Science
Milagros Jerez, Nursing
Christine LoBrutto, Social Work
Kaitlin Price, Political Science, International Affairs
Taylor Williams, Editing, Writing, and Media
Navarre, Florida
Moira Conley, Music, Environment & Society
New Port Richey, Florida
Samantha Ferrara, Social Work
Zoe White, Nursing
Niceville, Florida
Ellis Daugherty, Nursing
North Miami, Florida
Fabuola Pierre, Information Technology
North Miami Beach, Florida
Robel Daniel, Information Technology
Ocala, Florida
Sarah Barber, Family & Child Sciences
Orlando, Florida
Julia Crawford, Human Resource Management
Caleb Dawkins, Advertising, Political Science
Salma Elsheikh, Clinical Professions
Rebecca Henderson, Marketing, International Affairs
Sydney Houde, International Affairs
Jose Jean-Baptiste, Criminology/Pre-Law
Robyn Kast, Media and Communication Studies
Olivia Leete, Advertising
Bailey Long, Marketing, Management
Sarah Merriman, Nursing
Ashley Moses, Biological Science, Psychology
Curran Recinos, Actuarial Science
Rachel Robutti, Political Science
Lauren Sutton, Marketing- Sales
Elysse Vernon, Public Relations
Osprey, Florida
Elizabeth MacDonell, Exercise Physiology
Oviedo, Florida
Ryan Kelly, Biology
Palm Bay, Florida
Ariel Ynovy, Interdisciplinary Social Science
Palm Beach Gardens, Florida
Jose Martinez, Psychology
Palm City, Florida
Evan Albury, Psychology
Taylor Mogavero, Biology
Alexa Terezakis, Nursing
Mikayla Reiser, Finance, Political Science
Samantha Ferraro, Nursing
Panama City, Florida
Mikayla Reiser, Finance, Political Science
Samanatha Ferraro, Nursing
Parkland, Florida
Shayna Cohen, Economics, Actuarial Science
Cara Steinberg, Family & Child Sciences
Pembroke Pines, Florida
Isabella Carlos, Exercise Physiology
Catherine Paneque, Psychology, International Affairs
Amanda Rivera Stahlschmidt, Media and Communication Studies
Jake Toyota, English Literature, Media & Communication Studies
Alexa Lowry, Information, Communication & Technology
Pensacola, Florida
Kim Clemons, Digital Media Production, Business Management
Emily Emmons, Nursing
Kaitlyn Prezioso, Exercise Physiology
Miranda Taylor, Nursing
Plant City, Florida
David Iniguez, Advertising, International Affairs
Plantation, Florida
Jonathan Albo, Chemical Engineering
Ponte Vedra Beach, Florida
Shane Reilly, Criminology, Political Science
Kiersten Goetz, Communication Disorders
Julianne Kelly, Middle Eastern Studies, Political Science, International Affairs
Port Charlotte, Florida
Romy Aiken, Cell and Molecular Neuroscience
Christina Vallone, Communication Science & Disorders
Port Orange, Florida
Diana Cheney, Psychology
Joseph Guidubaldi, Biological Science
Jensen Woelfle, Psychology, Criminology
Quincy, Florida
Caleb Stephens, Economics, Marketing
Riverview, Florida
Monique Mercier, Athletic Training
Sanford, Florida
Gaelle Francoi, Nursing
Sarasota, Florida
Zachary Blashinsky, Biochemistry
Mayada Elshiek, Biological Science
Jonathan Greenstein, Economics, Philosophy
Paige Levanti, International Affairs
Luke Ourednik, History
Sebastian, Florida
Rachel Tatro, Cell and Molecular Neuroscience
St. Petersburg, Florida
Madison Coppola, Biology
Allison Marino, Art History, Media & Communication Studies
Alyssa Snyder, Communication Science & Disorders
Stuart, Florida
Lauren Delaney, Communication Science & Disorders
Sunrise, Florida
Cara Axelrod, Psychology
Natasha De La Cruz, Environmental Science
Tallahassee, Florida
Destiny Abrams, Communication Science & Disorders
Allison Burnsed, Hospitality and Tourism Management
Ashley Deverteuil, Interdisciplinary Medical Science- Clinical Professions
Jessica Folsom, Biology, Psychology
Ashley Gallian, Athletic Training
Paris Gilstrap, International Affairs, Art History
Paige Kearley, Psychology
Martina Kvitkovicova, Electrical Engineering
Kevin Lam, Nursing
Emmarica Lassin, Commercial Entrepreneurship
Haley Madkour, Biological Science
Jeanne Martin, Psychology, Criminology
Emma Salters, Advertising, Art
Sameera Shaik, Interdisciplinary Social Sciences – Public Policy Certificate
Patrisha Solis, Family & Child Sciences
Landon Weeks, English
Charlotte Wollermann, Clinical Professions
Stanley Zimmerman, Biology
Tamarac, Florida
Ancy Jose Varghese, Humanities, Creative Writing
Alysia Treacy, Anthropology
Tampa, Florida
Jett Angel, Interdisciplinary Social Science
Rachel Bowns, Psychology, Criminology
Rebecca Castellano, Marketing
Alannah Cranwell, Social Work, Family and Child Sciences
Erin Elenz, Family & Child Sciences
Maria Jean Flores, Political Science, English
Maia Hass, Marketing, International Affairs
Abigail Huetteman, Biology
Courtney Tormeno, Management Information Systems
Demetrius Winn, Media and Communication Studies, Editing, Writing & Media
Tarpon Springs, Florida
Robert Cotter, Biological Science
Valrico, Florida
Kendall Catone, Business Management
Vero Beach, Florida
Karen Wetzel, Psychology
Viera, Florida
Christina Alvarez, Nursing
Weeki Wachee, Florida
Robin Riecss, Nursing
Wellington, Florida
Kallayah Henderson, Information, Communication & Technology
Marissa Latouche, Criminology
Katherine Lohr, Communication Science & Disorders
Kinsey Schorr, Psychology
Taylor Rich, Political Science, Criminology
West Palm Beach, Florida
Tomas Cabezas, English, Interdisciplinary Studies
Bryan Maroto, Political Science, Media & Communication Studies
Maria Perez, Social Work
Adaeze Nwigwe, Biological Science, History
Tyler Saavedra, Clinical Professions
Taylor Schmickle, Psychology
Weston, Florida
Megan Lewis, Exercise Physiology
Amy Siceloff, Biological Science
Kelly Soluri, Environmental Science
Wewahitchka, Florida
Carla Peavy, Nursing
Winter Garden, Florida
Madelyn Hughes, Nursing
Winter Park, Florida
Meagan Johnson, Nursing
Winter Springs, Florida
Caitlin Baird, Psychology
Georgia
Atlanta, Georgia
Stephen Fodroczi, Latin & Greek, English Literature
Ariadne Shirley, Management Information Systems
Emelia Thompson, Psychology
Natalie Wilson, International Affairs, Political Science
Mariah Hinton, Nursing
Milton, Georgia
Jessica King, Interdisciplinary Social Science
Sabrina Powell, International Affairs, Business Management
Norcross, Georgia
Anna Jara, Psychology
Peachtree City, Georgia
Sarah Phinney, Communication Science & Disorders
Illinois
Barrington, Illinois
Grace Hayes, Choral Music Education
Chicago, Illinois
Morgan Timmerman, Clinical Professions
Springfield, Illinois
Anna Flinn, Nursing
Kentucky
Fort Thomas, Kentucky
Sarah Hoffmann, Biological Science
Louisiana
New Orleans, Louisiana
Erin Bannister, Food & Nutrition Sciences, Dietetics
Maryland
Hanover, Maryland
Alexis Hiatt, Psychology, International Affairs
Massachusetts
Boxford, Massachusetts
Anne Messenger, Exercise Physiology
Michigan
Farmington Hills, Michigan
Zofia Kolodziej, Risk Management & Insurance
Missouri
Saint Louis, Missouri
Diana Tang, Bachelor of Music Education
Nebraska
Omaha, Nebraska
Holden Bradley, Commercial Entrepreneurship, International Affairs
New Jersey
Andover, New Jersey
Allison Bailey, Nursing
Burlington, New Jersey
Grace Manno, Exercise Physiology
Chester, New Jersey
Dana Leger, International Affairs
Elmwood Park, New Jersey
Melissa Beale, Marketing, Management
Monroe Township, New Jersey
Kylie Watlington, Nursing
Mount Laurel, New Jersey
Sloane Haines, Meteorology
Princeton, New Jersey
Jordan Artman, Management Information Systems
New York
Mohegan Lake, New York
Marisa Palazzo, Retail Entrepreneurship
Wantagh, New York
Brianna Coltellino, Communication Science & Disorders
North Carolina
Fayetteville, North Carolina
Alexis Radermacher, Psychology, Criminology
Raleigh, North Carolina
Ashley Van Slyck, Business Management
Ohio
Columbus, Ohio
Hallie Moehring, Chemistry
Oklahoma
Newcastle, Oklahoma
Ranleigh Hudgens, Accounting
Pennsylvania
Nanticoke, Pennsylvania
Alexis Seery, Clinical Professions
Philadelphia, Pennsylvania
Leah Thompson, Nursing
South Carolina
Greenville, South Carolina
Olivia Hopkins, Dance
Texas
San Antonio, Texas
Alexis Castro, African American Studies, Psychology
Virginia
Bristow, Virginia
Damian Grant, Applied & Computational Mathematics
Fairfax, Virginia
Morgan Gibson, Criminology, Psychology
Roanoke, Virginia
Reagan Castleman, Media and Communication Studies
Spotsylvania, Virginia
Spencer Nicholson, Criminology
Virginia Beach, Virginia
Selina Nevin, International Affairs, Political Science and Middle Eastern Studies
Williamsburg, Virginia
Tawni Hatcher, Chemical-Biomedical Engineering
Gainesville, Virginia
Logan Love, Interdisciplinary Social Sciences