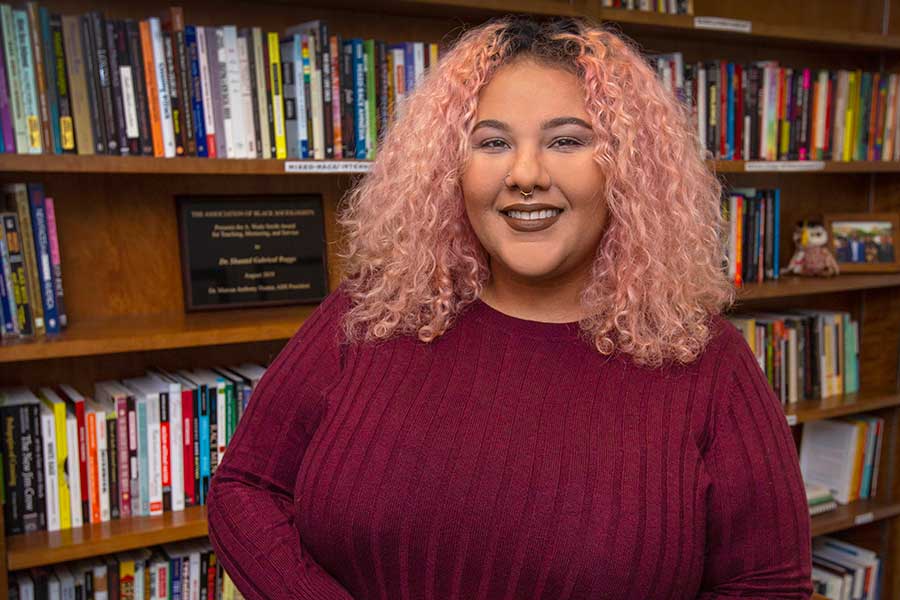 Assistant Professor of Sociology Shantel Buggs has won a 2020 Career Enhancement Fellowship for Junior Faculty and, in the process, earned herself more time to do what she loves to do: research. 
The fellowship, which is awarded by the Woodrow Wilson National Fellowship Foundation, is funded by the Andrew W. Mellon Foundation and will provide Buggs with a six-month grant. 
Buggs has a joint appointment in the African American Studies program and is affiliated with the Women's Studies and Women's, Gender, and Sexuality Studies programs.
She said she's thrilled with the honor.
"It's exciting to win a thing!" she said with a laugh. "This is coming at a great time for me."
Buggs plans to spend the time the fellowship affords her by working on data collection for multiple projects and expanding upon research she completed as part of her doctoral dissertation.
That research included studying the online dating experiences of self-identified multiracial women.  
"The data from the dissertation was in-depth interviews with women who were using online dating apps," she said. "I spent many hours talking with them about past relationships and how race was shaping their experience." 
Her initial round of research, conducted in Austin, San Antonio and Houston, Texas, revealed that people were using the apps for purposes beyond what they were designed for.
"I think there is this idea of what happens on dating apps," she said. "But the thing I've learned in my research is that a lot of young people are using apps in ways that weren't intended, like people using Tinder to find friends."  
The fellowship will allow Buggs to revisit some of that research, expand it and answer new questions in the form of a book, she said. 
"There was just a lot that I didn't get to cover when I did the dissertation," she said. "Now I'll have the opportunity to do that."
For more information visit, https://woodrow.org/fellowships/mellon/career-enhancement/