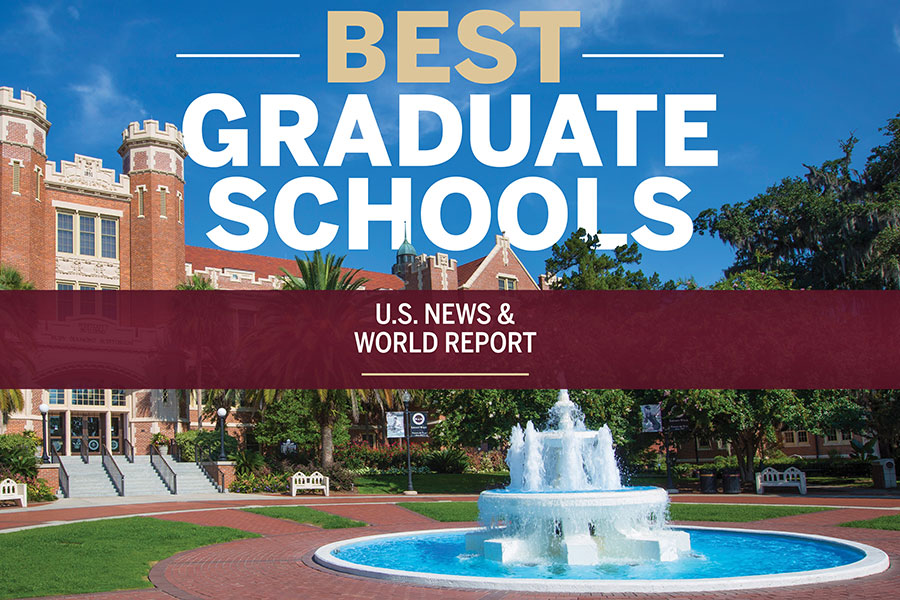 Florida State University's graduate programs are among the nation's best, according to U.S. News & World Report's 2021 edition of "Best Graduate Schools." 
FSU's graduate programs in clinical psychology, fine arts, speech-language pathology, real estate and engineering all made significant jumps in the publication's annual rankings, released March 17. 
"These are exciting times at Florida State University," said Mark Riley, dean of the Graduate School. "These fabulous rankings further reflect the momentum FSU continues to build as people learn about the extraordinary programs we offer and our focus on student success in all their creative endeavors." 
The rising reputation of FSU's graduate programs is one of the key reasons the university saw a 6 percent increase in enrollment in Fall 2019 over the previous year. 
The rising reputation of FSU's graduate programs is one of the key reasons the university saw a 6 percent increase in enrollment in Fall 2019 over the previous year. 
"Last fall, we received the highest number of graduate applications ever, which resulted in our largest cohort of new students enrolled to date," Riley said. "We currently have the highest total number of graduate students ever at Florida State." 
The FSU Clinical Psychology graduate program soared nine spots to No. 27 in the latest national rankings and checked in at No. 18 among public universities. The program, housed in FSU's College of Arts and Sciences, has jumped 20 places since 2015. 
"The Ph.D. in Clinical Psychology is the premier degree of our discipline, one that combines the rigor of experimental science with the compassion and care needed to effectively address today's mental health concerns," said Frank Johnson, chair of the Department of Psychology. "In many ways, the FSU Clinical Psychology program is built on the basic science conducted in other areas of our outstanding department — cognitive, developmental, and social psychology, as well as neuroscience — but it takes an extraordinary clinical psychology faculty to transform those findings into real-world treatments and therapies with the power to change lives for the better." 
With this recent rise in graduate rankings, the FSU Clinical Psychology program joins an elite group of programs around the country. 
"It is gratifying to see this leap in the rankings, which is a bonus to the hard work of faculty, students and staff," said Sam Huckaba, dean of the College of Arts and Sciences. "The program, along with all the other areas of psychology, is focused on excellence and high quality, and our colleagues are relentless in their pursuit of these standards." 
The Association for Behavioral and Cognitive Therapies (ABCT) also chose the FSU Clinical Psychology Program for its biannual 2019 Outstanding Training Program Award in recognition of the group's significant contributions in training behavioral therapists and promoting behavioral therapy. 
The College of Fine Arts Department of Art soared to No. 21 among national public universities in the Best Graduate Fine Arts Programs category, based on a survey of academics at peer institutions.  
"The College of Fine Arts boasts highly successful programs across an array of disciplines," said James Frazier, dean of the College of Fine Arts. "Students benefit from the expertise of accomplished faculty members, and our graduate students represent the best and brightest in their respective fields of study." 
Florida State University's MBA specialty in real estate ranked among the Top 10 public programs nationwide. This the first year that U.S. News has assessed real estate as an MBA specialty, and FSU placed No. 17 overall and No. 9 among public schools. Real estate is one of eight MBA specializations offered at FSU. Recently the college added the real estate specialization as an option for students in its on-campus Master of Science in Finance (MSF). 
"This is another honor for our faculty and affirmation of the college's continued success in equipping students with key finance and investment skills that lead to thriving real estate careers," said Michael Hartline, dean of the FSU College of Business. 
The College of Communication and Information's speech-language pathology graduate program leaped eight spots to No. 20 in the nation and No. 15 among public universities. 
"It's exciting to see the hard work and dedication of this group of faculty, staff and students pay off and get recognized," said Larry Dennis, dean of the College of Communication and Information. 
Together, the College of Education's graduate programs ranked No. 47 overall and No. 33 among public universities. For the first time this year, the college's Student Counseling and Personnel Services program cracked the national rankings at No. 15. Other College of Education programs ranked this year include: Educational Psychology (No. 22), Special Education (No. 24) and Curriculum & Instruction (No. 29).   
"We've made great strides in our programs this past year, including the relaunch of our school counseling program, which is now offered online," said Damon Andrew, dean of the College of Education. "This new ranking reflects our commitment to providing students with an outstanding educational experience that will prepare them to make a positive impact on future generations." 
The FAMU-FSU College of Engineering also was one of several programs with an upward trajectory, climbing 21 points over the past three years. 
"U.S. News rankings of graduate engineering schools represent real metrics of progress in research impact, Ph.D. production and external funding," J. Murray Gibson, dean of the FAMU-FSU College of Engineering said. "Our increase represents genuine progress in these metrics, reflective of a commitment on the part of the college and our two universities to advance this unique enterprise to the advantage of our students and the Florida community. Only a handful of engineering schools have seen this kind of rapid progress." 
The 2021 edition of the U.S. News & World Report rankings assesses multiple types of graduate programs, including the six disciplines with some of the largest enrollments: business, law, medicine, nursing, engineering and education. In addition, U.S. News also publishes rankings of various graduate programs based purely on the opinions of academic experts, such as programs that focus on public affairs, fine arts or health professions.