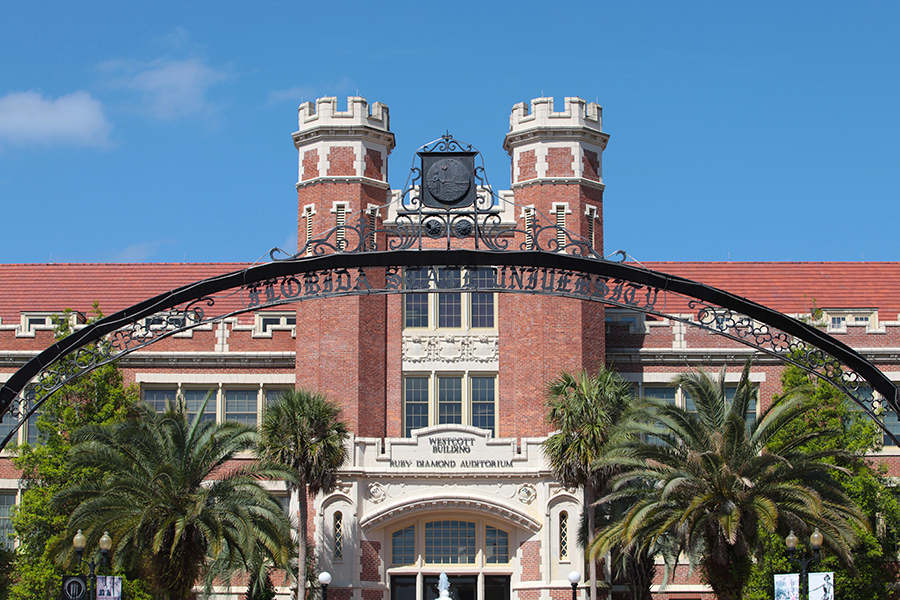 Amid a global pandemic, Florida State University is mobilizing to protect the health and safety of the university community by delivering classes remotely for the remainder of the spring semester.
With an enrollment of about 42,000 students and more than 3,000 faculty and instructors, the transition from in-person classes to remote teaching is a huge undertaking.
"This is something we've never done at this level of magnitude before for our faculty as well as our students," said FSU President John Thrasher. "I want the students to continue to get the kind of education they came to Florida State for. Our faculty wants to deliver that education. This is just a new mode of doing that, and I think it can be successful."
While Thrasher knows it's not an ideal situation, he's encouraging everyone to work together and be patient as FSU begins a new era of education.
"The confidence I have in our faculty is overwhelming," he said. "I know they're working hard to make it happen. We had a nice meeting with the deans and chairs earlier in the week and they're all committed to making this work because they're committed to our students, and that's what this faculty is about. They're strong."
Provost Sally McRorie and the Academic Affairs team have been preparing to shift classes online for weeks. They're following an emergency model FSU put together in 2018, when Hurricane Michael devastated the Florida Panhandle and prompted the FSU Panama City campus to move to remote learning.
As COVID-19 cases have risen around the state and the nation, it's been an all-hands-on-deck project to make sure students avoid any disruption — or delays — in their academic journeys.
"This is certainly an unprecedented experience for all of us at Florida State, but we are very resilient and proud to be," McRorie said. "We are facing it head on."
She said her team has been extremely busy trying to work through all the various new ways faculty and students have to approach teaching and learning. McRorie reinforced that student success is one of Florida State's top priorities and that faculty and staff are dedicated to making sure FSU students have the best experience possible.
"There will be some little glitches along the way, probably more so the beginning of next week, when all classes will be taught remotely," McRorie said, "but we have great learning teams, teaching teams, we have terrific resources in our IT department and our Office of Distance Learning, along with great support for teaching and learning everywhere in the university."
The Office of Distance Learning is using a variety of different tools, including Zoom, an online video conferencing service, and Canvas, FSU's learning management system, to make that happen.
"We applied the academic and technology resources at our disposal to help make this happen on short notice," said Robert Fuselier, director of the Office of Distance Learning. "We're trying to help faculty create meaningful activities for students."
Kim Houghton, a business analyst with the Office of Distance Learning, said the goal is to offer some very basic steps that every faculty member would need to know to get some initial success online.
"Our approach is more of a quick start guide," Houghton said. "Once they get used to a few basic tools, then there are so many resources that we're prepared to offer. We didn't want to overwhelm someone who had never taught online."
Fuselier said his team has focused on helping faculty who are primarily researchers and teach a few classes but who don't have a lot of interaction with academic technology.
"The key is we're trying to keep it as simple and approachable as possible, and the people have really taken it and run with it," he said.
Florida State prides itself on smaller classes and face-to-face opportunities and that is one of the hurdles faculty will have to overcome, McRorie said.
"Those will be different, but we can still find ways to challenge students and to provide them many opportunities for learning," she said.
Different people have different strategies that seem to work for them, Fuselier added.
"There's been a lot of different approaches, and it will be interesting to see what happens because this is also a time when I think there is going to be a lot of ideas that we would like to capture and learn about," he said.
Thrasher said FSU's resilience is unparalleled, and the university will navigate any challenges together.
"We're the 18th best public university in America, and we're going to come out of this just as strong as we were and make this university even stronger," Thrasher said. "That's because our faculty cares about what happens to our students, and our students want to get the best education they can so they can go out and follow their dreams." 
For more information and resources, visit fsu.edu/coronavirus.