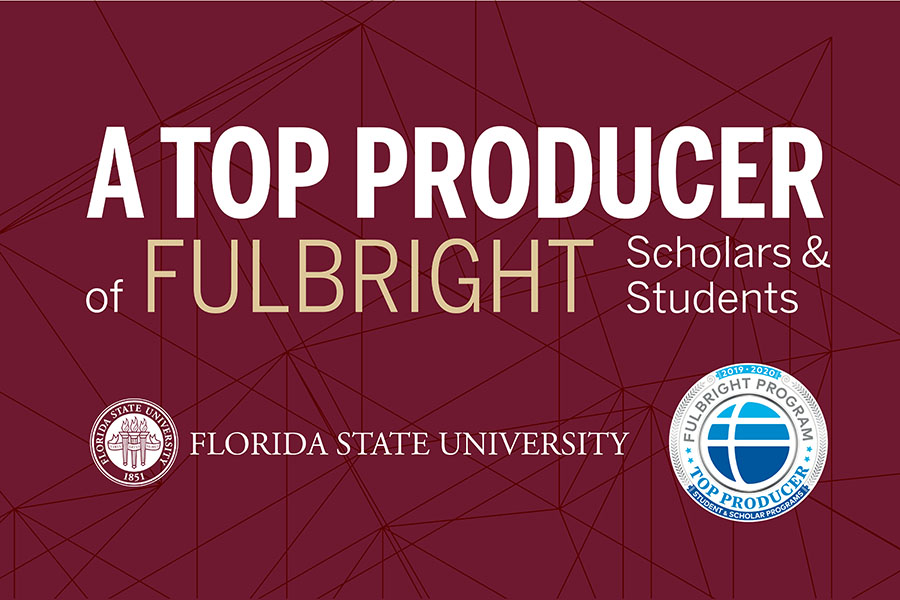 Florida State University is one of the nation's top research institutions for producing Fulbright U.S. Scholars and students, according to the Chronicle of Higher Education, which publishes an annual list of top producers by type of institution.
Notably, Florida State is one of only 20 in the country to be named a top producer for both the Fulbright U.S. Student and U.S. Scholar programs.
Eight faculty scholars from Florida State were awarded Fulbright grants for 2019-2020, tying FSU for fourth in the nation among research institutions. Florida State also was a top producer of student Fulbright winners with 10 students receiving awards in 2019-2020.
"This is an exceptional achievement for Florida State University," said Sally McRorie, provost and executive vice president for Academic Affairs at Florida State. "It's a wonderful reflection of our commitment to internationalization and a testament to the excellence of our faculty and students."
The U.S. Department of State's Bureau of Educational and Cultural Affairs recently announced the U.S. colleges and universities that produced the most 2019-2020 Fulbright U.S. Scholars. The Fulbright Program is the U.S. government's flagship international educational exchange program.
"FSU's recognition as a top producer of Fulbright U.S. Scholars is a tribute to the excellence of our faculty," said Janet Kistner, vice president for Faculty Development and Advancement. "We congratulate each of our awardees."
Ten outstanding Florida State University graduate students and recent alumni are spending the 2019-2020 academic year teaching English or conducting research projects abroad as a part of the Fulbright U.S. Student Program.
The program, administered by the Department of State's Bureau of Educational and Cultural Affairs, offers grants for graduating college seniors, graduate students, young professionals and artists to study, research and/or teach English in participating countries around the world for one year.
"Our continued success with the Fulbright student awards demonstrates Florida State University's dedication to the active engagement and development of our students' global perspectives," said Craig Filar, director of the Office of National Fellowships. "Our 10 Fulbright student recipients will engage in transformative research, creative activity, and teaching, representing the university exceptionally around the world and inspiring the next group of student applicants."
FSU has a strong commitment to the global community and encourages lifelong engagement with Fulbright experiences and colleagues. In November, the university community celebrated former Fulbright recipients, alumni and faculty at a reception hosted by President John Thrasher. The university's staff also supports the entire Fulbright process — application, preparation, travel and return — for both students and faculty.
For more information on applying to be a U.S. Fulbright Scholar, visit https://fda.fsu.edu/faculty-recognition. For more information on national scholarships, contact the Office of National Fellowships or the Office of Graduate Fellowships and Awards.