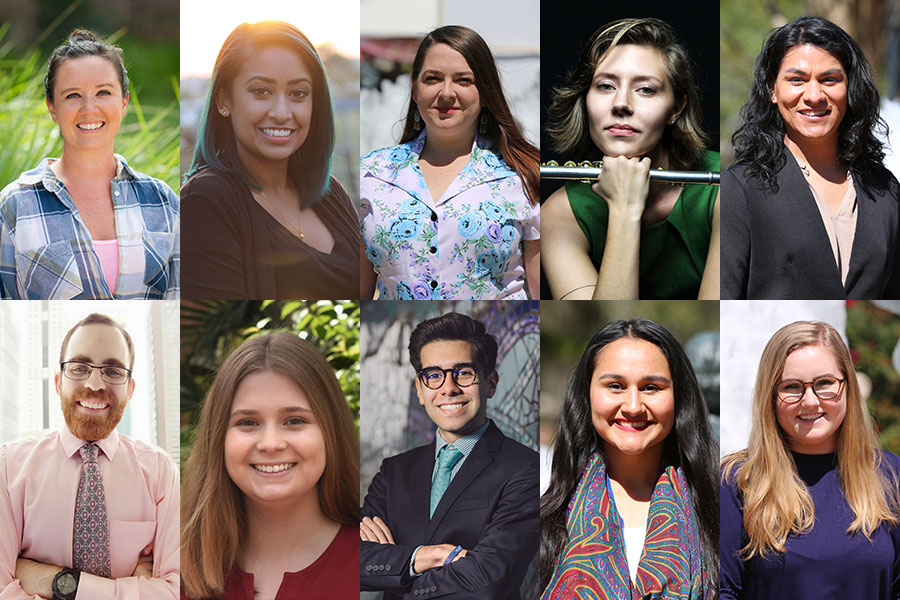 Ten outstanding Florida State University graduate students and recent alumni will spend the 2019-2020 academic year teaching English or conducting research projects abroad as a part of the Fulbright U.S. Student Program.
The program, administered by the Department of State's Bureau of Educational and Cultural Affairs, offers grants for graduating college seniors, graduate students, young professionals and artists to study, research and/or teach English in participating countries around the world for one year.
"To have 10 Florida State university students and recent alumni recognized as recipients of 2019 Fulbright student scholarships indicates the high level of innovative research, global engagement and impactful service our students complete year after year," said Craig Filar, associate dean of Undergraduate Students and director of the Office of National Fellowships. "My hope is that our current undergraduate and graduate students will find inspiration in this current group of Fulbright recipients and consider their own potential to pursue a Fulbright as well."
Six of FSU's recipients earned study/research grants, which allow awardees to design their own academic projects in collaboration with advisers at foreign universities or other institutes of higher learning from one of 140 participating countries around the world.
Four recipients will participate in the English Teaching Assistant program, which places Fulbright scholars in classrooms abroad to assist local English teachers and to serve as cultural ambassadors for the U.S.
The recipients of the Fulbright U.S. Student Program study/research grants are:
Lacy Gillette, 33, a native of Jacksonville, Florida, is a third-year doctoral student seeking a degree in art history who will study 16th-century German printed books and illustrations in Erlangen, Germany. She hopes to teach print/book history at the university level after graduation.
"I am so very thankful for the support and encouragement of Dr. Stephanie Leitch and the Department of Art History throughout the application process. It is an honor, as a Fulbright scholar, to be given the opportunity to experience Germany and study its amazing book culture."
Rita Mookerjee, 29, a native of Bloomsburg, Pennsylvania, is a fourth-year doctoral candidate specializing in contemporary literature of the Caribbean with a focus on gender and food studies. She will graduate from FSU in August before joining the faculty at Iowa State University this fall as an assistant professor of women's and gender studies.
"I will use my Fulbright grant to illuminate daily life and food culture in Jamaica. My study will elevate marginalized voices and counter the many stereotypes of Jamaica perpetuated in the West."
Amanda Propst, 32, a native of Tucson, Arizona, is a doctoral candidate in the Department of Religion studying Ibadi Islam, Medieval Islam and religious identity. She plans to pursue a career as a professor.
"I look forward to returning to the Sultanate of Oman, a country of welcoming people and striking, beautiful landscapes, to conduct research for my doctoral dissertation on Islamic law."
Kayla Hanvey, 24, of Richmond, Virginia, recently graduated from FSU with a Master of Music in woodwind performance. She will study extended techniques in Hungarian repertoire for the flute under the tutelage of István Matuz in Budapest, Hungary. She plans to continue her musical studies at the doctoral level with a concentration in extended techniques and contemporary music.
"I am incredibly grateful for my teachers, Eva Amsler and Dr. Karen Large, and their encouragement in exploring my curiosity and passion for nontraditional musical performance through the Fulbright program. This opportunity will allow me to bring awareness of a culture that is extremely rich in contemporary musical history, while also creating accessibility of the Hungarian repertoire to flutists worldwide."
Roberto Flores, 23, of McAllen, Texas, graduated in May with bachelor's degrees in piano performance and interdisciplinary social science. Flores was selected for the binational business program in Mexico City, which places grantees in different business environments while taking graduate business classes at the Instituto Tecnológico Autónomo de México. After graduate school, Flores plans to work in international development with a focus in Latin America.
"For me, this Fulbright award is especially meaningful because I get to return to the city where I was born after 13 years of living in the United States. I hope to reintegrate into Mexican society and better understand how businesses operate in Mexico."
Jesse Miller, a doctoral candidate in the Department of Religion, was selected for the J. William Fulbright Open Study/Research Award. The native of Lancaster, California, will create an ethnographic film about Mossi funerals in Burkina Faso's capital Ouagadougou. Families sometimes save for years to orchestrate elaborate events for the deceased — allowing time for family to return from the diaspora with resources in hand. Miller, who earned a master's degree in religion from FSU in 2017, hopes to document the complex melding of religion and economics as the living guide the dead towards ancestorhood in West Africa.
"This promising opportunity will aid me in completing my dissertation and cementing a lifelong collaborative relationship with Burkina Faso through my future career as an academic. This project would not have taken flight without the unending guidance of my doctoral supervisor Joseph R. Hellweg, the fervent support of Dr. Adam Gaiser, the assistance of the FSU Office of National Fellowships and Awards, and the unwavering support of my Burkinabé collaborators."
The recipients of the Fulbright U.S. Student Program English Teaching Assistant grant are:
Allison Lang, 22, of Jacksonville, Florida, graduated from Florida State in May with a dual degree in political science and international affairs. Lang, who was a member of FSU's second class of Presidential Scholars, will teach English to high school students in South Korea during her Fulbright. She hopes to pursue a master's degree after her Fulbright, and ultimately work for the U.S. State Department as a Foreign Service Officer.
"I am incredibly honored and thankful for this opportunity. Among other FSU mentors, I am very grateful to the fantastic staff at the Office of National Fellowships. ONF has provided consistent support throughout my undergraduate experience, opening my eyes to new possibilities, including Fulbright. I'm excited to not only serve as an American cultural ambassador but to reciprocally engage and learn more about my host country's culture and educational practices."
Cristian Mercado, 22, of Jacksonville, Florida, graduated with a Bachelor of Arts in theatre and religious studies from FSU in May. During his Fulbright, Mercado will be teaching English in Yunlin County, Taiwan. After completing the Fulbright, Mercado will attend George Washington University to pursue a master's degree in international affairs with a focus on East Asia.
"I am very excited to have the opportunity to teach English abroad, particularly in East Asia. I hope to learn more about the relationship between Taiwan and mainland China and how it affects people on the ground level. I have found parallels between my home island of Puerto Rico and Taiwan and so I have a particular interest in this relationship. I also intend to begin my study of Mandarin which will help me in my future goals."
Kelly Ramirez, 22, a native of Pahokee, Florida, graduated in May with a bachelor's degree in editing, writing, and media and international affairs. She will teach English in Mexico. Ramirez has a career goal of working for the Office of English Language Acquisition in the U.S. Department of Education.
"As a first-generation college student, this entire experience has been surreal. As a Fulbright scholar, I hope to learn more about careers in education advocacy as well as foster a teaching pedagogy that is more suitable for students in U.S. schools who face language and cultural barriers. I hope to acquire the knowledge and skills to help students propel forward into the future they desire."
Tatum Rae Shannon, 21, a Presidential Scholar from Jacksonville, Florida, graduated from Florida State in May with bachelor's degrees in international affairs and Chinese. She will teach English in South Korea and later plans to pursue a master's degree in Chinese studies or international education. She hopes to pursue a career as a Foreign Service Officer or working with international study abroad programs.
"I am looking forward to learning more about the field of education and gaining hands on teaching experience. And of course, I am so excited to meet my students!"
For more information on national scholarships, contact the Office of National Fellowships or the Office of Graduate Fellowships and Awards.